Construction is underway along Washington Avenue — the new Beacom Institute of Technology for learning and collaboration, a revitalized Trojan Center and the renovation of the former city hospital into a Residence Hall/Learning Engagement Center. This page will include construction updates, announcements, photos, videos and other information over the 15 months of visible construction.
Beacom Institute of Technology
"Welcome to the Future" celebration is scheduled for Sunday, August 20, 2017 at 3 p.m. Read more...
The $11.4 million facility will be a resource for the entire university, and every on-campus student will have opportunities to collaborate on projects, participate in classes and seminars, and attend special events in the Beacom Institute of Technology. The two-story building will be just over 31,000 square feet and house classrooms, collaboration space, a performance area, technology-focused labs and offices.
The Beacom Institute of Technology building recognizes a lead gift toward the project from alumnus Miles Beacom and his wife, Lisa. The construction started June 2016 with the completion of the building slated for fall 2017. Gov. Dennis Daugaard joined the Beacom family and 300 students, faculty, staff and friends on June 29, 2016, to celebrate the start of construction.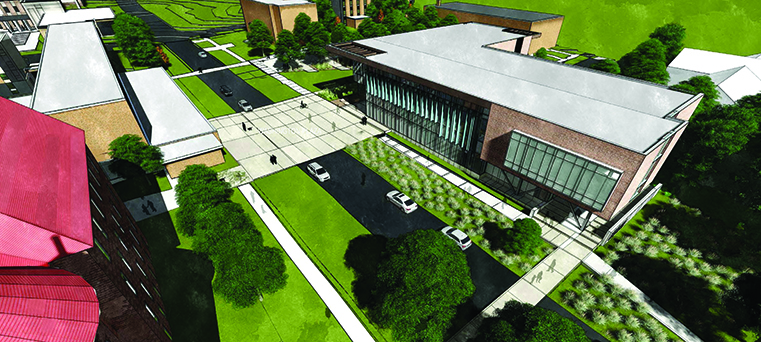 View Live Webcams
Loading the player...
Loading the player...
Construction Celebration
Construction Begins
DSU will start the Trojan Center renovation and expansion over the summer of 2016 with a planned completion date of the fall of 2017.
The Trojan Center will feature an east-facing entry allowing for easier access to a retail section that includes the Trojan Center Bookstore and Einstein Bros Bagels. The renovation will also provide more lounge and study space for students along with a new kitchen adjacent to the Marketplace providing an enhanced dining experience for students. There will also be a new addition on the southwest corner, as seen in the photos above, which will include a new entrance, gaming area and a student services suite with space for student clubs and organizations.
Residence Hall/Learning Engagement Center
Starting in the summer of 2016, renovation will begin to turn the former Madison Community Hospital building into a residence hall and Learning Engagement Center. The updates will bring suite-style living areas for students along with modern kitchens, social spaces, study rooms and collaborative spaces.
Loading the player...