Coronavirus FAQ's for Students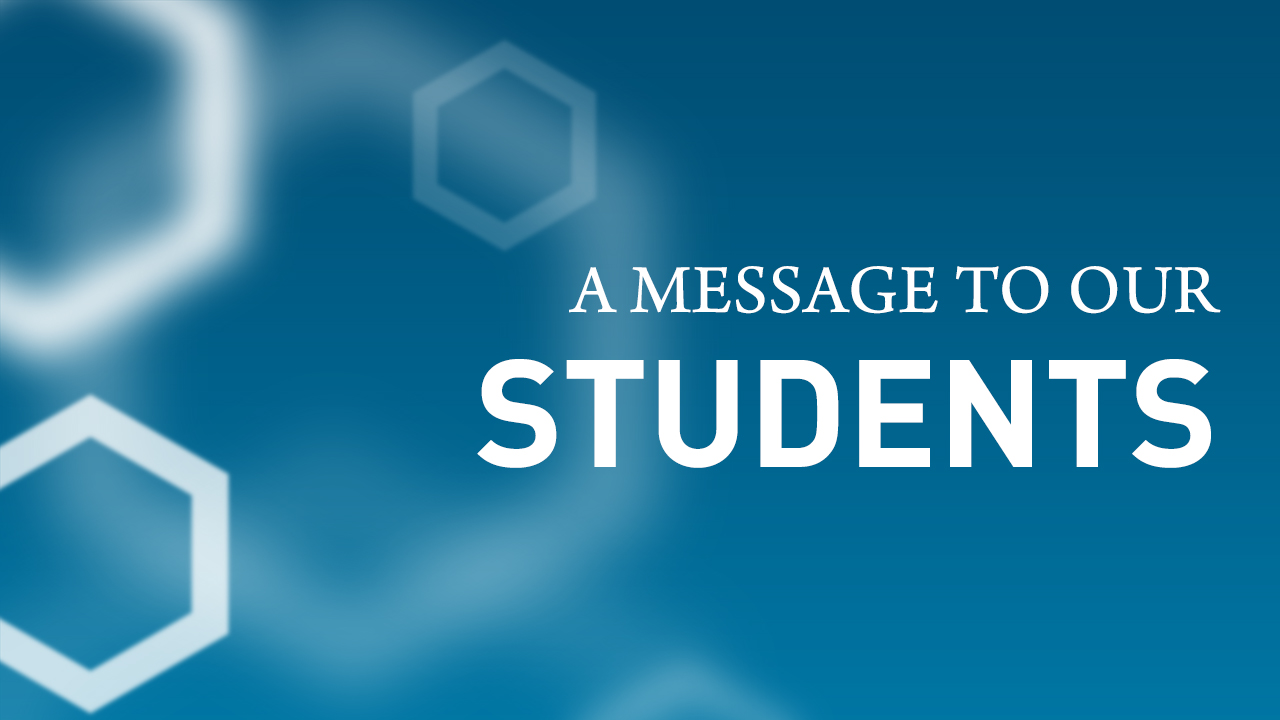 Greetings, DSU Students! I wanted to reach out to you briefly while we are in our present crisis readiness and response mode.

On Monday we begin offering all our classes in an online mode. For many of you this is what you are used to. However, for some of you this will be a new experience, an added learning experience.

As we make this transition, please be patient with yourself and please be patient with your instructors as well.

Our faculty and staff have been preparing over the past several weeks to ensure that our educational programs, related student services and underlying business activities can continue to be provided from remote, distributed locations. I realize that this situation has caused physical and emotional upheaval for everyone I know that your lives have been and will continue to be disrupted for a period of time I simply want each of you to know that DSU is more ready than many of our counterpart institutions because of the early preparations our faculty and staff have planned and implemented. And we so appreciate that DSU students, being the tech-savvy crowd you are, are much better prepared than many students at other universities, to transition over to a fully online environment. The health and safety of our entire extended DSU family and friends .and especially of you, one of our important DSU students are our top priority.

I know many of you have questions about the future and I sincerely wish I could give you definitive answers, especially as to how we will be handling things through the end of the semester. 

However, DSU is part of a system of 6 public universities. Every day the presidents and the various councils of the institutions are in discussion with the Board of Regents office and the Governor's office. Options and various implications of possible decisions as to what that decision would mean for you and our employees are discussed in detail. We are mindful that there are a host of external factors that may come into play such as infection rates, community spread, critical tipping points, and Federal and state policies and decisions, among other things. Decisions will be made, although I can't tell you exactly when. I do promise, though, that as soon as a decision is made, we'll convey them to you as soon as we possibly can.

I ask for your continued patience and flexibility in this very fluid environment. If you have questions, please check the people and department directory on our DSU website, dsu.edu. All of those email addresses and phone numbers are still active and will connect you with that individual or department. The DSU ITS help line is available as it always is, to help you sort out any technical issues.

So, to the extent possible please stay where you are, be safe, and keep others in your family and communities safe. Remember, we are DSU Strong!
DSU Coronavirus Update
All academic instruction will be conducted in an online format through the summer 2020 term. Dakota State plans to resume face-to-face classes for the Fall 2020 semester, along with online courses normally offered. More information will be released in the coming weeks, as we keep in mind student success, and health and safety. The university remains open for business, and our staff and faculty are available remotely to help with questions or business you need to conduct. Spring commencement has been postponed.
Services available to students:
Student Success Center – (605) 256-5900
Career & Professional Development – (605) 256-5122
Karl Mundt Library – Librarians are currently working remotely. If library assistance is needed, faculty and students may text (605) 413-1375 or email reference@dsu.edu

.

Library.dsu.edu

is also available.

Counseling Center – (605) 256-5121

The DSU Counseling Center is still here to listen, answer any questions you have, support you and help navigate this situation together. We are continuing to offer counseling skills through email, phone and Zoom meetings to any currently enrolled DSU student. We encourage you to email us at

counseling.center@dsu.edu

and one of us will get back to you as soon as possible. You may need some tools to take care of your wellness needs, so Like

DSU Counseling Center

on Facebook and check back daily for mindfulness techniques, wellness activities and general inspirations. And don't forget about using

CampusWell

! Download the free app today. They are adding many tools to help online learning, mental health, and much more!

Dining Services will be closing at 12:30 p.m. on May 8, 2020 after brunch. The C-Store will close on May 7 at 7 p.m. Services will resume in the fall.
Campus move out process
Dakota State University Residence Hall Move Out Plan
The residence hall move out schedule has ended. Residents who were unable to attend the previously scheduled dates and/or times are asked to contact the Student Services Center between the hours of 9 a.m. and 4 p.m., Monday-Friday to schedule an appointment for move out. Please call (605) 256-5146.
Move Out Guidelines
Make sure you bring your student ID and room key with you when you come.
No more than two healthy individuals may assist the student during the move out process.
Students will be allowed a two-hour block of time to remove all of their items from their room.
Express check-out process will be implemented. 
Students arriving on campus to move belongings are not allowed to stay overnight.
Move out begins and ends on the same day.
The student is expected to remove all their furniture/flooring and personal items.
Refund procedures
Students will receive pro-rated credits for their residence hall contracts, meal plans, unused flex and parking permits. Refunds, if applicable, are expected to be issued by the end of April.
Students who are not approved for emergency housing will receive a 50% housing credit on their student account.
Students will not be charged for the portion of the term they will not be utilizing meal plans.  They will receive a prorated refund for meal plans and full refund of unused flex dollars.
Students will receive a prorated credit on their account for parking permits equal to 50% of the spring semester.
Our goal is to ensure that instruction continues throughout the semester. In that case, no tuition or fees will be discounted or adjusted due to the current online instruction method, unless:

A student completely withdraws from the institution on or before March 28, 2020.  Complete withdrawal will result in a pro-rated refund of tuition and fees.
The institution cannot offer a course online.  A full refund of tuition and fees will be made on those courses.
Refunds will be applied to outstanding balances first. If application of the credits listed above produces an overall credit balance, the student will be issued a refund. Student Accounts will automatically produce an ACH refund to students with banking information on file.  If no banking information is on file, then a refund check will be mailed to the mailing address on record. 
Questions should be directed to cashier@dsu.edu.
COVID-19 Student Financial Assistance
The federal government has allocated funds to the university through the Coronavirus Aid, Relief, and Economic Security (CARES) Act. These funds will be distributed to students who need financial assistance due to disruption of campus operations from the COVID-19 pandemic. This is to help cover items such as living expenses, course work expenses, childcare, and health care.
Dakota State University signed and submitted the U.S. Department of Education Certification and Agreement for Emergency Financial Aid Grants to Students under the Coronavirus Aid, Relief, and Economic Security (CARES) Act on April 23, 2020. The U.S. DOE provided Dakota State University with an electronically signed Grant Award Notification (GAN) on May 1, 2020.
There are certain requirements a student must meet to receive the funding. They must:
Be a degree-seeking student

Have submitted a 2019-2020 FAFSA

Be enrolled at least halftime as of March 13, 2020
These funds are not available to students who:
Are International students

Are on financial aid suspension

Were initially (prior to March 13) enrolled 100% in online classes during the spring 2020 semester
Eligible students will need to log in with your DSU credentials and complete the application. Priority will be given to applications received by May 4. If you have questions about the program, email fa@dsu.edu; if you have issues accessing the form, contact ITS at help@dsu.edu.
Alternative Grading Option Spring 2020 - FAQ's
All Dakota State University students are strongly encouraged to work closely with academic advisors and other program representatives to determine possible implications of choices related to grading for the spring 2020 semester.
Learn More about Grading Option
Frequently asked questions
What decision has been made about fall classes? On May 1, Dakota State announced we plan to resume on-campus operations including face-to-face classes for Fall semester 2020, along with our normal online course offerings. More details about the process for the return to campus and holding face-to-face classes and events will be released in the coming weeks.
Will the tuition and fees rate change? The rates for tuition and fees will not change for any courses.  The only thing that is changing is the courses that were delivered face-to-face the first half of the semester will be delivered online the second half of the semester. Again, the rates for those courses (tuition and fees) will NOT change. See details above.
Can I stay on campus? Students are to move off-campus unless there are extenuating circumstances while they continue to take their courses online.
How will students return laptops at the end of the semester?  DSU is currently working on a return plan. We will communicate the plan with students when it is finalized.

Who do I contact if I need legal assistance? East River Legal Services (ERLS) in Sioux Falls, S.D. helps low-income individuals with civil legal matters in eastern South Dakota, for things such as protection orders, evictions, and many other civil matters. ERLS can also offer legal assistance for university students who may be facing issues if their part-time work has been cut but there are still bills to pay. There is legal assistance available at no cost if they qualify.  Apply online at www.SDLawHelp.org/apply or call (605) 336-9230 or 1(800) 952-3015.

How do I return a rented textbook to the Trojan Zone Bookstore? If you rented a textbook through the Trojan Zone, you will receive an email from the bookstore staff with instructions on returning that item. If you don't see that email, contact Christine Souter, program assistant at (605) 256-5238, or Christine.souter@dsu.edu.

How do I sell back some of my textbooks from this semester? We have set up a "Virtual Buyback" when the time is right to sell your textbooks back. This service is offered by Nebraska Book Company through this website. Also, the virtual buyback link is available on the Trojan Zone website (Under the Textbook Tab).  You will need the following information:

Find the ISBN on the back of your textbook (a 10- or 13-digit number found next to the barcode that usually starts with 978-x-xxxx-xxxx-x)
Login or create an account to initiate a quote for your textbooks
If you accept the quote, a printable shipping label will be provided to you
Send your textbooks back to Nebraska Book Company
You will receive a check for your book(s) within 2-3 weeks of Nebraska Book Company receiving your shipment

How do I return materials I have checked out from the Karl Mundt Library? Library materials may be returned at any time via the book drop on the south side of the building. If you have additional questions about returning library items, email reference@dsu.edu. There is also a drop-off spot near the mailboxes by Student Services in the Trojan Center. 
Is the Fieldhouse and/or weight room open? The Fieldhouse and weight room will NOT be available for use.
What is the current status of esports? Esports continues in competition, so the esports room will be available for team and individual practices and competitions, but no more than 10 people.
Can I still gather in groups with my friends? In-person groups should not be larger than 10 people.
When are Dining Services closing for the summer?  Dining Services will be closing at 12:30 p.m. on May 8, 2020 after brunch. The C-Store will close on May 7 at 7 p.m. Services will resume in the fall.
I had a package delivered to campus. How can I get my package? If student packages are delivered to campus, they will be stored in the Production Center. Students who are in Madison may pick up those packages at the Production Center in the LEC. Students may also contact the Production Center to have packages returned or forwarded; contact jena.martin@dsu.edu or call (605) 256-5189.
If I need to pick up a package or print something what are the hours of the production center? The Production Center is open from 7:30 a.m. to 4 p.m. for printing and packaging needs. The phone number is (605) 256-5189

. 

What buildings have closed on campus? Currently, ALL ACADEMIC buildings – including the Karl Mundt Library -- are locked. Students are not to be in academic buildings or labs. Business and student services are still available, however, and can be contacted by Zoom, email, or telephone. Check the directory at dsu.edu. Additionally, the Smith-Zimmermann Museum and Alumni Foundation buildings are not open.

I am an hourly student employee, how does this impact my work schedule? This change in operations will have an impact on our student employees. Students who are research or teaching assistants will continue to be paid through their stipend. Student employees who are able to complete their duties remotely can do so with the approval of their supervisor. Students should submit time sheets and be paid their regular hourly wage.

For the safety of our students and others with whom they may come into contact, any student who cannot work remotely will not be eligible to continue working while the University's operating schedule is modified due to COVID-19.
Campus preparations
How is the university preparing for an outbreak on campus/in the area? The university leadership is meeting regularly to monitor the situation, and has assembled a coronavirus task force to consider immediate, short-term, and long-term needs to handle the ramifications for campus. The university is also working the Board of Regents, and with the greater Madison area community to address issues in the area.
Student Health Services - If a student is ill, they are encouraged to call the local hospital/clinic, Madison Regional Health Systems at (605) 256-6551, or a hospital/clinic near their location.
Coursework changes
Is the university closing? No, the university is not closing. All business offices and student services are available remotely by Zoom, email, or telephone.

Will the university move to online delivery? On April 6, the South Dakota Board of Regents announced that all public university instruction will continue with online-only delivery methods through the summer academic term. The university plans to resume on-campus operations including face-to-face classes for Fall semester 2020, along with our normal online course offerings.
Disease considerations
What should I do if I feel ill? Symptoms to watch for include fever, cough, shortness of breath or difficulty breathing, chills, repeated shaking with chills, muscle pain, headache, sore throat, and new loss of taste or smell. If you have any of these symptoms, contact your primary care physician, call the Madison Regional Health Systems at (605) 256-6551. Additional information is available at state COVID-19 Information Line, (800) 997-2880.
How do I protect myself and others? The CDC offers these guidelines to protect yourself and others from COVID-19.
Who should self-isolate? The CDC is recommending any student, faculty or staff member who has been in direct contact with a person diagnosed with the new coronavirus self-isolate for a period of 14 days. The CDC website also says that if they feel feverish or develop measured fever, cough, or difficulty breathing during the self-isolation period, they should self-isolate. Self-isolation will be under the direction of the public health department or a personal health care provider. Students will need to keep in contact with their instructors, continue with coursework as able.
What should I do if I need to self-isolate? Limit contact with others, and seek advice by telephone from a healthcare provider or the local health department to determine whether medical evaluation is needed. Continue to practice preventative health measures, such as hand washing and social distancing.
What should I do after the self-isolation time period is over? Follow the advice of your primary care physician.
What should I do if I want to self-isolate to be "safe"? DSU does not currently have a recommendation for this, and we do not have the capabilities to provide alternative self-isolation accommodations to those who do not meet CDC criteria. Please practice preventative health measures, including hand washing and social distancing as best possible.
What should I do if I have a roommate or know someone from an impacted area? Keep practicing the preventative measures recommended by the CDC. Check the CDC website to stay up-to-date with the facts about the coronavirus.
I am anxious and nervous about this situation. Who can I talk to? Contact the Counseling Center at (605) 256-5121.
Events and activities
Is DSU canceling public events? All on-campus events are cancelled, postponed, or moved to a virtual format through June. These will be evaluated monthly thereafter. This is a precautionary measure to lower the risks associated with the coronavirus pandemic, and yet maintain our core functions. To know if an event is still being held check our calendar at Campus Events.
Is DSU still holding commencement in May? DSU's commencement has been rescheduled for Sunday, Oct. 4. The Master's hooding ceremony will take place at 1 p.m. at the Dakota Prairie Playhouse followed by the commencement ceremony at 2:30 p.m. at the Dakota State Fieldhouse.

Do I still graduate even if there is no graduation? Only the ceremony is postponed. If you meet all graduation requirements, you will receive your diploma.
Scholarships
I have been accepted as a new student in the fall. Will I still receive my academic/athletic scholarship for next year? Yes, incoming students will still receive their scholarships as long as they are meeting the criteria. Athletic scholarships that have been awarded will be honored. If you have any questions about academic scholarships, contact Jill with the Financial Aid Department at Jill.Corbin@dsu.edu. If you have questions about athletics scholarships, contact the Athletics Department or your coach.

Will I still qualify for my Opportunity Scholarship because of grading policy changes?

In response to the COVID-19 crisis, many PK-12 school systems and higher education institutions have initiated temporary grading policies that complicate applying statutory provisions related to the South Dakota Opportunity Scholarship (SDOS). This

document

outlines temporary policy guidance to address those and other issues, and supplements applicable South Dakota Codified Laws and related Administrative Rules relevant to initial and ongoing eligibility for the SDOS. If you have any questions, please contact

Jill.Corbin@dsu.edu or the Vice President for Academic Affairs at (605) 256-5136.
Financial aid changes
Will financial aid decisions be reconsidered for Spring 2020 or Fall 2020 given emerging economic changes? Under federal law, financial aid administrators have the authority to make adjustments to students' FAFSA information based on changes to the student's financial situation.  These adjustments must be considered on a case-by-case basis and require documentation.
Now the instruction is taking place online through summer, how does that impact my GI Bill? We are investigating what processes and procedures will need to be initiated in regards to this.
International students
How will any course delivery changes affect my visa status? Check with Nicole Claussen in International Programs at (605) 256-5744.