Digital arts and design students and faculty to display work
Academics, Admissions, College of Arts and Sciences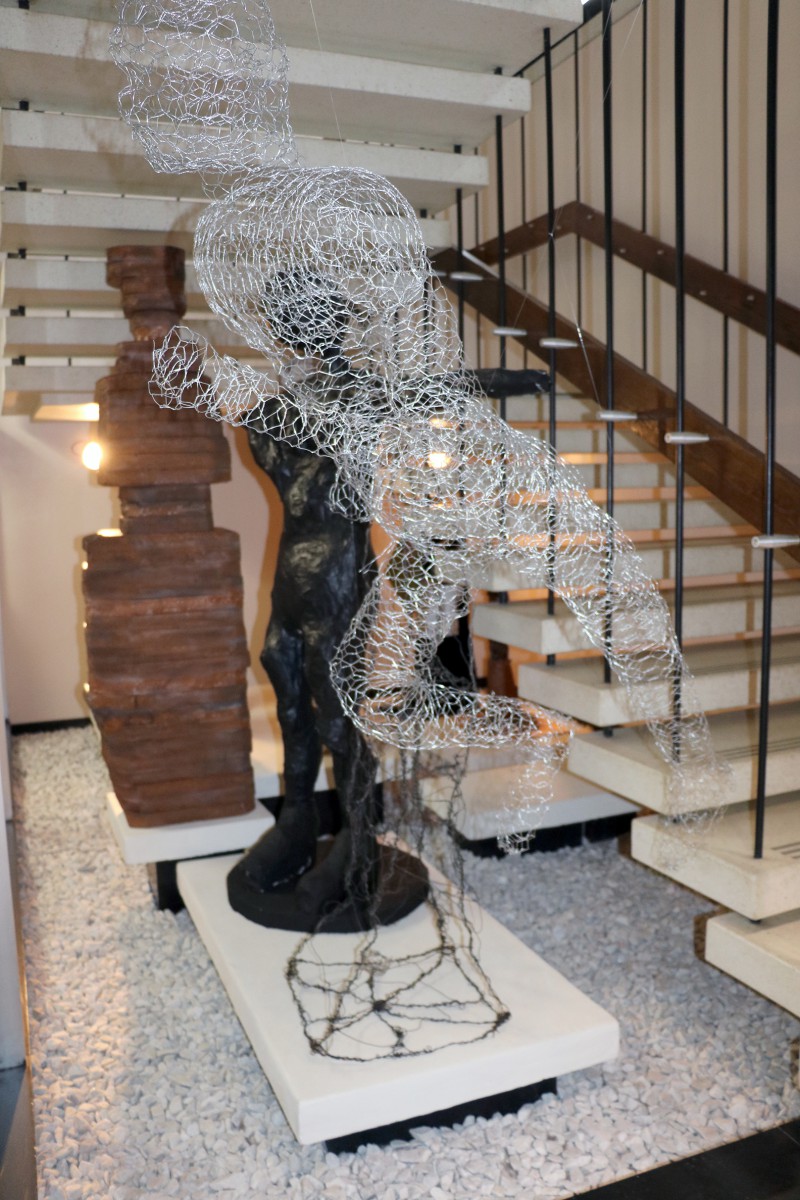 Recycled cans, papier-mâché, and wire are just some of the materials Dakota State University students in 3D design utilized to create sculptures.
Their artwork, and work by fellow digital arts and design students and faculty, will be part of an open house on Wednesday, April 17 from 7 to 9 p.m. in the Karl Mundt Library basement.
"The one rule was that each piece was at least as tall as the person making it," said Angela Behrends, assistant professor of art at Dakota State.
In addition to 3D artwork, 2D artwork will be displayed, along with projected artwork including a couple of short films, and a floor piece Behrends created while at a recent residency in Montgomery, Ala.
The floor piece is 19 feet long and 5 feet wide. "If people are willing to take off their shoes they get to walk on top of it. There are textural elements you can feel through your feet," Behrends explained.
Behrends' artwork features glow-in-the-dark markings inspired by light energy. "I've been learning about light energy – as we move through our physical world we actually leave an energy signature," she said. "We're sharing our energy everywhere we go, so the glow-in-the-dark is a physical representation of that."
The open house will help showcase all of the wonderful creations being made at Dakota State, Behrends said.
The students are excited to share how their ideas evolved throughout the creation process of their artwork, what they enjoyed about the project, and how they hope people react.
Vinny Campbell, a freshman computer graphics major from Tea, S.D., originally planned to make a pyramid head, but adjusted when the thin wire didn't allow for straight lines. "It was easier to let it evolve," Campbell said.
Naomi Vonkeman originally planned to cover her spheres completely with book pages from her favorite books, but after speaking with Behrends and the class, she decided to leave portions of the wire exposed. She hopes the piece offers a "subtle feeling of comfort," to viewers. Vonkeman, a freshman computer graphics major from Wentworth, S.D., enjoyed making a large piece of art and working with her hands.
Sophomore Sampson Argo, a network and security administration major from Sioux Falls, S.D. enjoyed learning that he could be creative throughout the process of making a figure that could be male or female and may be doing a popular dance move. He hopes the ambiguity of his work inspires conversation.
Grant Vizzini, a junior general studies major from Riverside, Calif., is looking forward to having people see his work. "I was excited I could produce something that might be around for a while or viewed by people who come to this school. I'm hoping to make a lasting impression," he said.