VanderWilt receives international recognition for research projects
Beacom College of Computer and Cyber Sciences, College of Arts and Sciences, College of Business and Information Systems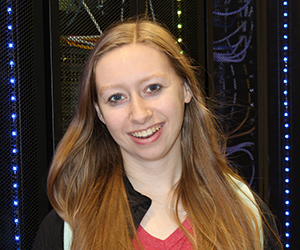 "One question can lead to an amazing journey," said Alexis VanderWilt.
For VanderWilt, her work to answer computer and cyber science questions is definitely taking her on incredible journeys around this world this year.
The computer science and mathematics for information systems double major is one of 200 young researchers from around the world invited to the 7th Heidelberg Laureate Forum, held in September in Heidelberg, Germany. She has also been chosen to attend the 2019 Grace Hopper Celebration in October in Orlando. Attendance is a one-time opportunity for women technologists from around the world.
These invitations are based on research she has undertaken at Dakota State. Results from one of those projects has been accepted for publication at the Midwest Association for Information Systems Conference, held in May at the University of Wisconsin-Oshkosh. With this same research, she won first place at the Dakota State Research Symposium in March in the undergraduate division.
When VanderWilt came to college at Dakota State in 2017, "it was not my vision to do research," she said, but "I have so many questions about the world, and research is the way to investigate those questions." She began doing science research during her freshman year with Associate Research Professor of Chemistry Dr. Michael Gaylor, and has continued with computer and cyber security research projects.
One project during the 2018-2019 academic year dealt with the impact of social networks on the spread of disease; mathematics faculty Dr. Mark Spanier and Dr. Jeffrey Palmer were research mentors for this work.
Another involved the interpretation of data visualizations. This project, with faculty mentor Dr. Cherie Noteboom, was the project that won the top prize at the DSU Research Symposium.
"Alexis approached me about exploring the area of data visualization, and this project is our very first step into that area," said Noteboom. "We received some excellent feedback from the reviewers and are going to continue our research efforts in the fall semester." Noteboom is an associate professor of management information systems.
VanderWilt, a native of Mitchell, S.D., said, "the amount of data that we have in the world today makes it necessary to have a way to analyze a great deal of information in a short glance" through data visualizations such as charts or graphs. Her research showed that most people don't question graphs. She was amazed by this result, because "to take data visualizations at face value is really dangerous." She encourages readers to be open-minded and inquisitive, "question everything and search out answers, then go and share your amazing revelations."
Her revelations through these research projects earned her the invitation to the Heidelberg Forum, where she and the other attendees will be able to share ideas and questions with 20 of the top-award winning mathematicians in the world. At Grace Hopper, she will join around 20,000 attendees in hundreds of information sessions, and at presentations by keynote speakers in the field.
"Meeting peers and faculty and industry leaders, Alexis will be bringing back knowledge that is invaluable, knowledge and information that will be a stepping stone for her," said Dr. Pam Rowland, assistant professor of computer science and cyber security at Dakota State. Rowland is the undergraduate research coordinator.
With the information VanderWilt learns at these events, she'll skyrocket, Rowland predicts. "Who knows where this will take her?"