Amber Schmidt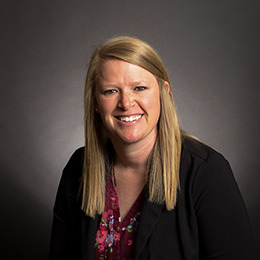 Amber Schmidt
Director of Admissions
Department
Admissions
Biography
Hometown: Sioux Falls, SD – Roosevelt High School
College: Dakota State University - 2008
Major: Computer Graphic Design
Why did you choose DSU? I chose DSU because I wanted to be close to home and I was looking for a school where I wouldn't get lost in the crowd and feel like I was valued. I also couldn't beat the value/cost of a DSU education anywhere else. 
Favorite DSU experience? My favorite part of my college experience at DSU was the people I met. I have made friends that I will cherish forever, met my husband, 
College was an amazing experience and was some of the best years of my life so far. 
Five Interesting Things About Me:
I love being active in sports, and played for our DSU Trojan softball team.
I take dressing up for Halloween super serious.
Fleetwood Mac is one of my favorite bands to listen to. I love me some good classic rock music.
I have a husband, a son, and a large dog named Hank.
Thin crust pepperoni, black & green olive pizza is the best pizza on the planet. 
Contact
Office Location: Heston Hall
Phone: 605-681-8238
Email