Housing
Your home away from home
Living on campus is more than just a place to crash. It's a place to belong.
Residence life is an opportunity, too. It's where you'll learn to live with people from all walks of life. Meet lifelong friends. Have someone to always eat lunch with. Study with your roommate until 2 am. Binge-watch Netflix all Sunday long.
Residence halls and apartments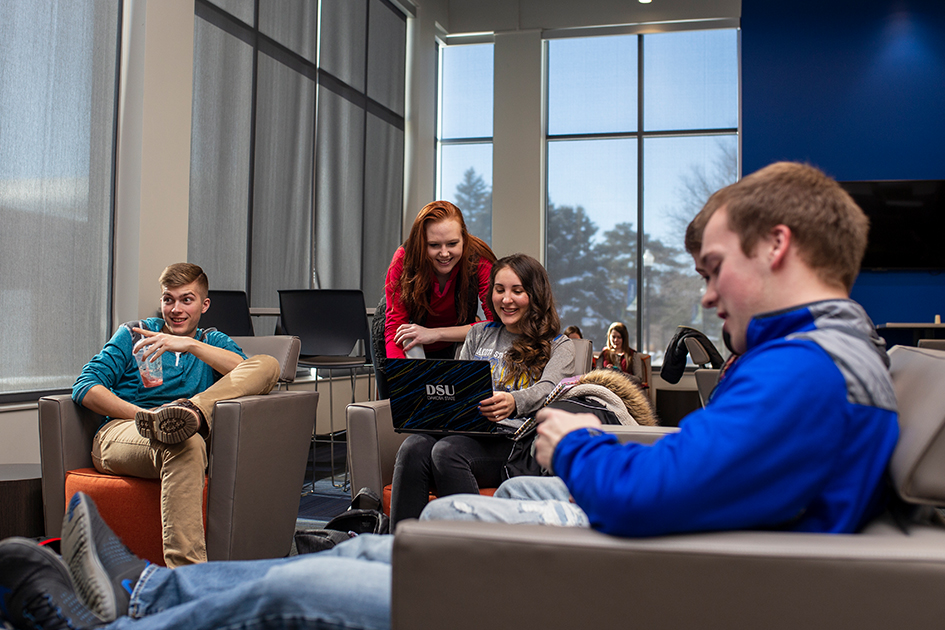 We have six residence halls (aka dorms), two apartment-style housing complexes (reserved for sophomores or above students), and the Girton House (second-year honor's students). They're all a little different, but they all have everything you need to live, work, and play. Curious for more? Check out residence hall photos, floor plans, amenities, and FAQs.
You're in good company
As a public university, we comply with the South Dakota Board of Regents housing requirements. They state that for the first two years of school following their high school graduation, all unmarried students taking six credit hours or more must live in on-campus housing with a designated meal plan. Permission to live elsewhere ordinarily shall be granted to students with dependent children, to students who reside full-time during the academic year with parents or legal guardians at their primary residence within a 60-mile driving distance from campus, or students enrolled primarily at off-campus locations.
Have questions? Learn more about exemptions.
First Year Residence Experience (FYRE)
For many freshmen, it's a year full of firsts: living away from home for the first time, sharing space with others, learning to manage your time, money, and the stresses of challenging work. Sometimes it can be tough. So we designed the First Year Residence Experience (FYRE) to help you transition to college life.
24/7 support
Your success and security is the most important thing DSU can offer you. On-campus housing ensures you have access to everything you need. You're never far from class, the library, or a place to eat. You can call on your resident advisor any time of day or night. And you can feel good knowing that we're the safest campus in South Dakota.
Mail & Packages
All mail and packages can be sent to the following address. On-campus students will pick up their mail and packages at the Student Center. Students will be notified via email of packages.
Address mail and packages to:
[Name of Student]
Dakota State University/Student
820 N Washington Avenue
Madison, SD 57042