DSU and MarketBeat Reimagine the Kirby Science Discovery Center
April 14, 2023
This press release was created and distributed by the Washington Pavilion on April 13, 2023
The Washington Pavilion is partnering with Dakota State University and MarketBeat to renovate and reimagine what will now be known as the Space & Technology Floor of the Kirby Science Discovery Center. The partnership will fund new, modern exhibits as well as ongoing programming focused on STEAM (science, technology, engineering, art and math).
"This strategic partnership between our three organizations—a private non-profit, a private for-profit and a public university—is the first of its kind in our community. We are so grateful for the support of Dakota State University, a world-wide leader in cyber security education, and MarketBeat, the Dakotas' largest digital media company, as we work together to inspire young people to love science and technology," says Darrin Smith, President and CEO of Washington Pavilion Management, Inc.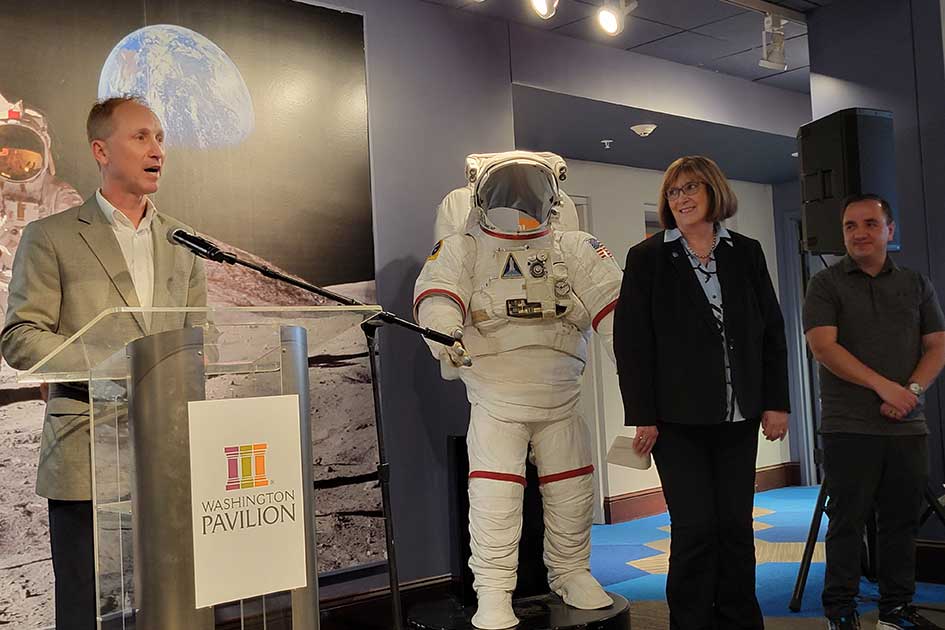 With this investment, the current "Space: An Out-of-this-World Experience" exhibit will be transformed. The partnership also will provide opportunities to engage DSU students and faculty in the creative and design process and exhibit fabrication, as well as hands-on interaction with youth through on-site educational programming.
"Dakota State University is excited to join MarketBeat in sponsoring the Space & Technology Floor of the Kirby Science Discovery Center at the Washington Pavilion," said Dr. José-Marie Griffiths, President of Dakota State University. "We see this dynamic partnership as an investment in the technology-forward future of South Dakota through the development of interactive STEM educational experiences for families and individuals."
The goal is to create hands-on opportunities for children to explore space and technology in new and exciting ways. While the recently announced immersive water experience nearby will be a draw for our youngest visitors, this new Space & Technology Floor will be an interactive adventure for elementary and middle-school-aged guests to learn about new developments in space exploration and engage with cutting-edge technology.
"This partnership between Dakota State, MarketBeat and the Pavilion shows what's possible when multiple organizations collaborate to achieve a common goal," says Matt Paulson, Founder and CEO, MarketBeat. "My hope is that the renovations will encourage the next generation of students, including my own children, to consider careers in science, technology, engineering and math."
The total investment between the two sponsors is $375,000. Work will begin this year on the design of the exhibits, and installation will take place in 2024. Watch for future announcements regarding the specific exhibits the partnership will fund. For more information, visit
WashingtonPavilion.org
.