Justin Blessinger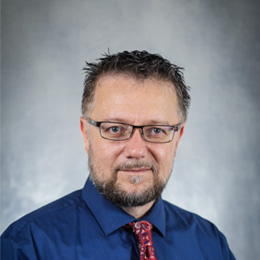 Justin Blessinger
Professor
Department
College of Arts and Sciences
Education
Ph.D., University of South Dakota
M.A., Emporia State University
B.A., Tabor College
Biography
Justin L. Blessinger teaches creative writing, modernist lit, media studies, and literature of the British Isles. Winner of the 2008 Doug Fir prize for fiction, he also publishes poetry; his work has appeared in The Bear Deluxe Magazine, South Dakota Review, and in the anthology In Our Own Words.
Dr. Blessinger brings a wealth of experience in accessibility issues, development, and communication. A native of northeastern Montana, he is the Director of the DSU AdapT Lab for Accessible Technology, he is responsible for the development of a beta version of the "Goto" navigation assistance app we plan to deploy. He is certified in Accessible Information Technology by EASI (Equal Access to Software and Information). He is one of 5 founding members of the DSU Barrier-Free Learning Committee, established to create a proactive forum for innovative solutions to accessibility needs and to advocate on behalf of disabled students.
He is the author of a software plug-in for Microsoft Word that improves feedback on writing. He is a champion for the regional Go Baby Go program, providing modified electric "cars" for children with disabilities.
In collaboration with Dr. Chris Olson, they have created a series of rubrics that digitally submit assessment data for accreditation and internal assessment to a cloud-hosted database. Their work was recently featured at a Higher Learning Commission conference. He is equipped with the electrical, mechanical, and fabrication know-how common to those, like him, who were raised on remote ranches. He has a record of working well with varied groups to accomplish collective goals.​
Contact
Office Location: Beadle Hall
Phone: (605) 256-5270
Email
Website