Cody Welu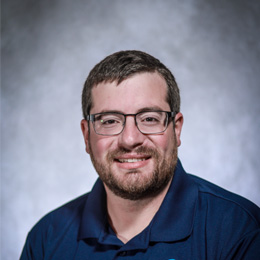 Cody Welu
Assistant Professor
Department
The Beacom College of Computer & Cyber Sciences
Education
Ph.D., Cyber Operations - Dakota State University, 2019
M.S., Applied Computer Science, Cyber Operations Specialization - Dakota State University, 2015
B.S., Computer and Network Security, Cyber Operations Specialization, 2014
Biography
Dr. Cody Welu is an Assistant Professor in The Beacom College of Computer and Cyber Sciences. He teaches courses in computer and cyber sciences, primarily in the defensive cyber security areas. Dr. Welu teaches undergraduate and graduate topics in intrusion detection, threat hunting, incident response, defensive network security, and systems administration. 
Dr. Welu was awarded a Doctor of Philosophy Degree in Cyber Operations from Dakota State University in 2019. His research focused on understanding efficient network threat detection techniques and continues to seek scholarship in this area in addition to cyber security education advancements. He serves as the Defensive Security Club advisor and coach for DSU's cyber defense teams that compete and place at national competitions such as the Collegiate Cyber Defense Competition (CCDC). 
Before joining DSU as a full-time instructor in 2017, Dr. Welu worked as a computer network defense analyst for the Department of Defense. He specialized in incident response and vulnerability detection and constructed several internal threat detection and response capabilities. He began his faculty role as a part-time adjunct instructor at DSU in 2014.
Contact
Office Location: East Hall
Phone: (605) 256-5838
Email
Website
Threat Hunting and Incident Response 

Computer Network Defense 

Systems Administration
Cyber Defense
Threat Hunting
Cybersecurity Education
OpenSOC Winner at DEF CON 28 – 2020
Wild West Hacking Fest CTF Winner / Black Badge Holder - 2019
Instructional Lead (Co-PI) – DSU GenCyber Teachers, 2023 
PI – Career Preparation National Center (CPNC), Credit Transfer Agreement Subgroup, 2022 
Instructional Lead (Co-PI) – DSU GenCyber Teachers, 2022 
C.Welu. "CCDC: Observations by a Competitor Turned Coach" Submitted to the 2023 Information Systems & Computing Academic Professionals Conference (ISCAP 2023), Albuquerque, NM.  
C.Welu, M.Ham, K.Cronin. "Verifying X.509 Certificate Extensions" Presented at the 20th International Conference on Information Technology: New Generations (ITNG 2023), Virtual.  
C.Welu, K.Korman. "A Reproducible Applied Threat Hunting and Incident Response Lab Environment" Presented at EDSIG Conference on Computing Education (EDSIGCON 2022), Clearwater, FL.