Shawn Zwach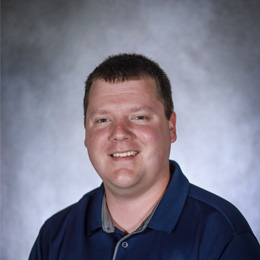 Shawn Zwach
Assistant Professor
Department
The Beacom College of Computer and Cyber Sciences
Education
B.S., Cyber Operations - Dakota State University
M.S., Applied Computer Science - Dakota State University
Contact
Office Location: East Hall
Phone: (605) 256-5838
Email
Website
Shawn Zwach spends all his professional time, and most of his personal time, around technology. He has worked in the cybersecurity industry performing code assessment, quality assurance, system accreditation, forensic investigations, and forensic tool development, including data recovery, since 2012. A passionate instructor, Zwach has taught at DSU and in industry since 2016. Throughout that time, he has demonstrated a love for the field and shares the wonders of it with others who may be veterans of the industry or completely new to the field.
Teaching at the college level provides numerous unique opportunities to adapt material to varying audiences so that all participants can have an equitable experience. Over the past years, Zwach's teaching philosophy has focused on inclusivity, quality assessment, and creative problem solving.
Anyone from anywhere with any background should be able to join any field at any time. Since 2016, Shawn has had the opportunity to teach everywhere, from middle school classrooms to industry conference rooms. Regardless of the venue or audience, his goal is to always provide a quality learning experience for all participants. Along with that, assessment is core to how Zwach teaches his courses. He believes student feedback must be frequently provided and available quickly, so students know how to improve or what to spend more time on in their studies. Further, students must have ample opportunities to provide feedback to instructors. For this reason, anonymous feedback surveys are available from Day 1 of the term, so students can notify him of any changes they'd like to see.
Finally, most labs in Zwach's courses are focused less on answering specific questions, and instead on solving problems. Materials in the courses are designed to mimic real-world scenarios. Provided with these foundational skill-building activities, students can adapt to new environments more quickly, allowing them to be immediately successful in future courses and eventually industry.
Zwach is interested in research focused on secure software engineering, automation, reverse engineering, and software exploitation. To date, his projects are used by dozens of faculty on campus to support advising and attendance tracking activities. Going forward, he intends to keep working on projects to improve student success while also venturing into the separate area of code analysis.
OpenSOC Winner at DEF CON 28 - 2020
Wild West Hacking Fest CTF Winner / Black Badge Holder – 2019
Digital Forensics Research Workshop Forensics Challenge, Grand Champion – 2018
A Beginner's Guide to Reversing with Ghidra (v10/2022 Edition) - 2022
FLARE Malware Analysis Master Class at BlackHat USA – 2018
GIAC Reverse Engineering Malware (GREM) – 2018, renewed 2022
(Expired) GIAC Certified Forensic Examiner (GCFE) – 2017
Camp Director – GenCyber Teachers at DSU – 2023
Instructional Lead – GenCyber Teachers at DSU – 2022