NSA representatives visit DSU cyber security camps
June 25, 2019
There is nothing in the world that doesn't deal with cyber, said Judith Emmel, director of State and Local Affairs at the National Security Agency (NSA). 
She can name any number of devices to prove that point, as everything from cars to sewing machines are connected to the internet. 
To deal with cyber security interests on these devices, Emmel said, "we need students who are cyber smart and understand principals like cyber ethics, the things that come with the profession." 
That is the purpose behind the NSA's GenCyber camps, to develop those interests in students of all ages. Sponsored by NSA grants, the camps are free to attendees. Funds were provided for 122 camps across the nation this year; there were only eight in 2014. Dakota State was one of those original pilot camps, and now hosts camps for high school students, middle school girls, and teachers. These are among the largest residential GenCyber camps in the nation.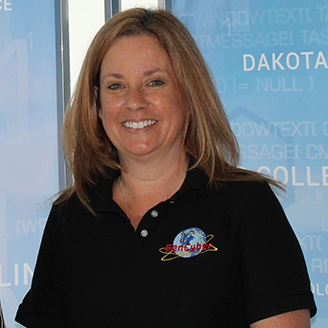 Students learn cyber principles, and to think in terms of safe online behavior. "If we can relate it to their lives, the better they understand the need for security in the cyber realm," said Tina Ladabouche, GenCyber Program Director with the NSA's College of Cyber. Instructors focus on concepts students are familiar with -- cell phone pictures, or storing and sharing information on social media. Emmel and Ladabouche visited Dakota State's co-ed high school camp this month. 
Another GenCyber goal is workforce development. 
"The jobs gap [in cybersecurity] is extensive and continues to grow," said Emmel, "and we can't keep up with the pace of what is needed by the country. The camps provide students with an experience and exposure that they might not get in their schools, and hopefully they will take that and continue in the career," she stated. 
Diversity in that workforce is another goal. Particularly with females, it's important to reach out to them by middle school or earlier, to show them there are plenty of opportunities in the field for them, Ladabouche said. "There are many different job opportunities out there that anyone can get into." 
There are also camps for teacher. They can take these new knowledge, tools, and skills, and implement cyber security lessons in their home school districts, said Ladabouche. 
"What a great way to make an impact," Emmel said, because that multiplies the opportunities to impact large groups, with the teacher as the lead. Another group that is important to include are communities and elected officials. Emmel noted that South Dakota Governor Kristi Noem and DSU President José-Marie Griffiths spoke at an NSA leadership forum this April. 
"It's wonderful to see the state that has such advocates at that level," said Emmel. "That makes a significant difference when your community supports the work that's being done here." 
Emmel and Ladabouche hope to take best practices examples back to the NSA and share these ideas with other camps. "Our philosophy is that the GenCyber program is only as good as each camp," Ladabouche said, and new camps can benefit from veteran camps. 
"What always impresses me [with cyber]," said Emmel, is this "team spirit" of being completely collaborative. "People want to work together, and that will be key for really developing cyber security education. There's such strength in that," she stated.