DSU respiratory program receives credentialing award
August 16, 2019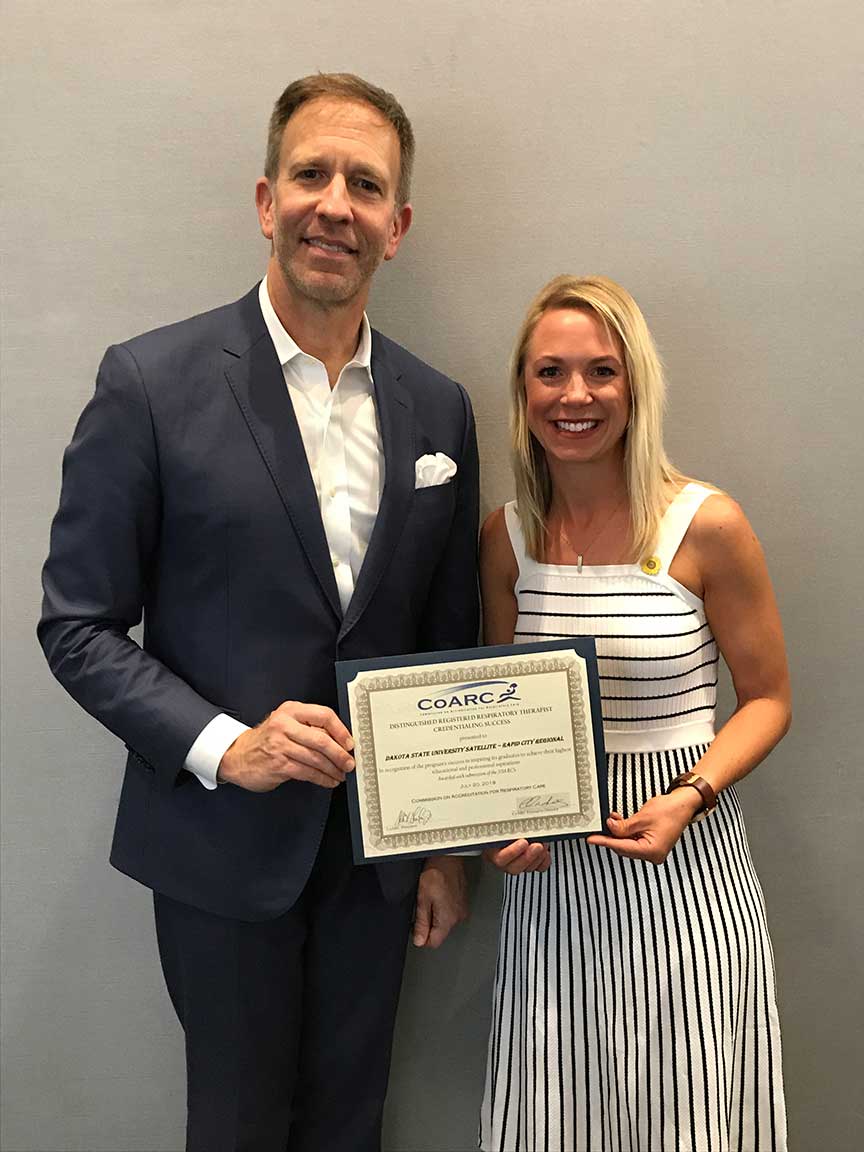 Dakota State University's respiratory care program received a credentialing award in Ft. Lauderdale, Flor. from the Commission on Accreditation for Respiratory Care (CoARC) in July.
DSU received the Distinguished RRT (Registered Respiratory Therapist) Credentialing Success Award from CoARC to continue to value the RRT credential as a standard of professional achievement, according to Lacy Patnoe, respiratory care program director.
"The Distinguished Credentialing award demonstrates the excellent education and board exam preparation we provide for our students," Patnoe said. "Being the only respiratory care program in South Dakota, we meet the needs of our communities by graduating highly trained Registered Respiratory Therapists to fill the workforce."
To receive the Distinguished RRT Credentialing Success Award programs must meet four objective criteria: three or more years of outcomes data; accreditation without a progress report; Registered Respiratory Therapist credentialing success of 90 percent or above; and achievement of established CoARC thresholds for Certified Respiratory Therapist credentialing success, attrition and positive job placement. DSU has been the recipient of this award multiple times throughout the program's existence.
Dakota State offers an associate and bachelor's degree in respiratory care in two locations – Sioux Falls or Rapid City.
Students who have completed their respiratory therapy degree are eligible to take their National Board for Respiratory Care (NBRC) credentialing exams. Once the exam is completed students ear the credential of RRT and are eligible to get their state licenses to work.
Graduates of Dakota State's program have a job placement rate of 100 percent for student applying for positions.
As the need for employees nationwide continues to increase, the need for respiratory therapists is expected to grow by up to 26 percent.
Those interested in the DSU's Respiratory Therapy program can contact Lacy Patnoe at 605-755-3673.