Trojans Unite campaign kicks off with $10M gift
August 29, 2019
Dakota State University can now take the first steps toward "Building Champions for Tomorrow," thanks to the largest single gift ever to the Trojans athletics program.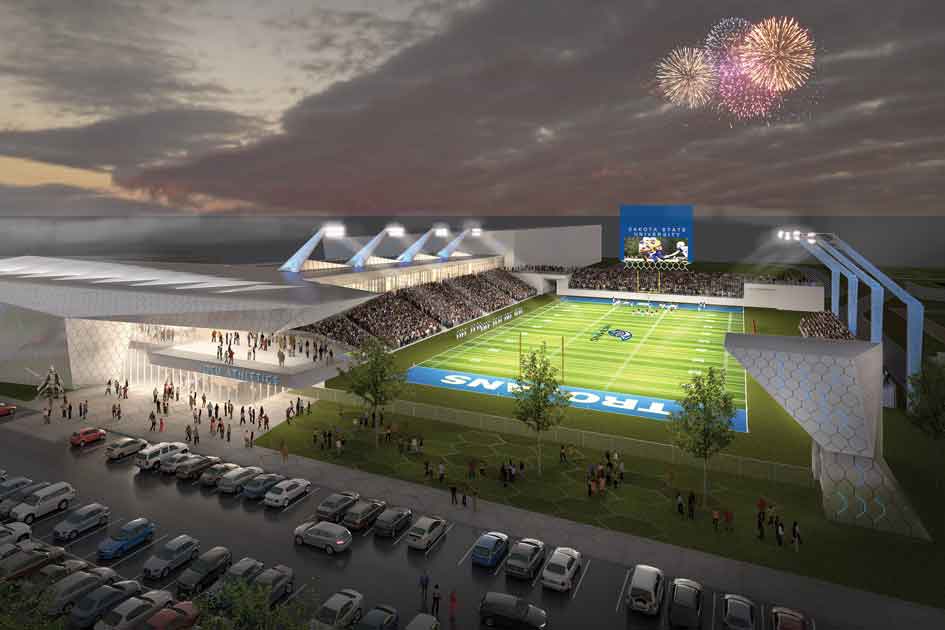 First PREMIER Bank/PREMIER Bankcard, along with Miles and Lisa Beacom, are making a lead gift of $10 million towards the Trojans Unite capital campaign for a new athletics complex. The gift was announced August 29 at the 4th Annual Ag Bowl football game. This lead gift will launch the $42 million Phase I portion of the campaign, which will feature a new two-story concourse and outdoor facilities for current and future sports.
"Here at Dakota State, we're building champions, not just on the field or on the court but in the classroom and in research labs. We're building champions who succeed in life and in their careers by giving them the best possible experience," said José-Marie Griffiths, Ph.D., president of DSU.  "An important part of that experience includes athletics. In order to continue to rise as an institution we must offer our student athletes facilities that reflect our commitment to them." 
Jeff Dittman, athletics director, said "this is a critical need for the athletic department and the university.  To provide our athletes with quality training, injury prevention, rehabilitation and competition facilities and be competitive in recruiting the top local and regional student-athletes, we must upgrade our sports complex." 
The three-phase Trojans Unite campaign will create a new athletics complex which will allow us to be able to compete consistently for conference titles and championships, Dittman said. These facilities will also create a dynamic economic effect in the region, allowing the Madison region to host increased numbers of visitors for camps and events. 
Miles Beacom, CEO of PREMIER Bankcard, is a distinguished alumnus of DSU, a 1981 graduate of the business program. He also participated in track and cross country, and is a member of the DSU Athletics Hall of Fame. 
"Dakota State University has an extremely special spot in my heart," Beacom said. "It provided me with the tools to not only succeed, but also exceed all of the goals I set for myself upon graduation. Today, there are so many great things happening on campus and Trojan Pride has never been stronger. Lisa and I are excited to make this lead gift, alongside First PREMIER Bank and PREMIER Bankcard, and we challenge others to step up and help us finish this project." 
Griffiths stated: "With this donation from First PREMIER Bank/PREMIER Bankcard and the Beacoms, Dakota State University will be able to expand the contributions made by our extraordinary student athletes, outstanding students, and this wonderful community of Madison which we call home. When we have success in this campaign, we will forever change the game on the courts and fields, in the classroom, in the region, and beyond."