Business Office Staff honored by Regents
September 20, 2019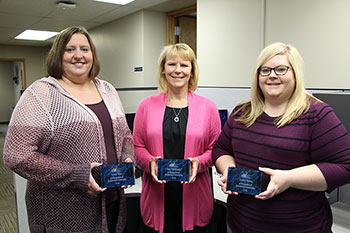 The staff in the Dakota State University Business Office have again been honored by the state Board of Regents for "clean" audits since 2015.
Controller Amy Dockendorf, Assistant Controller Kristi Voss, and Senior Accountant Ashley Jensen assist with the university's Comprehensive Annual Financial Report (CAFR). CAFR is completed annually and includes financial statements for the entire state of South Dakota, including BOR institutions. The Board of Regents, including the six institutions, had another year of a clean audit and no adjusting entries required for the financial statements.
"This is no small task," said Stacy Krusemark, vice president for business and administrative services. "It is a result of hard work throughout the year by the finance staff at the university. We greatly appreciate our dedicated employees," he stated.
Dockendorf said she and her colleagues continually refine the audit process, adding that it is a benefit to have experienced staff. The three have a combined 52 years of service at DSU.