3D art students create Pelican Project
November 21, 2019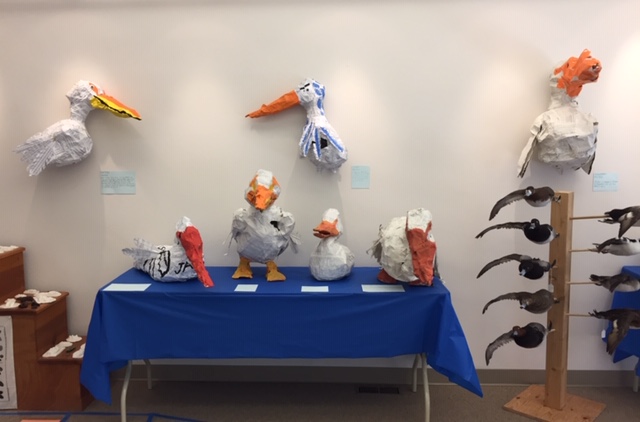 Dakota State 3D art students created wire and paper mâché pelicans that are currently on display at the U.S. Fish and Wildlife Service Visitors Center through Friday, Dec. 6.
The students created the pelicans by referencing two taxidermy pelicans borrowed from the Biology Department. 
The project was inspired by Angela Behrends, assistant art professor, spending time walking around Lake Herman State Park this summer. 
"I've always really liked pelicans," she said. "They're so big and strange." 
Behrends collaborated with the Biology Department at Dakota State to bring in two taxidermy pelicans – one feature a throat pouch expanded and one with a long skinny beak. "So, the students got to work from life," she explained. 
Behrends then contacted Kyle Kelsey at U.S. Fish and Wildlife and asked if they could collaborate by allowing the students to display their pelicans in the Visitor Center. 
Keegan Miller, a computer graphics major from Dell Rapids, S.D., painted his pelican blue. "The Sonic the Hedgehog trailer came out, so I thought I'd paint it like that," he said. 
Miller enjoyed seeing the project come together. 
Dale Thorpe, a senior game design student found the project enjoyable. 
"The paper I used was from a book about unemployment," he said. "It didn't match the pelican, but it left a whole lot of white space." 
To make the pelican his own he added googly eyes, "just because googly eyes are awesome," Thorpe said. 
The public is invited to visit the display through Friday, Dec. 6 at the U.S. Fish and Wildlife Service Visitor Center on Highway 19 South weekdays from 8 a.m. to 4:30 p.m., excluding holidays. There is no charge to visit the display.