Dave Link is fall commencement speaker at DSU
December 10, 2019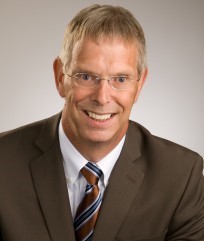 David Link, program director for Dakota State's Madison Cyber Labs (MadLabs), has been named the commencement speaker for the 2019 DSU Fall Commencement. 
Link spent over 30 years in senior leadership at Sanford Health before coming to Dakota State in 2017, but any professional advice he offers the 214 graduates will apply to any field, whether it be healthcare, higher education, or cyber. 
"All organizations have similar components, it's just a matter of bringing them together to achieve the vision," he has stated. 
Link was a central figure in strategic planning, mergers and acquisitions, research and development for Sanford Health and, among other things, was responsible for the Sanford Initiatives.  He was recently honored with South Dakota Biotech's LIVE award for his leadership, innovation, vision, and excellence.  
He is now working to bring DSU's vision of the MadLabs from concept to reality, developing a solid model to support the MadLabs long-term through solid financial models, and initiating and nurturing partnerships for MadLabs. He is also an active participant in strategy and financial discussions regarding the future development of DSU. 
Link has a bachelor's degree in data processing and computer science, an MBA, and a master's in health care administration.  He is also involved with several organizations including: Enterprise 605, SAB Biotherapeutics, South Dakota REACH Committee, South Dakota Research and Commercialization Council and Sanford Research. 
COMMENCEMENT DETAILS 
The 2019 Fall Commencement will be held Saturday, December 14 at 10:30 a.m. in the Dakota State University Fieldhouse. The 214 graduates will receive: 19 associate degrees, 134 baccalaureate degrees, 58 master's degrees, and 3 doctoral degrees. A master's hooding investiture is planned for the master's graduate students prior to commencement, at 9 a.m. at Dakota Prairie Playhouse. Dr. Omar El-Gayar, professor of Information Systems, will speak at this ceremony. 
Obatola Layiwola, graphic design major from Nigeria, will speak on behalf of the graduates at the 10:30 a.m. commencement ceremony. His works have been displayed at local exhibitions, and he has won campus logo and poster competitions. He says he hopes to use the skills and experiences he has garnered here at the university to navigate social, intellectual and occupational challenges in life. 
Others taking part in the ceremony include Andrew Gross, who will induct the new graduates into the Alumni Association. He holds two degrees from DSU, a bachelor's degree in general studies (2015) and a master's in education technology (2017). DSU Voices will provide musical selections under the direction of Sandy Champion, DSU music director. 
Dr. John Nelson, English professor in the College of Arts & Sciences, will be mace bearer. Members of the Madison Police Department and Lake County Sheriff's Office will present the flags.