Sewell contributes to critical exploration of YA literature
January 23, 2020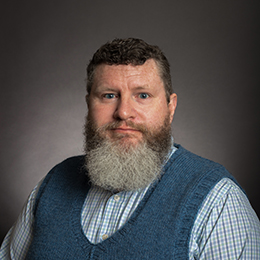 Dr. William Sewell, associate professor of English education, wrote a chapter for the book "Critical Explorations of Young Adult Literature: Identifying and Critiquing the Canon." 
"The book is designed to critique canonical young adult (YA) literature, books that are very important to the genre, books such as 'Catcher in the Rye' all the way up to current ones," Sewell explained. 
His chapter was on the 1974 book "The Chocolate War" by Robert Cormier, one of the first YA novels to be taken seriously, Sewell said. He looked at real issues teenagers face and real problems in society. 
"This book is about a young man who says, 'I don't want to participate in the school's chocolate sales and society turns against him for standing up," Sewell said. 
He chose to examine the book through the lens of Marxist criticism. "This type of criticism looks at history and about power struggles, and this book is about those things," he said. 
At the time "The Chocolate War" was written the U.S. was struggling with issues like the Vietnam War, the Watergate scandal, and a growing distrust of the government. The book focuses on these problems with school leadership replacing the government in the story. 
"The problem is there aren't simple resolutions," Sewell said. "My chapter probes those resolutions and shows ways in which they are resolved symbolically through literature." 
Sewell believes that YA books can get people excited about reading and lead to more reading more traditional books. He hopes to work on a book researching book pairings of YA novels and classic literature.