February 10, 2020
Magic drew Alexis VanderWilt to Dakota State.
"I actually wanted to be a magician," said the Mitchell, S.D. native.
When she heard that the Dakota State University GenCyber camp was going to have a magician perform one night, she attended the free camp just for the performance.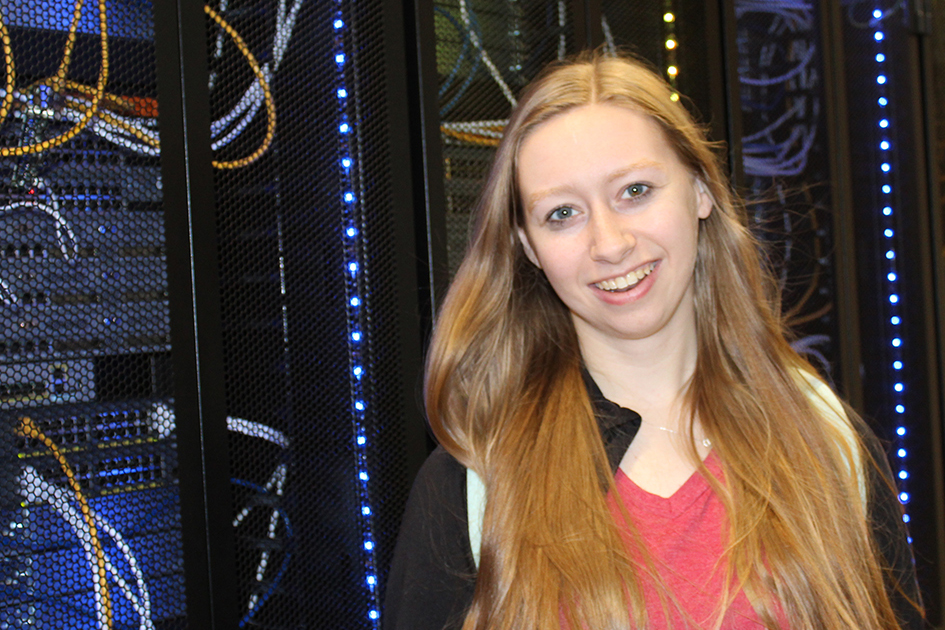 But instead of falling for magic, Alexis fell in love with the campus and with computers. While continuing her high school education, she attended more DSU cyber camps, and other computing opportunities, including an internship at Microsoft in Chicago one summer while still in high school. Now she is a junior here, double majoring in computer science and math for information systems, with a minor in Spanish.
"The environment is incredible here," said Alexis. "The teachers really help you. In fact, they go out of their way to keep you informed. I love DSU for that," she said. The university also sponsors frequent workshops and conferences, hosts guest speakers from national agencies and companies, and promotes student research.
"That's one of the best experiences," she said. When you have an idea for research, "the faculty let you take your ideas and let you run with them."
Alexis's research has earned her first place in the undergraduate category at the 2019 DSU Research Symposium; she presented that research at the Midwest Association for Information Systems Conference in Wisconsin last May, and has been invited to participate in the 7th Heidelberg Laureate Forum, held in Germany in September 2019.
Alexis would like to continue doing research in her career, possibly in software development in industry or at a national laboratory. "I like to find new ways to solve problems."
Her advice to fellow students is to "be flexible, because the jobs you are training for might not exist yet," but DSU prepares you for that. "Be flexible and open-minded, and things will come your way."