March 19, 2020
For Lindsey Vogl, Dakota State University has reinforced the lesson that "you can find opportunities everywhere" and she's ready to take that lesson out into the world.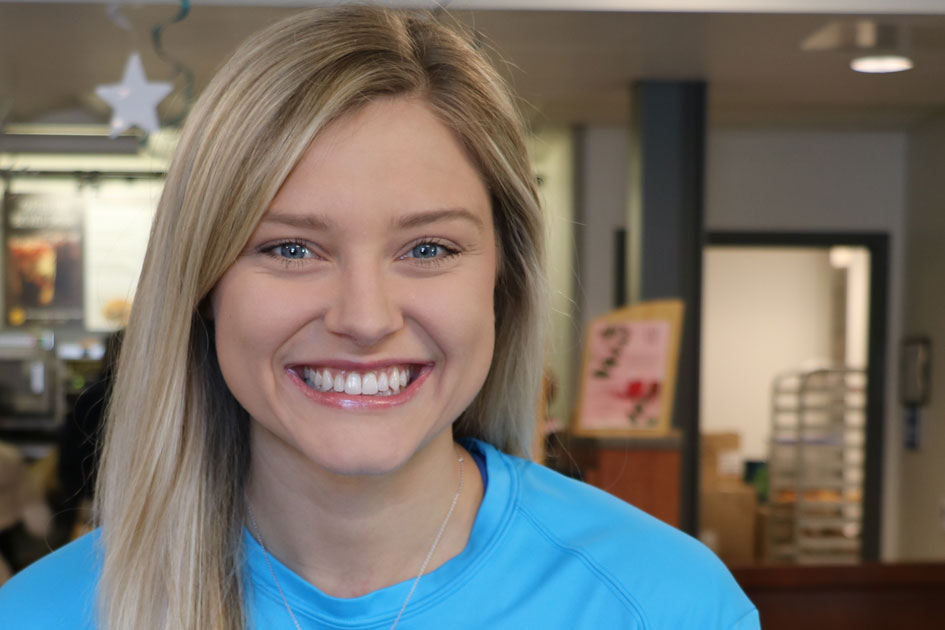 Vogl, a Webster, S.D. native, is a senior basketball player graduating this spring with a degree in professional accounting.
"I was really involved in high school and knew I wanted to carry that into college," she said.
This started with her participation in basketball, where she met new people. "My athletic career gave me a lot of really good friends," she said. "I had built in friends right away."
Vogl chose the professional accounting degree, which enables students to be fully prepared to become a Certified Professional Accountant (CPA) upon graduation. CPA candidates are required to have 150 semester hours of college credit before they're allowed to take the CPA certification test, which the professional accounting degree aligns with.
She's thankful for the dedication DSU's College of Business has for providing outstanding education to its students. With a solid curriculum and accomplished faculty, they provide an interactive and innovative program.
In addition to working hard in the classroom, Vogl made time to meet new people, and gain new experiences throughout her career at Dakota State. She joined the PBL (Phi Beta Lambda) Business Club, ultimately becoming an officer, participated in student senate, and joined the athletics captain's council.
"There's opportunities everywhere, but sometimes you have to go find them," she explained.
Adding that, despite being a small campus, you can have the same experience with the same opportunities of a larger school. She encourages current and future students to branch out and get to know a lot of other people.
On the basketball court Vogl learned important lessons about perseverance and hard work. "You have to keep working otherwise those around you will work harder and surpass you," she said.
Her favorite memory at Dakota State is the first game she started in for the women's basketball team. "I went for seven of eight from the three-point line," she shared.
As we approach graduation Vogl is already looking to the future. She has accepted a position as an International Tax Associate at RSM in Minneapolis beginning in fall of 2020. Beyond that she has goals of writing a book inspired by her favorites, the Harry Potter series and Stephen King novels.