March 16, 2020
Audio production is an art. "You do have to practice it and develop new techniques to get the sound you want," said Mason Wieman, a digital sound design major from Crooks, S.D.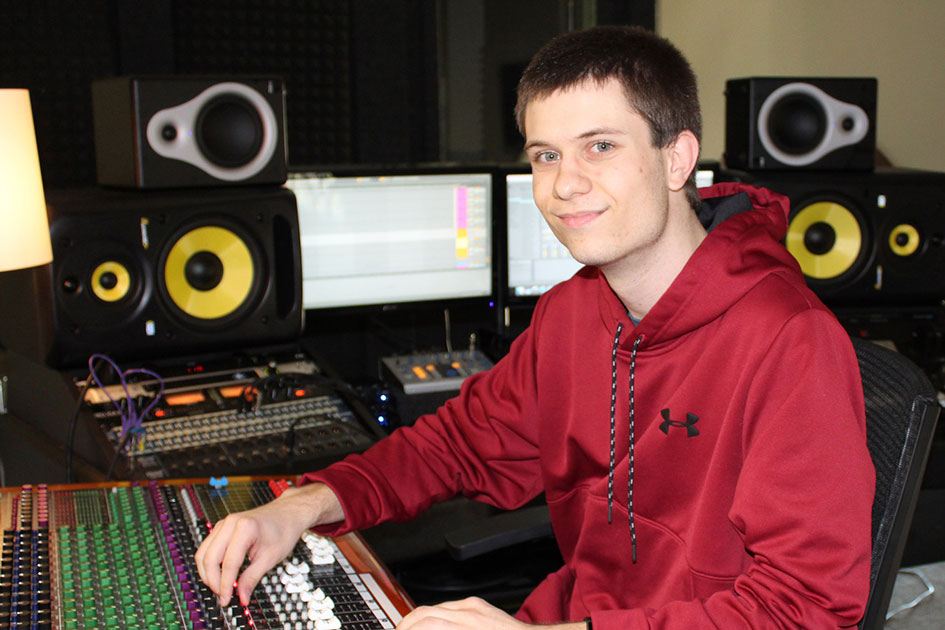 He was "big into music," playing trumpet, some piano and guitar, and singing. Then Mason attended the campus visit opportunity called Discover DSU Day while he was still in high school. He saw that the Digital Arts and Design (or DAD program) incorporates all forms of arts and design in their studies, but still focus on a specialization, either digital sound design (formerly called audio production), film and cinematic arts, computer graphics, or production animation.
"No other campuses had a program like this," he said. After two years on campus, "I'm loving it so far."
Although Dakota State "is big for me," it's small enough that the audio majors all know each other. "We're like a community," Mason said, "we know each other really well." One of those community connections was with recent graduate D. J. Redlin. Redlin had been working with a local community choir, Madison MasterSingers, providing audio and recording at their biannual concerts. Shortly before Redlin graduated, he approached Mason about taking over for him. "This was very cool," Mason said. "I really love doing this. It's a lot of fun."
Other opportunities with live music have come through on-campus events. Some of these have been the best college experiences for Mason. "DSU brings a lot of talent to campus," he said, sometimes from national venues such as America's Got Talent. He has worked with professionals such as magician Steven Brundage, and through the on-campus concerts such as DSU Live, students work with live bands. "That's a great portfolio builder for audio students, and it's a great hands-on experience for learning the real world of the business."
There are a lot of options in audio production, from studio work to live events to sound design for companies, but "I'm liking the live sound and running live events," he said. During the summer, he was an intern with Pinnacle Productions in Sioux Falls, SD, a real-world experience that has helped build his portfolio.
He advises prospective students to "be ambitious, be excited to learn, and seize every opportunity you can and put yourself out there," even if it's an unpaid event.
"Don't be afraid to volunteer your time and see what you can learn."