March 17, 2020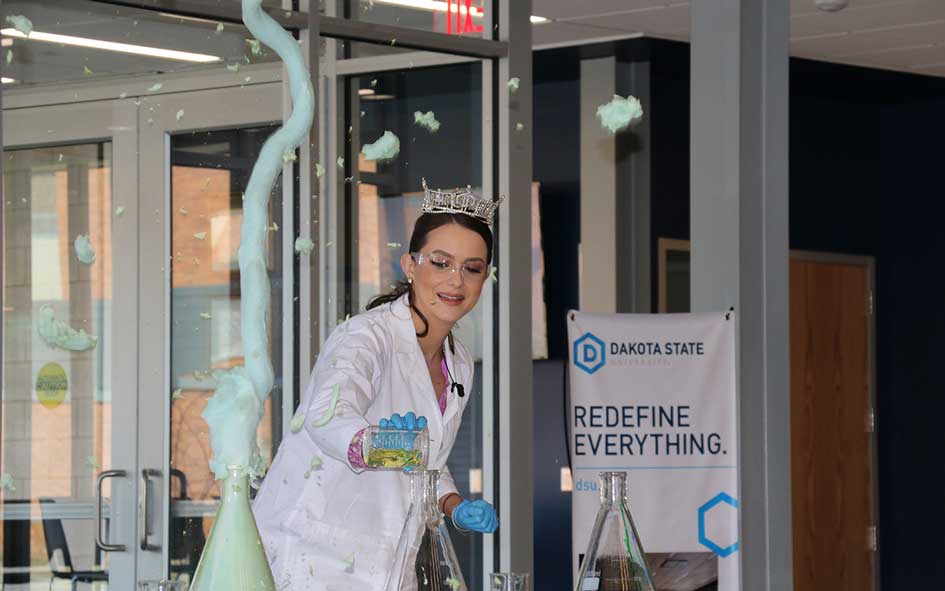 Miss America 2020 Camille Schrier visited Dakota State on Friday, March 13. During her visit, Schrier spoke about how she became interested in STEM, demonstrated the experiment she conducted as her talent in the Miss America competition, and answered questions submitted by Madison Middle School students. The event was livestreamed on YouTube and Facebook Live, with students from Madison and Huron watching online.
Dakota State began offering a scholarship as part of the Miss America competition this fall with The Beacom College Writing Scholarship. The Beacom College of Computer and Cyber Sciences at Dakota State University pledged over $100,000 in an effort with the Miss America Organization to encourage an emphasis in the fields of science, technology, engineering, and math (STEM).
"I'm so inspired and excited that we have STEM scholarships in Miss America," Schrier said. "When I was Miss Virginia, I sought out our own STEM scholarship so that the candidates for Miss Virginia could have a STEM scholarship opportunity."
While sharing her love of learning and science, Schrier spoke about how science is a part of so many things. She believes the STEM field will continuously expand, ultimately touching every single industry in the U.S. and world. "We're changing the way things are produced, we're making things more efficient, we're hoping to reduce environmental impacts through the way we produce things," she explained.
As Schrier continues traveling across the U.S. as Miss America she hopes to inspire young girls like herself who have an interest in science. "I have girls who wear lab coats and crowns to come meet me," she said. "If a young girl can think of Miss America as having a white coat then I've done my job."