March 10, 2020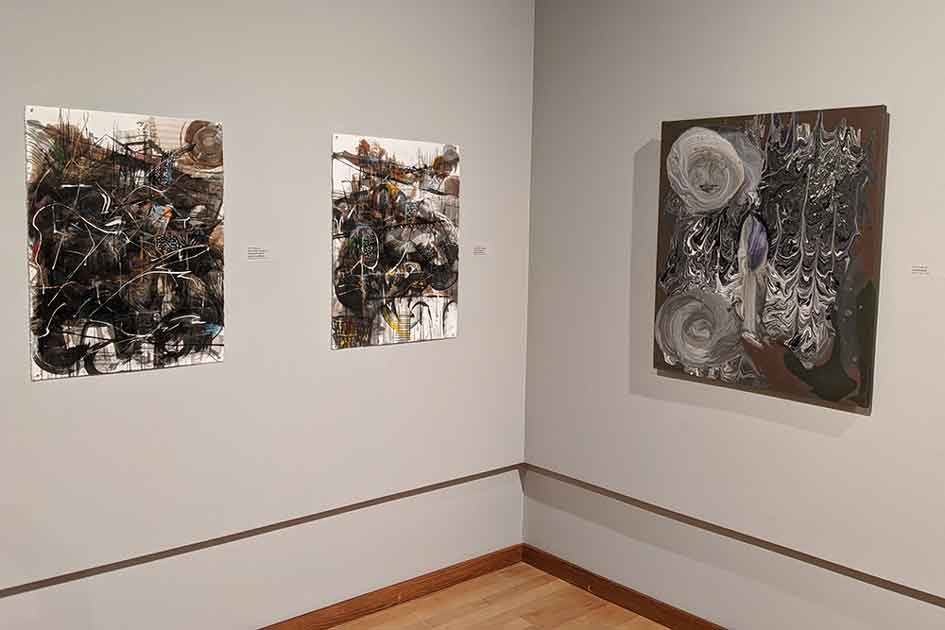 Alan Montgomery, professor of art, is currently part of an exhibition on display at the South Dakota Art Museum through May 10.
Montgomery's work was chosen as part of the abstract exhibit, with about 10 pieces from his Bog Cycle series on display at the museum.
Montgomery recently began including circular formats in the series. "They're really a lot like the rectangular format, but they're more specific to the circle, referencing planetary and cosmic things," Montgomery said.
His influences for this work include the metaphysical, landscapes, and the poetry of Seamus Heaney.
Montgomery joins seven other artists with work in non-objective abstraction, defined by the complete absence of the naturalistic depiction of real objects. The artists were selected by Jodi Lundgren, interim director and coordinator of exhibitions at the South Dakota Art Museum.
"Alan is an outstanding abstract artist in the state," Lundgren said. "His works are some of the more painterly and expressive works in the show in terms of the organic, fluid nature of his handling of media and compositions."
The seven other artists in the exhibition include John R. Anderson, Diana Behl, Jeff Freeman, Liz Heeren, Rick Johns, Erica Merchant, and Molly Wicks. The South Dakota Art Museum in Brookings is open Monday through Friday 10 a.m. to 5 p.m., Saturdays 10 a.m. to 4 p.m. and beginning in April on Sundays 1 to 4 p.m. Admission is free, as is parking.