July 27, 2020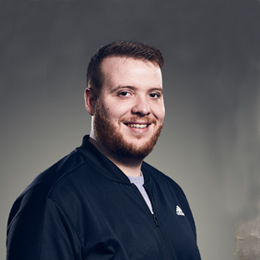 Nicolas Engle, a professional esports athlete, is bringing his knowledge and experience to Dakota State's young esports team.
Engle started out playing Call of Duty on Xbox 360. He learned about more a more skilled level of play through friends he met playing the game.
"From there I became obsessed and wanted to be the best in every aspect of gaming," he said.
Engle, a Yankton, S.D. native, started his competitive career in Call of Duty competitions before taking up PC gaming. He played CSGO in the Cervo Pro League and finished his career playing public and private Fortnite events.
There's a lot of work that goes into being a professional esports athlete, Engle explained.
"Esports is a 24-hour, seven day a week sport that does not take days off, and if you want to make it as a professional player where you have hundreds of millions of players trying to make their name as a professional player you have to work harder and longer than most traditional sport athletes," he said.
He also has a history teaching individual esports teams and individuals looking to improve their playing. These experiences will be beneficial to the esports program as it continues to grow at DSU.
"His perspective of the gaming industry and general attitude toward esports and student development is invaluable as someone who is in an influential position," said Andy Roland, head esports coach. "As a former player he understands the needs of an athlete as well as the expectations of a legitimate organization."
Adding the assistant coach position will help with the organizational and administrative responsibilities that come with a sport that has nearly 100 student athletes, Roland shared.
Since starting his position, Engle is focusing on recruitment, noting that esports players often have a love for technology that makes DSU a great place to continue their education and participation in the sport.
Additionally, he will work with Roland to coordinate media coverage of matches and events, and together they hope to "overcome the language barrier" between the esports community and casual viewers.
"This year we aim to connect with the DSU community and teach those who are interested about what we do and why we are so passionate about it," Roland said.
 Engle will also be working with athletes on skill development in the game in which they are competing.
"I hope to guide our teams to success in competitions and academics," Engle said.