July 23, 2020
Sammy Drummond came to the U.S. from Australia so that he could play baseball while continuing his academic studies. This led him to Dakota State University where he is a senior physical science major.
Drummond is thankful for the opportunity to be a student athlete. "DSU does a spectacular job of supporting their athletes, and all students, in their academic desires," he said. "My coaches have also been very helpful, allowing me to adjust my athletic commitments, when necessary, to allow me to achieve all of my academic goals at DSU."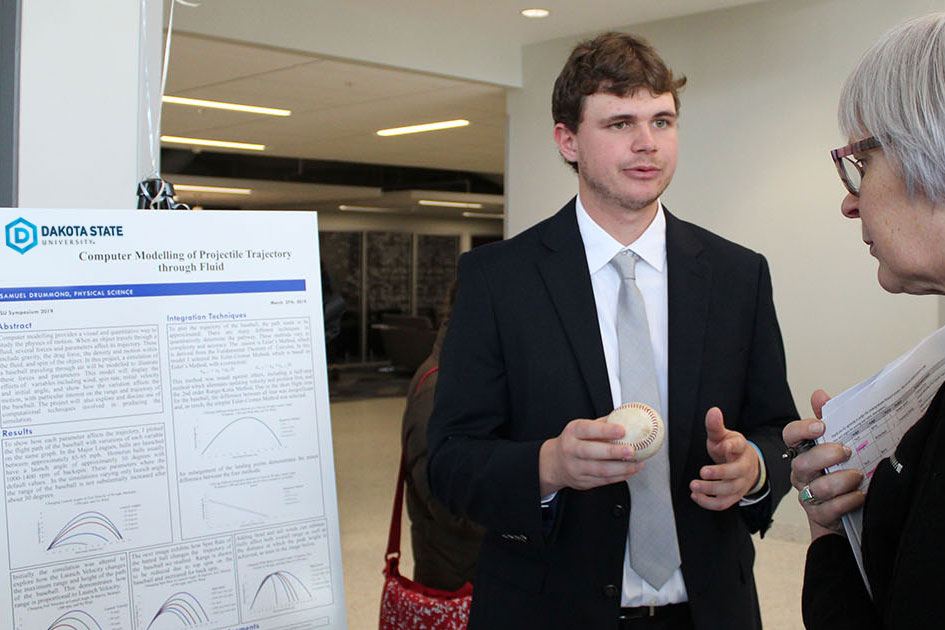 The small size of his physical science major has enabled him to be involved in a variety of research as an undergraduate. He earned second place in the 2019 DSU Research Symposium for his undergraduate research "Computer Modelling of Projectile Trajectory Through Fluid." The research studied the forces and parameters that affect the trajectory of an object as it travels.
In addition to participating in multiple research symposiums, Drummond is spending the summer conducting astrobiology research in Dr. Michael Gaylor's lab. The opportunities in research throughout his academic career have beneficial, he shared.
"We have an emerging science department that allows students to start performing research early in their academic life," Drummond said.
"I would have never had the opportunity to be involved in so much research, and so early into my academic career at a larger school."
Drummond's involvement on campus goes beyond baseball and research, as a member of the DSU Space Club.
"I have always loved space and rockets, and this club has given me the opportunity to become more involved in building and launching rockets," he said. "It also gave me the inspiration to base my research on in the past academic year."
Throughout his time on campus Drummond has felt welcomed and cared for by everyone he's met. Two professors in particular have and continue to impact his education.
"Drs. Gaylor and Maloney have really been supportive of me and my dreams," he said. "They have been the ones to provide guidance on research, careers, and graduate schools in my field."
To current and future DSU students, Drummond recommends getting involved in as much as possible on campus. The experiences he's had will be valuable as he continues his education.