August 14, 2020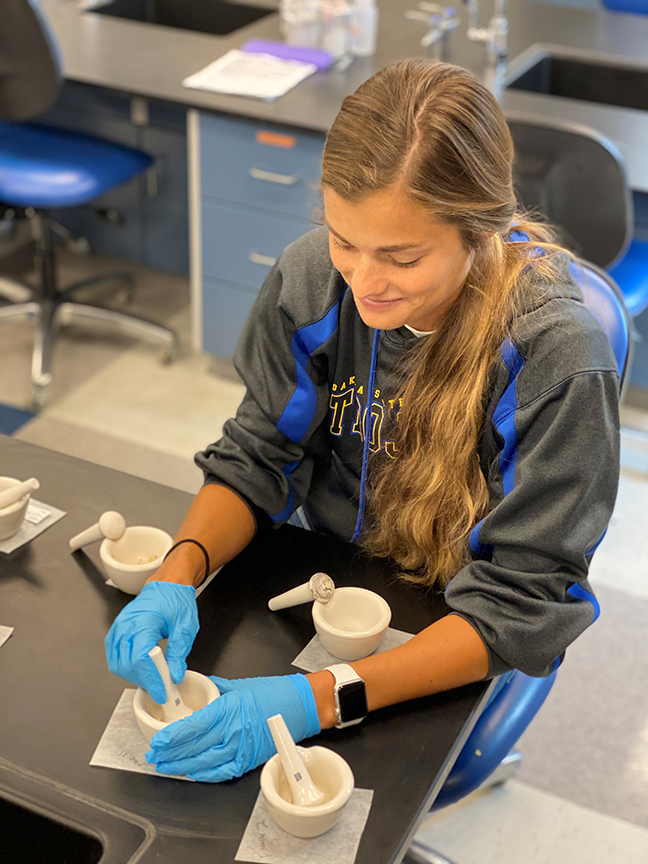 DSU students Jenni Giles and Conner Tordsen have identified Aphanomyces (root rot in alfalfa) in South Dakota for the first time.
Giles and Tordsen, under the guidance of Dr. Andrew Sathoff, assistant professor of biology, started their research looking for Aphanomyces in alfalfa this summer through a partnership with local Madison small grain seed business Mustang Seeds.
"We've started getting our polymerase chain reaction (PCR) results back, so we've been able to confirm in multiple different counties."," said Tordsen, a junior biology major. The PCR method amplifies small segments of DNA to study, and is one of the varieties of lab techniques the students appreciated learning."
Because Aphanomyces affects the roots, an alfalfa plant can look healthy, but still have the disease, explained Jenni Giles, a junior biology major.
By bringing back soil samples from 43 different fields in 15 counties in South Dakota, Giles and Tordsen were able to plant different seedlings, some of which have resistance to Aphanomyces, and watch what seeds grew best in the field's soil.
Both students were excited when they first found Aphanomyces in the samples.
"What we're doing is genetic analysis, so we're growing all the plants and looking for symptoms of disease in the plants and then we're extracting DNA from the plants to see really if that disease is in the plants," Sathoff explained.
Once they extract all the DNA, they worked to amplify a gene that's specific for Aphanomyces so they can actually visualize it. The students use a piece of equipment called a thermocycler to amplify the gene, and then use the lab technique, called gel electrophoresis, to examine those amplified genes.
The students have also found other diseases in the alfalfa fields, highlighted by the fact that the Aphanomyces resistant seedlings won't grow in some soils. This has led Giles to continue studying alfalfa; this fall she will be looking for Pythium.
"Pythium is another seedling disease that affects alfalfa," Giles said. "It can infect mature ones too, but most likely seedlings, effecting field development and establishment."
"It rots the seeds so there's no germination at all," Sathoff added.
To fight Pythium, farmers use different fungicides and seed coatings, according to Giles. By determining what fields have Pythium, farmers may be able to cut costs by reducing the use of fungicides in fields that do not need it, she explained.
Giles and Tordsen contact the farmers as they learn the results of each field. "A lot of them are pretty interested in knowing what we've found," Tordsen shared, "to see if their seed line was good enough to keep replanting and then if it's not, we always suggest a seed line to grow to better establish their fields and give them the best yield possible."
Many of the farmers are interested in continuing to be part of the research the students are conducting.
Sathoff is working with Tordsen and Giles to publish their findings in at least two publications.