EPSCoR students present research at summer symposia
August 10, 2020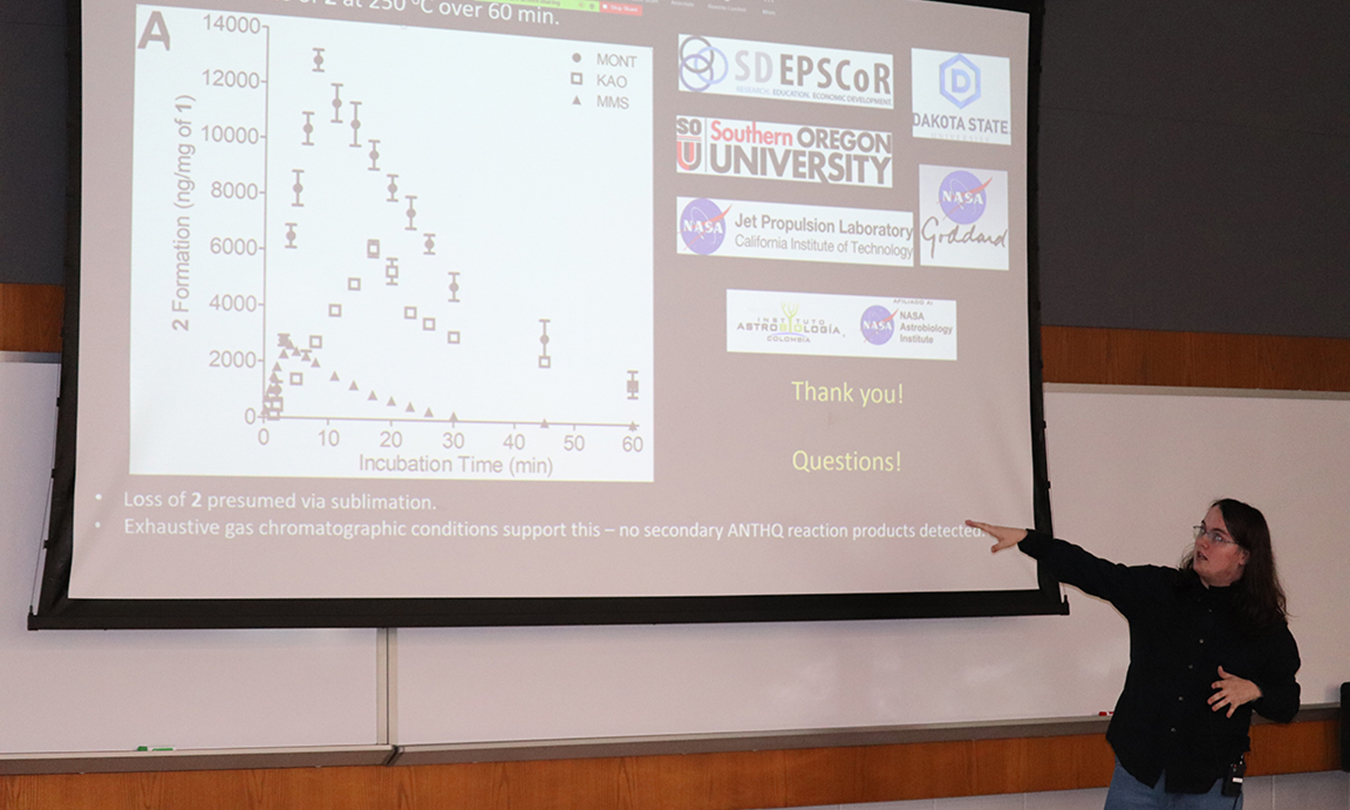 Six students participating in the National Science Foundation's Established Program to Stimulate Competitive Research (EPSCoR) program presented their research findings from this summer during an undergraduate research symposium held in July.
The students first presented their research to an on-campus audience at Dakota State's Inaugural Summer Undergraduate Research Symposium, and then at the 7th Annual South Dakota EPSCoR Summer Research Symposium.
The EPSCoR program builds training, infrastructure, and talent in the areas of Science, Technology, Engineering, and Math (STEM) in underrepresented states. Dakota State received a five-year grant to conduct research.
Dr. Michael Gaylor, associate research professor of chemistry, worked with four students conducting astrobiology research. Christina Mulu, Jared Dewitt, Christina Maloney, and Sammy Drummond studied chemical compounds and minerals found throughout the solar system that, in certain planetary environments, undergo chemical reactions that produce molecules essential for life.
Gaylor's team discovered that chemicals known as polycyclic aromatic hydrocarbons – found on Earth and Mars and elsewhere in the solar system – undergo chemical reactions in the presence of minerals common on both planets to produce chemicals known as quinones which are essential for all life on earth. Working with collaborators at NASA's Jet Propulsion Lab and the Astrobiology Institute of Colombia, the team's larger goal is to use these findings to develop methods to determine whether these same chemical reactions are happening on Mars as possible indicators of past or present life.
"We want to know that this chemistry can happen on Mars, to understand whether life once existed there or may exist in the future," Gaylor shared with the audience.
The four students intend to continue their research efforts this fall.
Dr. Andrew Sathoff, assistant professor of biology, worked with two students on alfalfa disease research in the state of South Dakota.
Connor Tordsen and Jenni Giles spent the summer collecting samples of soil from eastern South Dakota alfalfa fields and testing for Aphanomyces, or root rot, which can impact a farmer's yield of alfalfa. By identifying Aphanomyces, farmers can purchase seeds resistant to the disease to improve their alfalfa yield.
Giles and Tordsen both intend to continue alfalfa research this fall.