August 25, 2020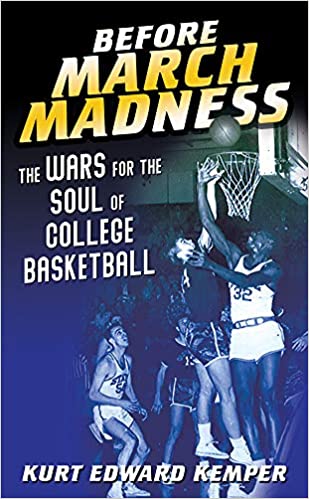 Dr. Kurt Kemper, professor of history and General Beadle Honors Program Director, is publishing a book "Before March Madness: The Wars for the Soul of College Basketball," with University of Illinois Press.
Kemper didn't initially intend to write about intercollegiate athletic reform, but while researching an infamous 1951 college basketball fixing scandal, questions arose about what constitutes reform in intercollegiate athletics.
Over six years, Kemper looked at schools that don't play big-time commercialized sports and that don't play in the NCAA.
"I learned of the intense conflict within higher education that is riven throughout the discussion on the meaning and function of college athletics," Kemper said. "At no time has American higher education ever really come to any consensus on the function of college sports. Basically, the answer varies depending on who you ask and their own self-interests."
Kemper offers examples of athletic programs' priority over education. During the Depression, some called for state appropriations to fund athletics while cutting education funding; in WWII big athletic programs refused to halt activities to support training needs of the military. It's happening now with COVID-19, as many say that the financial consequences of not playing college sports this fall are too great to cancel, he added.
Big money NCAA basketball originated in a many-sided conflict of visions and agendas. One side featured large schools interested in a commercialized game that privileged wins and profits, Kemper explained. The other side featured an alliance of liberal arts colleges, historically black colleges, regional state universities, and the competing interests of the NAIA, all of which had individual interests.
"The clashes that shook college basketball at mid-century – and how the repercussions continue to influence college sports to the present day -- are a portal to the changing public culture of American higher education during the time," Kemper said.
As higher education in general and college sports in particular grapple with the economic consequences of the COVID-19 pandemic, "Before March Madness" delivers a timely re-examination of the function and funding of competitive athletics in higher education.
The book is available for purchase through the University of Illinois Press and Amazon.