DSU Theatre to perform "Vintage Hitchcock"
November 10, 2020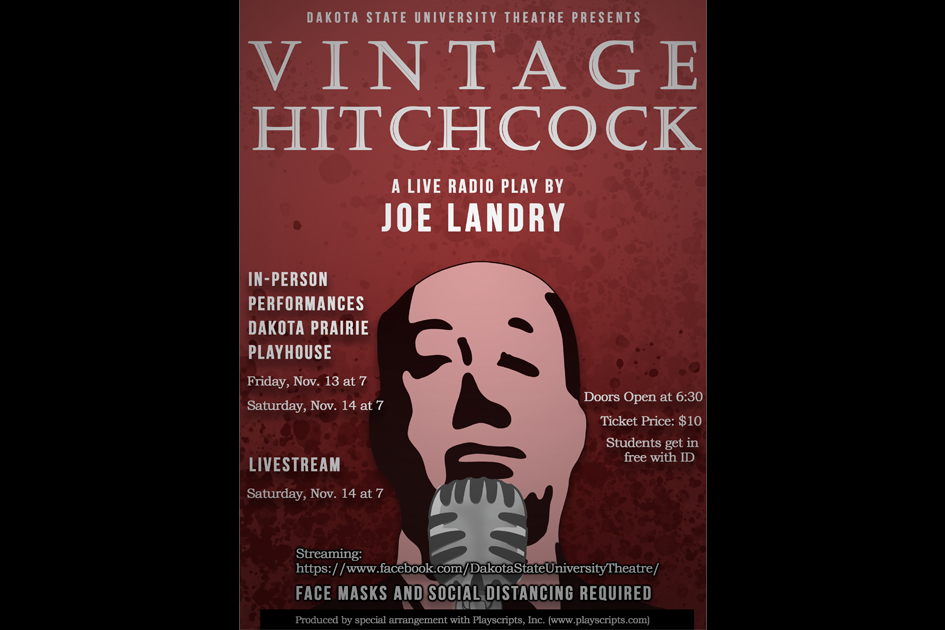 Sixteen film and sound design majors in the Digital Arts and Design program at Dakota State are producing and performing "Vintage Hitchcock: A Live Radio Play" by Joe Landry.
Similar to other extracurricular activities this production was impacted by COVID-19. DSU worked to keep the production safe by selecting the cast from one class to reduce exposure. They were also able to add distance between the actors on the stage by selecting a radio play that spread the actors across the stage with their own microphones.
"The students are handling all the aspects of the performance, including creating sounds for this murder mystery radio play," said Ann Elder, director of theatre.
"Vintage Hitchcock" is a triple feature based on three early Hitchcock films "The Lodger," "Sabotage," and "The 39 Steps."
As a radio show the production will include vintage radio ads, uniquely made sound effects for this performance, and music. Viewers will experience classic storylines like train chases, serial killers, spies and more.
Face masks and social distancing will be required at Dakota Prairie Playhouse for the Nov. 13 and 14 showings. Doors will open at 6:30 p.m. both nights, with a 7 p.m. show time. Tickets will be $10 for the general public and students will have free entrance with student ID.
In addition to seeing the show live, people interested in viewing the show will have the opportunity to livestream Saturday's performance for a fee. Visit the Dakota State University Theatre Club Facebook page for more information.