Schemmel hired to head DSU Foundation
December 9, 2020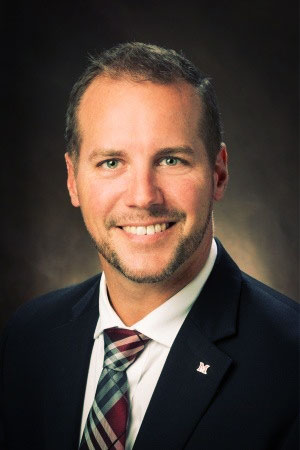 Jon Schemmel has been hired as the new Vice President for Advancement at Dakota State University.
Schemmel grew up in Eden Prairie, Minnesota, but has deep family roots in the Madison area. His parents grew up in Madison and graduated from Madison High School; he still has family in the area.
He is also familiar with higher education in South Dakota. For six years, he was Senior Associate Athletic Director for Development at the University of South Dakota. Most recently he has been Senior Associate Athletic Director and Assistant Vice President of Development at Miami University since 2017. He is also a Consultant with College Sports Solutions.
"Jon brings to Dakota State great experience and notable success with institutional advancement, but it is his family and professional ties to Madison and South Dakota that will enable him to make a true impact at Dakota State," said José-Marie Griffiths, DSU president.
Dr. Richard Hanson, interim vice president for Institutional Advancement, noted Schemmel's experience with strategic planning, collaboration, and revenue generation, skills which he will be able to leverage as he leads the Foundation staff in support of the academic mission of Dakota State, the Trojans Unite campaign, as well as his participation in university leadership as a member of the President's Cabinet.
"He will bring energy and leadership to our Foundation and to our university, and will be able to hit the ground running," Hanson stated.
Schemmel is looking forward to returning to South Dakota, and to Madison.
"President Griffiths has shown tremendous leadership for DSU and the Madison community and her vision for the future is incredibly exciting. I am thrilled to have the opportunity to serve that vision and continue building something special at Dakota State University," Schemmel said.
He will begin his duties on January 22, 2021. "My family and I are eager to make Madison our home and begin meeting community members and DSU students, staff, and supporters!"