DSU student art on display at Washington Pavilion
April 29, 2021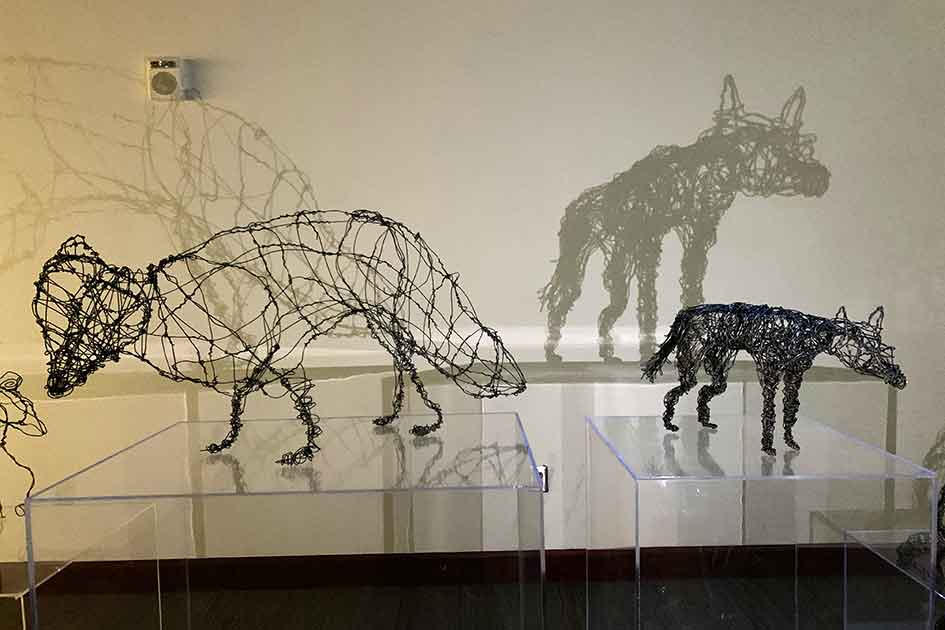 Dakota State University 3-D design students currently have their 3-D wire animals and wire spheres featured at the Washington Pavilion Visual Arts Center. Their Shadow Casting 2.0 exhibit is on display now through June 19.
DSU was invited to display their shadow casting exhibition after the Pavilion curator, Cody Henrichs, experienced it at the First Bank & Trust Gallery in the Mundt Library last November.
"Shadow Casting 2.0 contains 3-D wire animals and wire spheres installed in a darkened gallery at the Washington Pavilion Visual Arts Center," said Angela Behrends, assistant professor of art. "Visitors are invited to use their smart phone flashlights to cast shadows through the wire."
While creating the wire animals, the students frequently shined a flashlight through and around their structure to ensure the cast shadows continued to display characteristics of the animal.
A portion of the exhibit features wire spheres on the ceiling as a reference to conversations about how the COVID-19 global pandemic brought a lot of darkness into our lives, separating us, and keeping our faces covered.
DSU 3-D design students from this semester and last contributed wire animals to the exhibition, and the spheres installation contains pieces from the last three semesters of work, including spring of 2021. The exhibit also includes an environmental nature sound element.
"This exhibition is a great opportunity for DSU students, especially considering the show was invited to the art museum," Behrends said. "I don't think anything like this exhibition at the Pavilion has happened for DSU students before. It's very exciting that my 3-D students get to put this exhibition on their resumes – along with some of our digital sound design students."
There will be an artist reception on Friday, April 30 from 5 to 8 p.m.
Dakota State University artists who participated in the exhibit: Braxton Albers, Alex Adermann, Evan Becker, Garet Behnk, Alec (AJ) Bollman, Andrew Cotton, Lainy Culberson, Austin Donat, Brooklyn Goosen, Chase Hall, Ketia Hanson, Coal Halverson, Jacob His Law, Nate Ince, Josie Johnson, Mateo Kirstine, Conner Knepp, Kaden Krusemark, Kathleen Lange, Autumn Meyer, Alex Neill, Em Odney, Tyler Orcutt, Willow Richards, Megan Sankey, Ryan Shaeffer, Phusuda Sheehan, Isabel Small, Thet Soe, Ashton Songer, Caster Sylliaasen, Derrek Thompson, Andrew Vasek, Derian Voigt, Ben Wilson, Sandra Champion, Instructor of Digital Sound Design, Ryan Little, Xander Morrison, Spencer Raap, Mason Wieman.