June 2, 2021
With an eternal love, Shirley Blankley is dedicated to honoring her husband, George Blankley, whom friends and family affectionately called "Big George."
Through a donation to the Trojans Unite campaign, Shirley has ensured George will forever be a part of Trojan football with the naming of Blankley Field. This campaign will focus on several areas, one of those key areas being athletic facilities.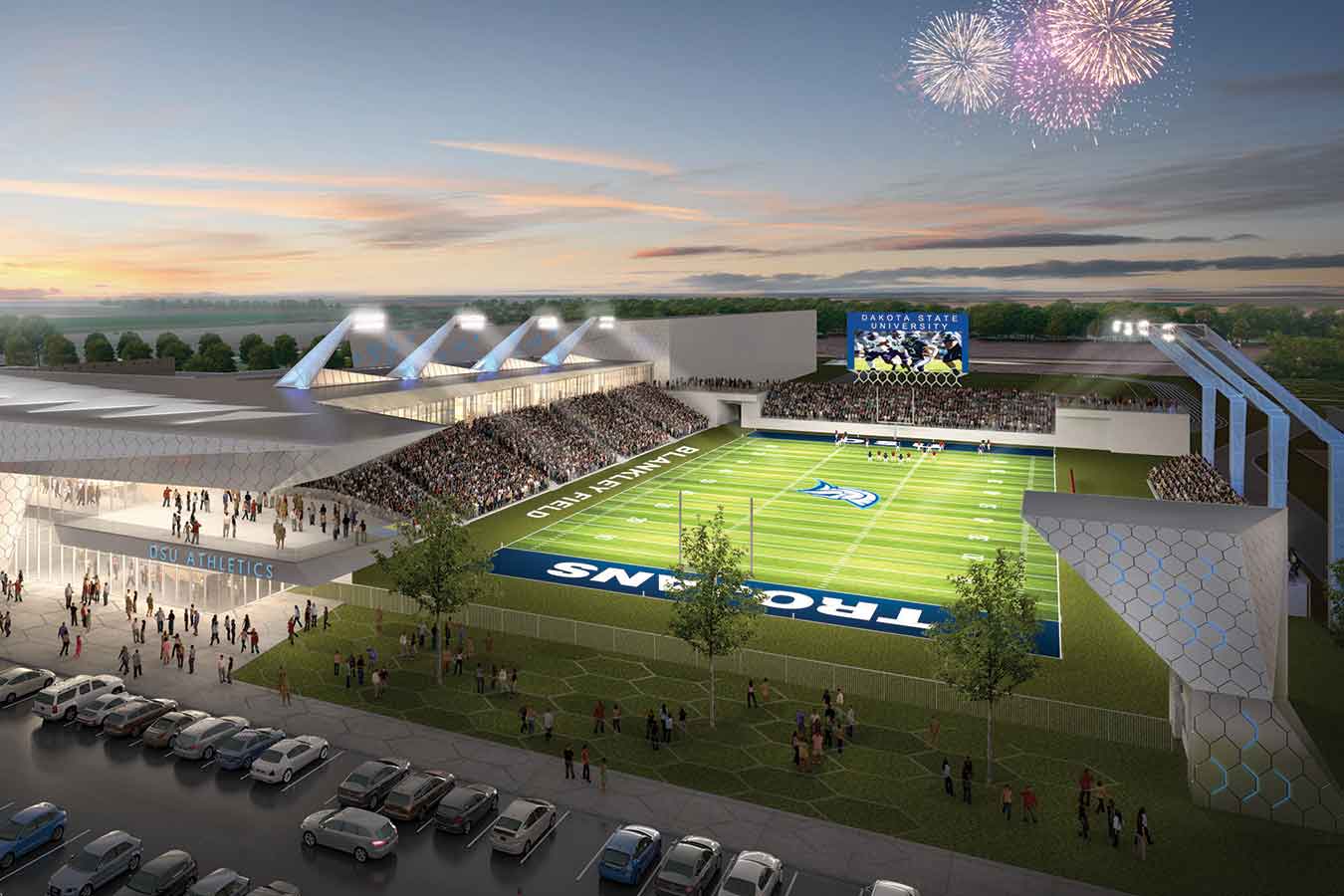 George began his time at Dakota State University as athletic director and football coach in 1962. Over the next 22 years he served in a variety of positions. But there was more to George than his career as a coach, Shirley said. She shared George's life story, going back to the late 1930s, during the depression when he decided to leave home because he didn't want to live his life on the picket line working in coal mines.
"Big George would be greatly humbled by this," Shirley beamed. "I'm proud as punch."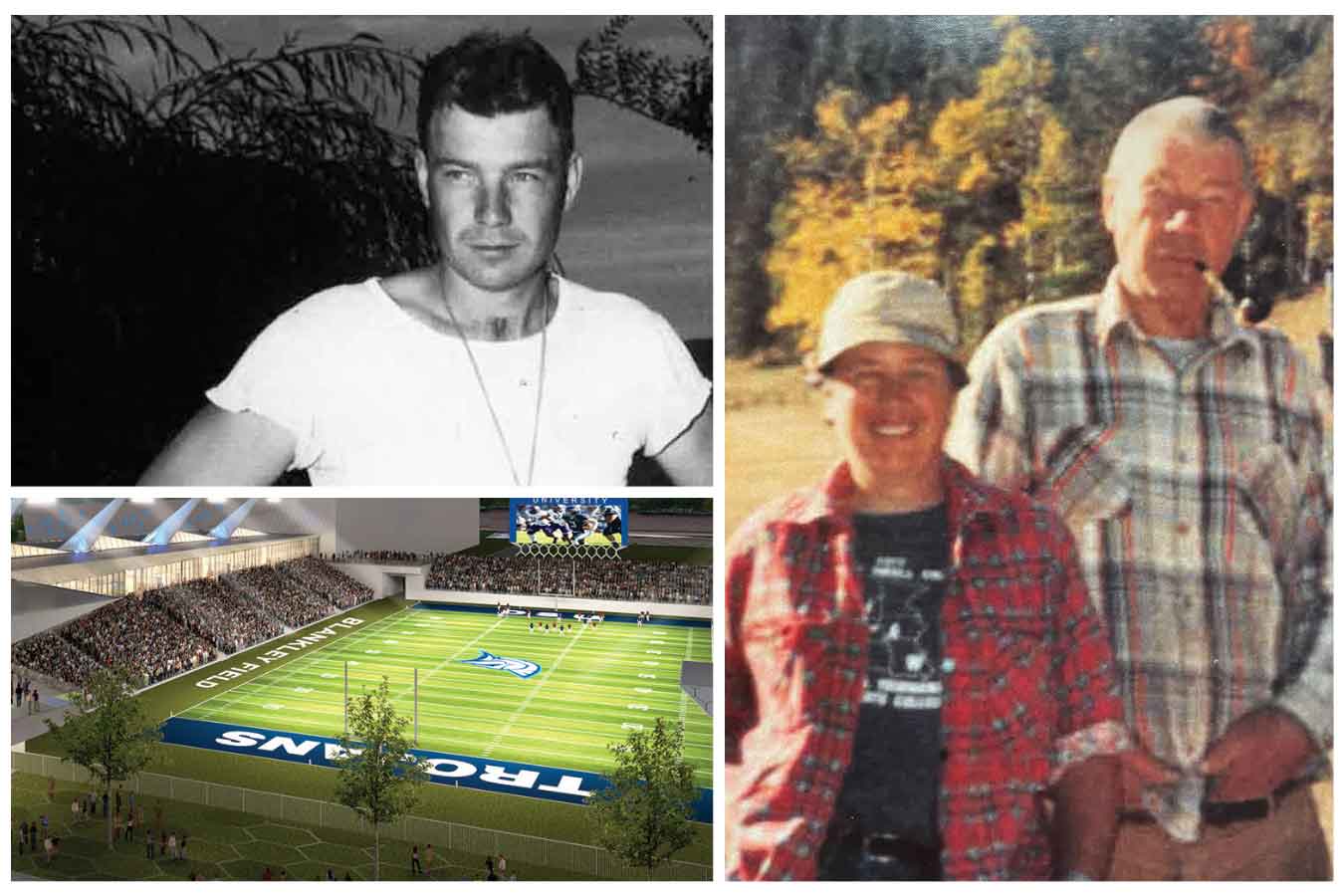 At 19 years old he hitchhiked from his home Curwensville, Pa. to Oregon. He left with only a duffel bag, cardboard in his shoes, and $35 in his pocket. The money he had was from trapping skunks and selling their pelts for $1 each.
Once he arrived in Oregon he lived in a tent. He landed a job grubbing out sagebrush with a pickaxe to clear land for farming. He cooked his own meals and bathed in an irrigation canal during this time. Next, he entered the Marines in 1942, but he was honorably discharged because they didn't have shoes big enough to fit him. George was 6'5 and wore a size 15 shoe. He spent time serving as physical trainer for Air Force cadets in Caldwell, Idaho.
George attended the College of Idaho, where he excelled in football, baseball, and basketball. He was recruited by two NFL football teams the Detroit Lions and the Green Bay Packers. However, George declined both because teaching paid more than professional football at the time.
He spent time teaching in small rural schools in Idaho, then earned a master's degree in education. George went on to work for 13 years at Boise Junior College, now Boise State, where he coached basketball and football. His teams made it to four national tournaments.
In 1962 George and Shirley (Adams) married and moved to Madison, S.D. where George began working at General Beadle State College (now DSU). In addition to coaching several sports – football, track and field, and men's tennis – Big George was an instructor, teaching general physical education classes, athletic training, first aid and safety, and a popular outdoor education class where students camped, fished, hunted, and learned outdoor cooking. This course allowed George to share his love of the outdoors with students.
In 1996 Big George was inducted into DSU's athletic hall of fame for his time as a coach.
When he wasn't coaching or teaching, George and Shirley loved to garden together as well as go camping, fishing and hunting.
"We would go every summer to the Black Hills," Shirley wistfully remembered. "Our favorite place was around the Deerfield area."
On campus, George enjoyed his job very much and worked well with the young men he coached and taught and patiently prepared them for jobs after graduation.
Shirley loved watching George coach, particularly football and basketball. "I went to the games," she said. "When a play didn't work, a towel always came over his head, or his hat went in the air."
In 1984 George retired and he and Shirley spent their remaining years enjoying more time for gardening, hunting, fishing, and camping. On December 29, 2016, George passed away at the age of 98.
The following year Shirley established an endowment in memory of George to provide scholarships to top football players, with a preference to South Dakota residents and students who need financial aid.
"That's where he wanted it to go," she said.
Since its creation Shirley has been able to meet and have lunch with several of the scholarship recipients. She is always sure to share George's story with them.
In addition to the ongoing scholarships, the Blankley name will live on in the new athletics complex. Blankley Field will be a part of the complex designed to benefit and grow DSU's athletics programs.
With the new field, DSU should gain more status and have an easier time recruiting athletes, Shirley explained. "I think it will make it much easier for the coaches to recruit."
This support ensures George's legacy will live on as we remember the rich history upon which our football program has been built and as part of the limitless potential for DSU's future.