DSU announces True Trojan award winners
August 24, 2021
Dakota State University has announced its annual True Trojan Hexagon Award winners.
These awards were created in 2019 as a way for the university to acknowledge employees. This new tradition coincided with the university's new brand image featuring the hexagon and new color scheme.
"This year's winners have true Trojan pride," said Angi Kappenman, Vice President for Human Resources. "They are true to themselves. They are hardworking and dedicated to their work and the other things they involve themselves in – things like their community, homes, and family."
She added, "The nominees and honorees are authentically committed to the mission of Dakota State University, and they are united under our driving goals and principles."
The awardees were chosen by a committee, consisting of the Vice President for Human Resources, two Civil Service Association (CSA) employees, two Non-Faculty Exempt (NFE) employees, and two faculty members. The announcements were made at the 2021 Welcome and University Address on August 16.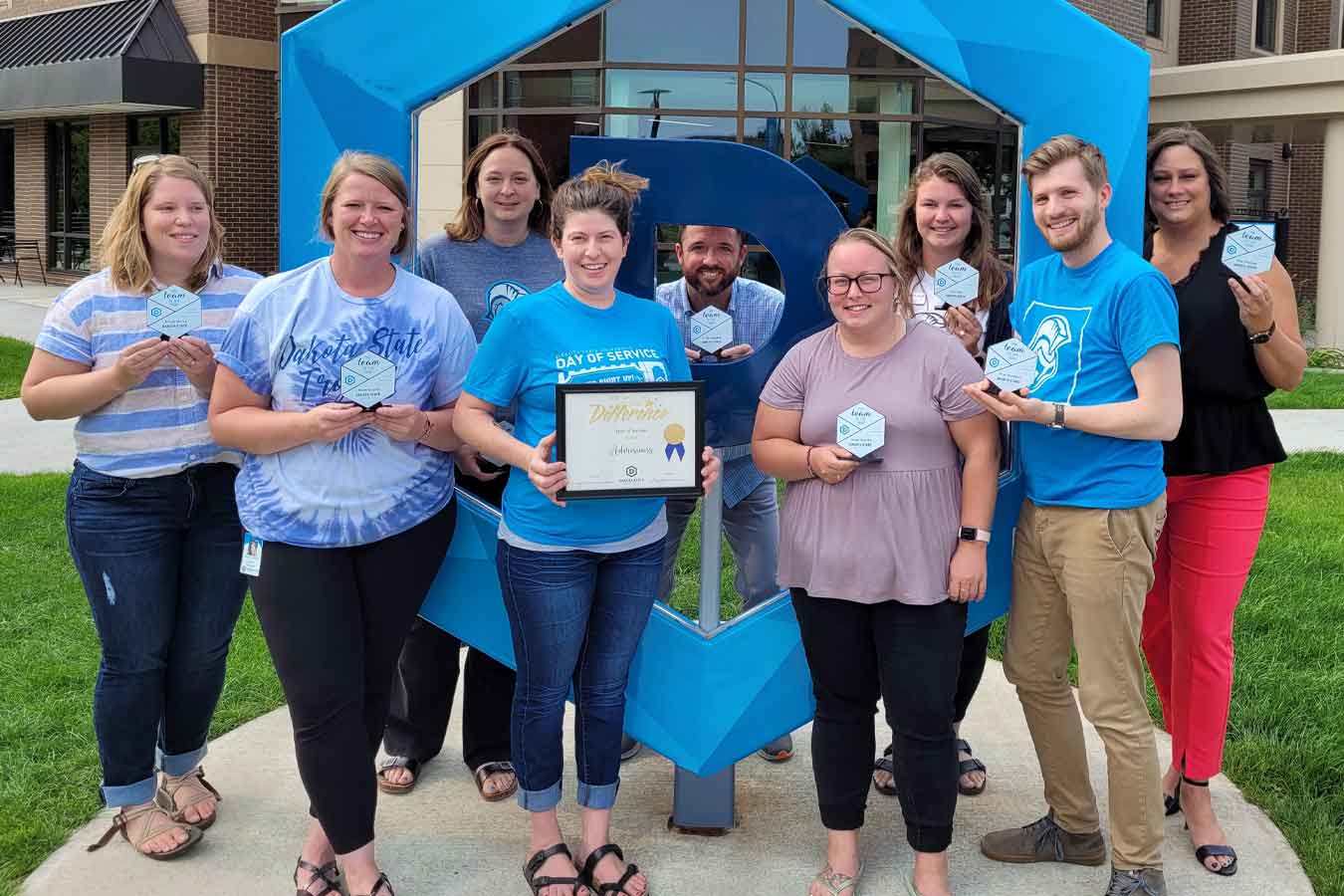 2021 Team of the Year – Admissions: Amy Crissinger and team members Tory Bickett, Micah Brandsrud, Sam Heap, Britney Jencks, Bailee Matucha, Rose O'Brien, Amber Schmidt, and Austin Slaughter. Nominations noted the major adjustments required by the COVID pandemic. "This team had to react and do it quickly. They had to figure out how to engage prospective students when they could no longer visit campus. Admissions could no longer go to high schools and college fair visits. The team had to think outside the box."
2021 Faculty Outstanding Contributor – Kindra Schneider, Instructor of Elementary Education. In student nominations, Schneider was lauded for her extraordinary job of building relationships with students and maintaining a positive learning environment. "Students feel safe taking learning risks in their class because we aren't afraid of consequences detrimental to our grade. Mistakes do not equal punishment, but rather show a need for additional learning," a nomination read.
2021 Staff Outstanding Contributor – Addie Borah, Title III Student Retention. Her nomination described her "excellent communication has helped me to excel in my degree program. Her commitment to advising me towards achieving my goals is unmatched."
2021 Equity, Diversity, and Inclusion – Dr. Jack Walters, Professor of Management/Coordinator for the Master of Business Administration program, and past chair of the university's Equity, Diversity, and Inclusion committee. His nomination letter noted Walters' dedication. "Jack has a passion that is evident to anyone that has the pleasure to know him. He not only advocates for students; he encourages others to do the same."
2021 Student Success – Kathy Engbrecht, Instructor of Computer Science/Retention Specialist. Her nomination letter shares her drive to help students. "This person provides the perfect storm of all things student success. They care about their students like they're their own children." It was also noted that she helped students via Zoom at all hours of the day during the campus shut down due to COVID-19.
2021 CSA Outstanding Contributor – Marie Johnson, Student Affairs/Counseling Center Support Specialist. Nominators described her as reliable, consistent, and professional, with a wealth of DSU knowledge, resources, and skills. "Each time Marie has been approached about taking on a new responsibility or moving to help out in a different area, she has always risen to the challenge. She is not one to get frustrated with the change. Instead, she embraces and accepts the opportunity to continue to grow and help out."
2021 NFE Outstanding Contributor – Jena Martin, Production Center Coordinator. Nominators shared her unquestionable dedication to her job. "Whether she's coming in early to hang a sign, stopping by on Saturday to print programs for a game, or staying late to light a building, she always makes sure everything gets done, even if it means altering her own schedule to do it," a nomination letter read.
2021 Bringing out the Best – Dr. Wayne Pauli, Professor Emeritus. Nominators wrote about the distinctive impact he has made on students, faculty, his college, and DSU as a whole. "He is a wonderful mentor, advisee, teacher, and friend," Also noted is his ability to make the college feel like a family. With many faculty expressing that they would be where they are without him. "I owe my career to Wayne because I would be where I am today without him. He undoubtedly brought out the best in me."