September 13, 2021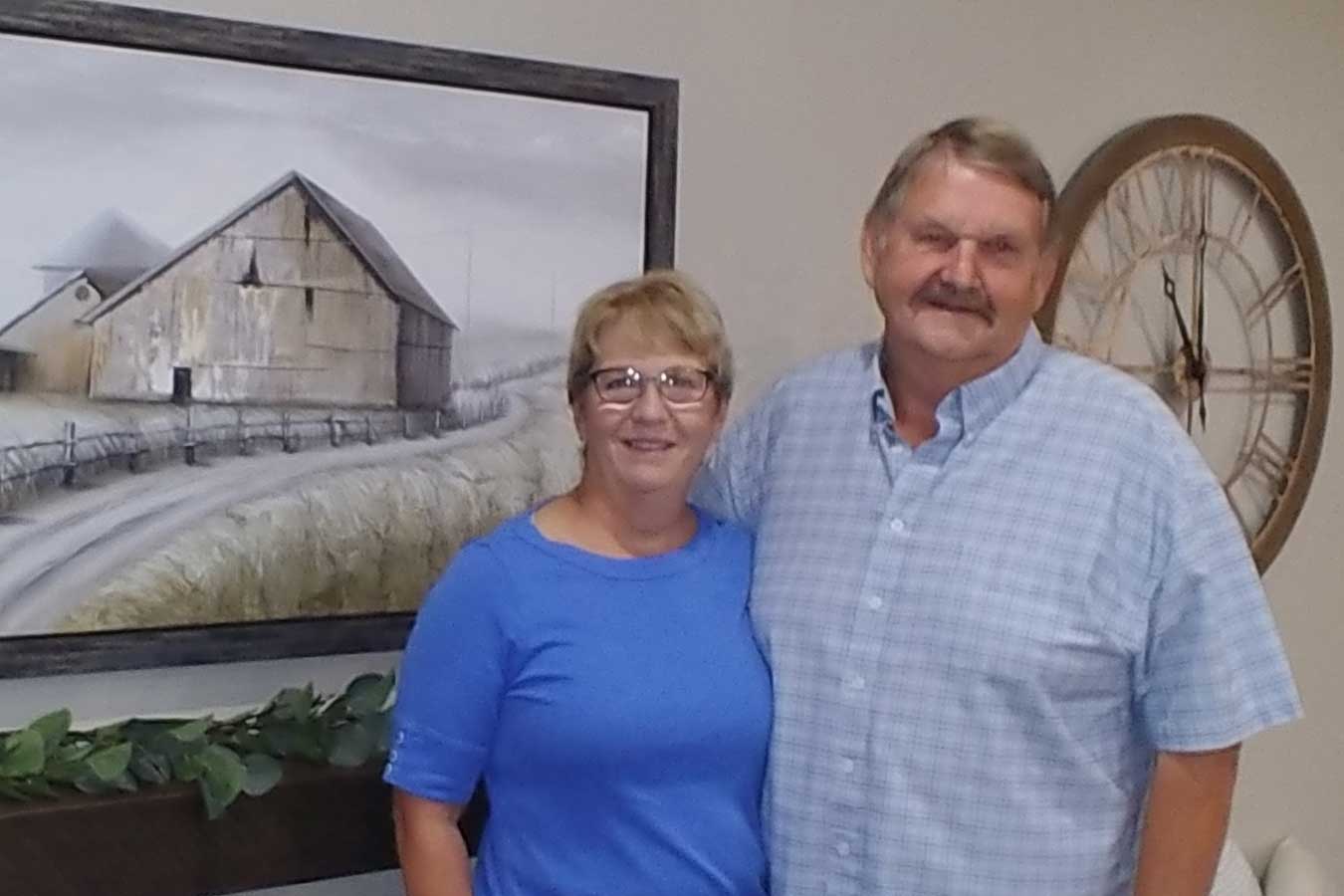 Farm life is a good life, according to Dan and Linda Stewart.
The Ramona-area residents have been farming together for 45 years, even longer individually. Dan said he has been farming "since I was big enough to get on a tractor."
Because of their contributions to farming, and their connections with Dakota State, the Stewarts have been named Honorary Ag Bowl Captains for 2021. The 6th annual Ag Bowl is slated for Sept. 18, against Presentation College.
Farming is an amazing process, Dan said, watching seeds produce a crop.
It's also amazing to be your own boss, Linda added. "You don't have to punch a clock, but sometimes there are long days," particularly in the spring and fall.
Dan was one of seven children; after his dad died when Dan was two years old, his mom raised the children on the farm by herself. As a young man, his mother insisted he go to college. "Mom said 'You go get an education and get a degree, so you will have something to fall back on if you want it.'" So Dan went to Dakota State, graduating with an elementary education degree in 1972, but chose to come back to the family farm.
Linda also grew up on a farm, and after they married, they worked as partners. Linda learned to plow, then disc, then combine. Now that they have automatic semis, she drives those as well. Their three sons helped, too, as they grew up. The family farms around 1,000 acres and used to have cattle, hogs, and some sheep, but now focus on corn and soybeans.
"It's been a good life," Linda said. It's also great for raising children. "They learn a strong work ethic."
Two of Dan and Linda's sons also went to Dakota State. Chris graduated with an associate degree and now lives in Brandon; Jason completed a marketing degree in 2007, and he and his wife Collette live in Madison, where Jason has his own marketing company. Son Kevin served in the Marines and is now a firefighter in Arizona.
People may not realize what all is involved with farming. Dan was once asked how they water their crops. "We depend on Mother Nature," he said.
Advancements in technology have helped Mother Nature. "With new seed technology, it can handle drought conditions better," said Dan. This year, people's yards may be brown, but farmers have green corn and green beans, even with small amounts of rain.
"It's amazing with the drought that we will have something to harvest," Dan said, "It won't be a bumper crop, but it's a crop."
Technology with equipment has also helped. "It is probably why we're still farming with the ease we do, and with fewer people," Dan said.
Technology has also been great for Dakota State, they both acknowledge, citing the new buildings including MadLabs and Residence Village. The university "has been a boost for the town," Dan said, "and the kids are getting a good education."
They both appreciate that the college recognizes the mutual impact of agriculture and Dakota State.
Jeff Dittman, Athletics Director at Dakota State, said it's only appropriate.
"Ag producers have been important to this region for decades, and will continue to be," Dittman said. Especially during Dakota State's 140th year, "it's important that we recognize the contributions farmers have made to our history.  This way, we can build a distinctive, rising future for both our ag producers and for our students."
Kick-off for Ag Bowl is at 4 p.m. on Sept. 18.