January 18, 2022
DSU supporter Brian Kern's gift is largest from the Madison area to date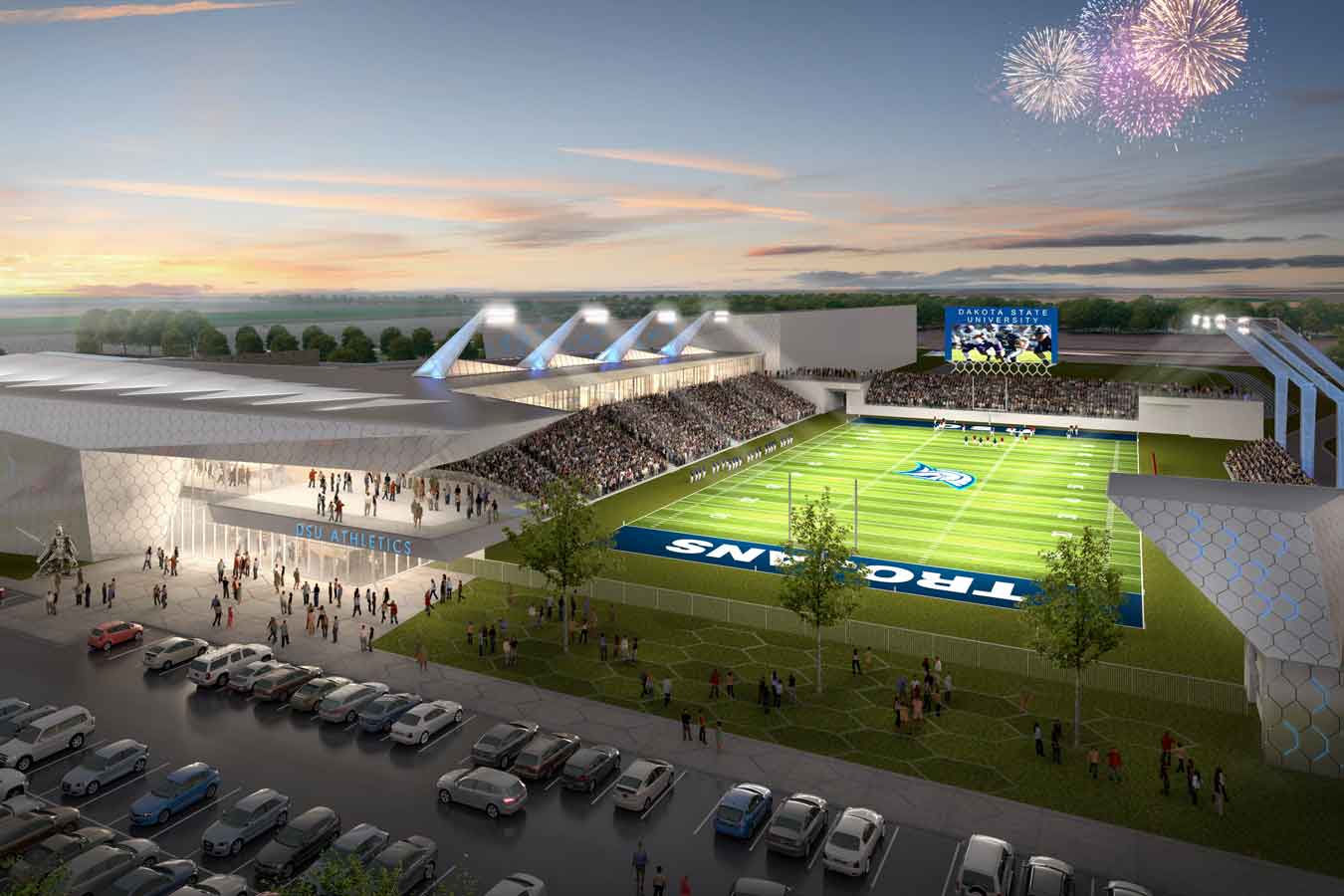 Thanks to local Madison businessman Brian Kern, another $5 million has been donated to Trojan athletics for the new athletics facility. Housing the field named for former coach George Blankley, Kern's generosity secures the necessary funding for the completion of the football stadium.
Jeff Dittman, Director of Athletics at DSU, said supporting Trojan Athletics is nothing new for Kern, "Brian has been a long-time supporter of the athletes at Dakota State.  He was the person who helped us develop our current weight room that benefits every athlete at DSU.  We are very thankful for all he has done for us.  Brian continues to be a transformational supporter of Dakota State Athletics."
Kern worked on the weight room project with DSU Head Football Coach Josh Anderson.
"Brian Kern was the biggest reason we were able to start building the muscle mass we needed in our program," Anderson said. "He is the reason we were able to win recruits, start being competitive again, win games, and have winning seasons."
Anderson is thankful for all the support Kern has provided athletics. "Brian has been the foundation in everything we have been able to build in football and in athletics," he enthusiastically declared.
Kern continues to inspire others through his support of Dakota State. He and his brother Dan established the Leslie Grayson Kern Memorial endowed scholarship, in memory of his wife Leslie Grayson Kern, who lost her battle to cervical cancer in September of 1997. The scholarship is awarded to student-athletes, with preference given to football players. Kern has a history of supporting football at DSU.
This most recent donation from Kern will help fund the multi-phase athletics complex for Dakota State. DSU is currently seeking legislative approval to build Phase I, a new athletics events center. It will also continue to provide resources for scholarships annually and to the Leslie Grayson Kern Memorial endowed scholarship.
"It's going to be huge for the university, the Madison community, and the high school," Kern said.
The new events center will bring more students to DSU, more commerce to town, and provide top-notch facilities that high school athletics can also use, he added.
The events center will include team locker rooms, coaches' offices, training facilities and weight room, esports arena, indoor gathering space, biomechanics lab and classrooms, hospitality and concession spaces, media and VIP suites, Athletics Hall of Fame, and restrooms.
This will impact student enrollment, business partnerships, and provide increased revenue-generating opportunities for DSU and the Madison area.
"We are grateful for Brian's continued strong support for DSU and DSU Athletics," said President José-Marie Griffiths. "His lead gift is the largest ever received from within the Madison community and will have impact well beyond DSU and Madison."
That passion for Dakota State Athletics has Kern excited for the athletics events center to come to fruition. "It's going to be a field and facility that rivals any in the state and beyond."
Those interested in donating to the new athletics complex can reach out to the DSU Foundation at 605-256-5693 or online via dsu.edu/giving.