February 14, 2022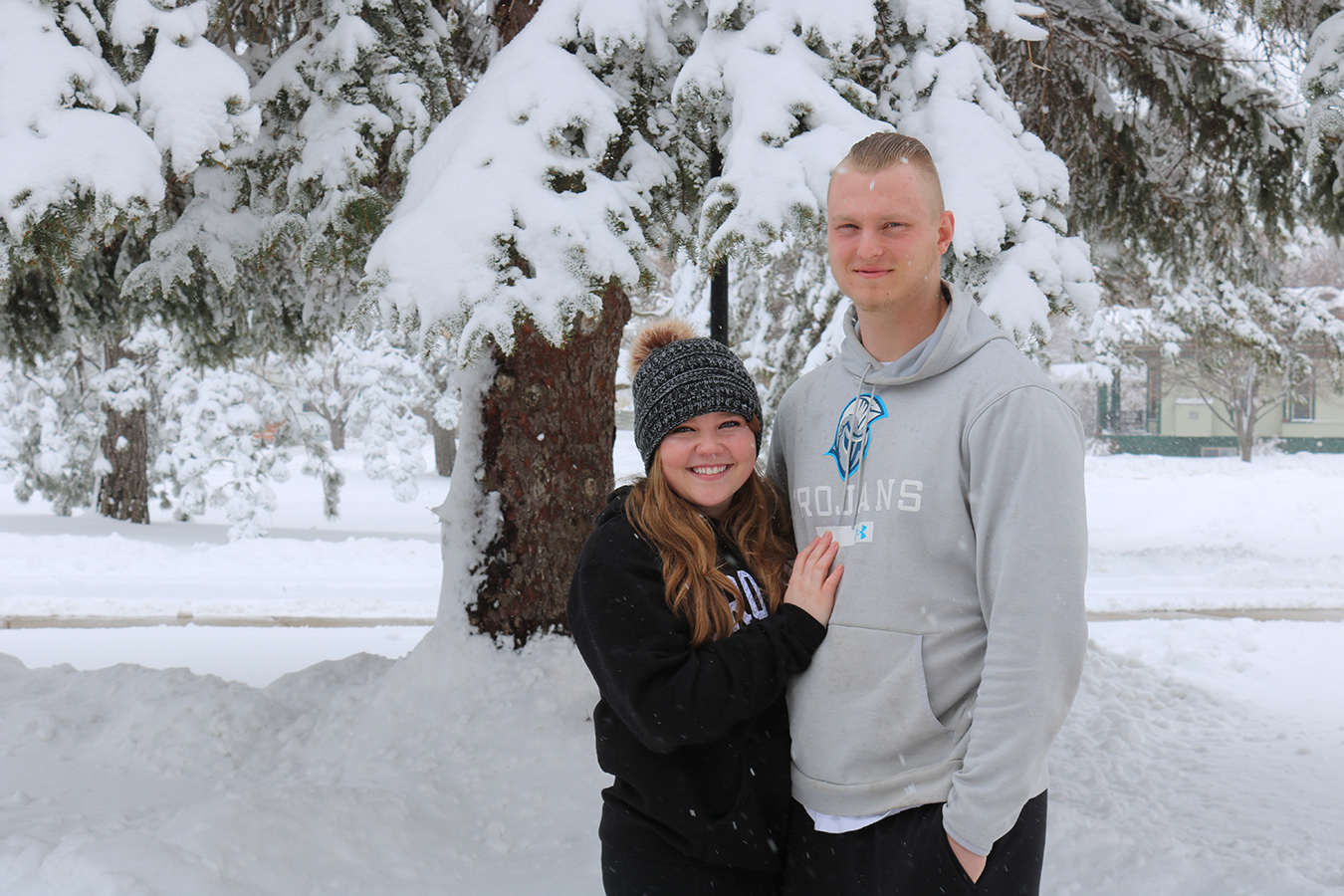 When Katelyn Hoppe and Grant Svikulis first met at Williston State College in North Dakota, it was their love of sports that brought them together. Katelyn was a softball player Grant was a baseball player, and the duo almost immediately began dating. Three years on the couple is better together at DSU, where they transferred in the fall of 2020.
They chose Dakota State for Svikulis to continue playing baseball at DSU, and for the two of them to complete their educations by joining the exercise science program.
"Our house is based around sports and athletics, it's something that drew us together," Hoppe said. "Being able to be in the same undergraduate program together has been beneficial to the both of us as we both have our strong suits in the field so helping each other out has been awesome."
Hoppe, originally from Belgrade, Mont., retired from her collegiate softball career due to an injury. Since joining the DSU and Madison community, she has started her own business, The Muscle Mechanic, a massage therapy business.
The move to Madison also connected her to a new mentor, Kelli Bergheim, a massage therapist with her own business and full-time masseuse for the Minnesota Twins. The two met through a mutual friend and for a time they shared a space for their massage businesses.
"I have been able to shadow a few people since high school and now having Kelli, it gives me great insight as to what I see myself accomplishing and pursuing in my future," Hoppe said.
Developing a relationship with Bergheim has enabled Hoppe to learn the inner workings of the professional sports industry. "I can understand how all the behind-the-scenes work happens for professional sports teams while getting useful knowledge on how massage can be a great tool to benefit everyone," she added.
Hoppe currently offers 30-minute and one-hour massage sessions. Her business is open to anyone in the Madison community. Upon graduation, she hopes to earn a master's degree in athletic training.
When she's not attending school, giving massages, or working at Sun Dog Café, she's busy cheering on and supporting her fiancé Svikulis.  
Since arriving at DSU Svikulis, originally from Melbourne, Australia, has enjoyed becoming an asset to the pitching staff for DSU baseball and appreciates the relationship he's formed with Coach Derrion Hardie.
"Coach Hardie does a great job of being our coach, but he also offers great life lessons at practice and makes an effort to connect with players on a personal level," he said.
While DSU's up-and-coming baseball program is his favorite thing about their relocation to Madison, Svikulis shared that he has "enjoyed everything about DSU and Madison so far."
Once he graduates with an exercise science degree Svikulis plans to continue playing baseball at a high level as long as he can, and later work as a strength coach.
Together Hoppe and Svikulis support each other's dreams and goals. Being equally motivated keeps them each moving toward their future.
"We always make sure we have a conversation that ensures our goals will benefit one another, we want to support each other and work through any difficult decisions or tasks together," she said.
The couple plans to wed this summer.