Film students find experiences outside the classroom
April 29, 2022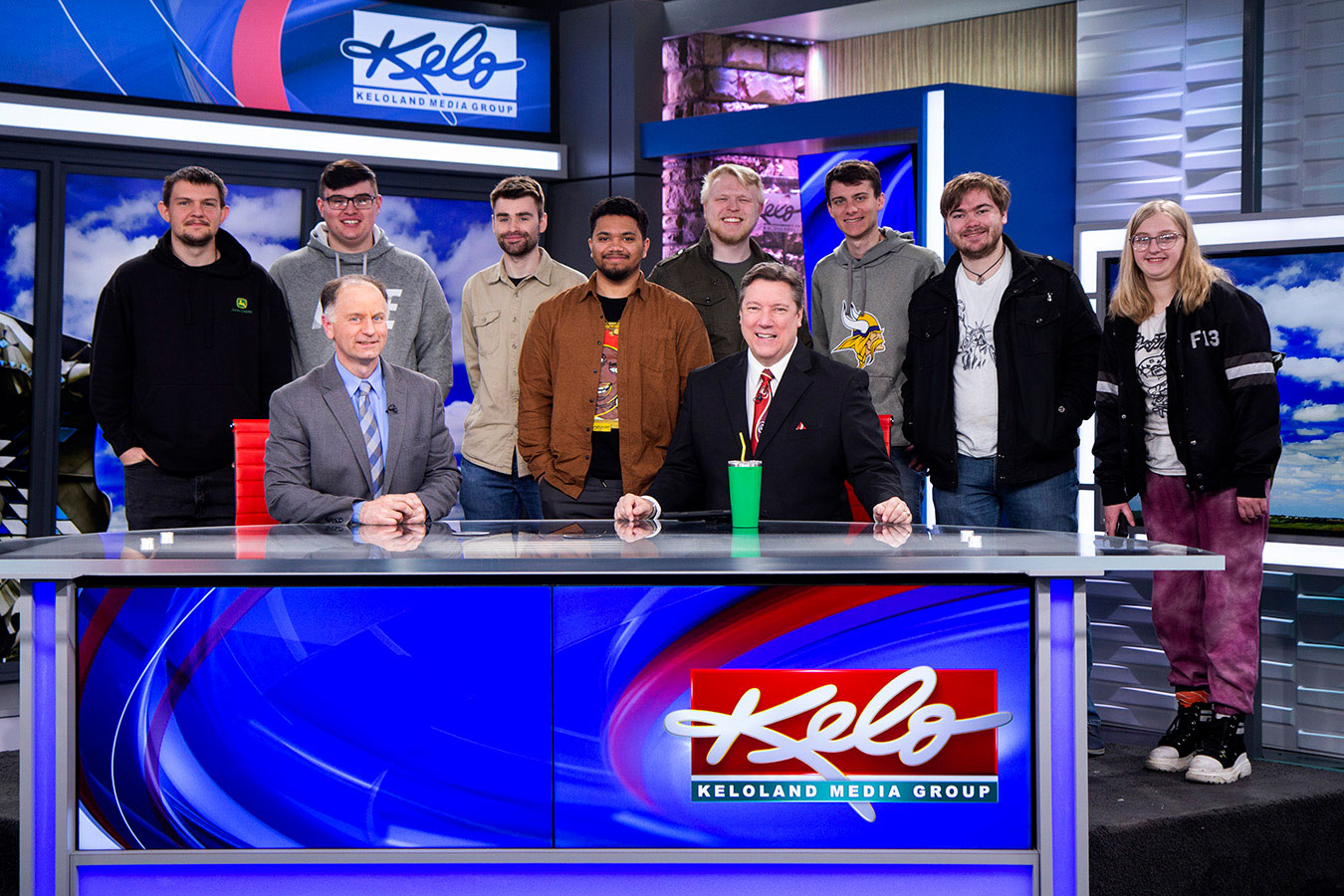 This semester, juniors and seniors in the Dakota State film program have gained experience outside the classroom, touring news stations, assisting with the production of a late-night television show, and participating in film competitions.
Students have had the opportunity to tour businesses like KELOLAND, Epicosity, and Lawrence & Schiller.
On these tours they learned about how the businesses operate, how they film things, how they direct their productions, and who they work with, according to student Corey Fink.
He appreciates the opportunity to learn about places he could potentially work once he graduates.
In addition to the recent business tours, film students also were able to participate in the filming of a live entertainment show, Late Night Boomin, in Sioux Falls. Late Night Boomin is a high-energy late-night show hosted by Jack Unruh and Zach Dresch.
Filmed at the Washington Pavilion, the group of film students arrived at 3 p.m. for a practice run. After filming the live show and cleaning up post-show they left around 10 p.m., according to Tate Mohlenkamp. Students were able to operate cameras, work as production assistants, film behind the scenes, and more as part of the production.
"It's the first late-night show in South Dakota," said Carson Knecht. "They do a lot of stand-up comedy, and they have a jazz band and special guests."
Participating in Late Night Boomin has made Jason Nevin more comfortable trying new things. "It shows that it is possible to get stuff started even here in South Dakota."
In addition to these experiences, the students, as a part of the Lights, Camera, Action Film Club, participated in the Prairie Grass Film Challenge. Put on by Dordt University, this is a 48-hour challenge where participants receive a prompt and spend the next 48 hours writing, shooting, and editing their film.
The film they created, A Killer Performance, is a comedy that takes place on a filming set. The students' prompt includes a character's name, a couple of props that had to be used, the genre, and a certain phrase that needs to be in the dialogue of the film.
The eight-minute film is available to watch on the Prairie Grass Film Challenge website. The students received second place in the college division.