CCDC team heads to national competition
April 19, 2022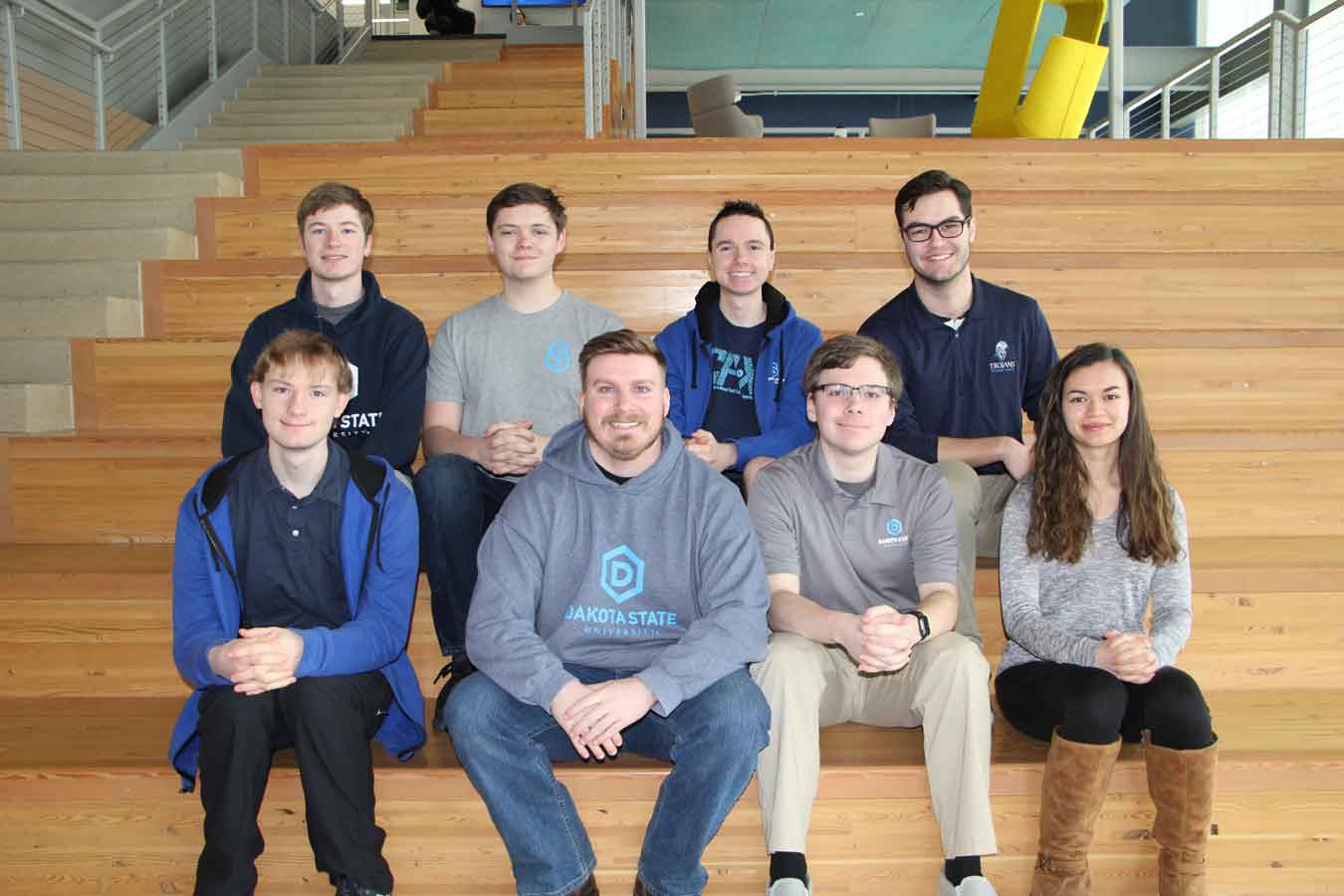 Practice and experience can make a huge difference with any endeavor. With cyber defense competitions, this is especially true.
Dakota State students have a long institutional history with the National Collegiate Cyber Defense Competitions (CCDC). Throughout the 18 years, the competition has taken place, a DSU team has been a finalist six times, including a second-place finish in 2013, and a third-place finish in 2018.
The university's history with CCDC presents an opportunity for the current team, as some of the previous team members are now DSU faculty, and can serve as a resource for the current team.
Faculty coaches can't help the team during the competition, but practice drills with these experienced professors are beneficial because "it helps us be prepared for the competition," said Jackson Heiberger, a Cyber Operations and Network Security & Administration double major from Beresford, SD.
Alumni also share their time, said faculty advisor Dr. Cody Welu. "Many alumni have shared their time to practice with the team and offer tips for success at the event. The willingness of our alumni, now industry professionals, to return and help students learn is a significant benefit to our team's continued success," he stated.
DSU's history with the competition also provides inspiration. "This is a challenge for us to do better than previous teams," said Gaelin Shupe, a master's student from Boulder, CO.
The students also invest their own time to gain personal experience with these competitions. A large group gathered at Dakota State on April 9 to take part in a mock CCDC competition, sponsored by the Defensive Security Club. Several of these students are on the eight-person team headed for the national competition in April, after winning the regional competition in February.
The national competition will take place April 21-23 in San Antonio, TX, said team captain Jacob Hince, a computer science master's degree student from Buffalo, MN. Each year the competition uses a particular theme or scenario; the students learn the details about an hour or two before they get a hands-on keyboard and start defending the systems from attacks.
Hince said they look forward to continuing the history of success, and hopefully can bring home the first-place trophy, but no matter the outcome, the competition is a good experience for the students.
"You need to learn to stay cool under pressure," said Tyler Thomas, from Forest Lake, MN.  Competitors also learn time management, information security skills, and teamwork.
Team members include:
Shane Donahue, Cyber Operations from San Diego, CA
Jackson Heiberger, Cyber Operations/Network Security & Administration double major, Beresford, SD
Jake Hince, Computer Science M.S. degree student from Buffalo, MN
Austen King, Cyber Operations, Volga, SD
Annabelle Klosterman, Cyber Operations from Brandon, SD
Cody Mayer, Cyber Operations major from Sheldon, IA
Gaelin Shupe, Computer Science master's student from Boulder, CO
Tyler Thomas, a Cyber Operations major from Forest Lake, MN