DSU team places second at National CCDC
April 27, 2022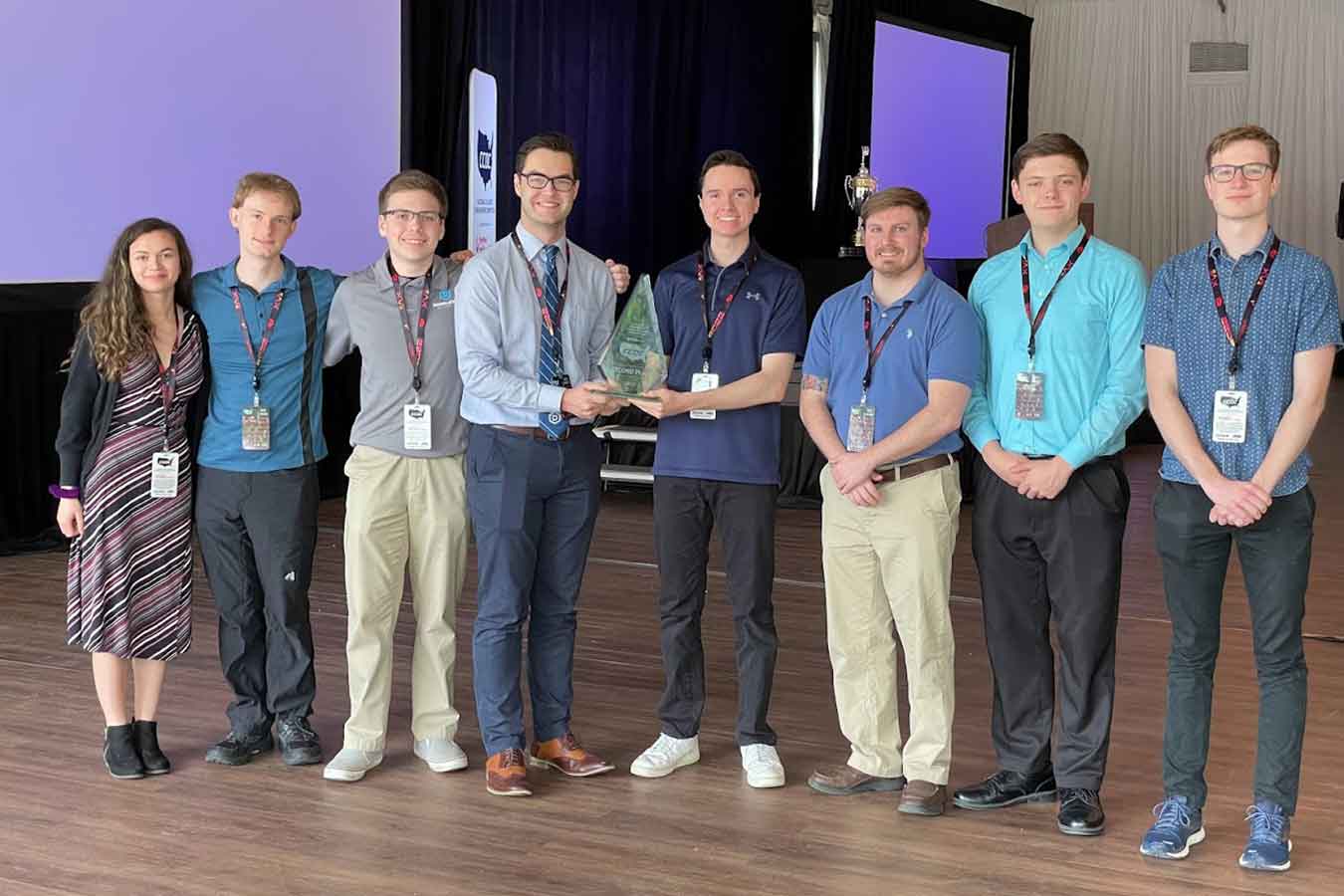 The Dakota State University team placed second in the National Collegiate Cyber Defense Competition (NCCDC) in San Antonio, Texas on April 21-22.
Each of the eight-team members had a specific role and executed it well, said Jacob Hince, team captain. He is a master's student in Computer Science, from Buffalo, Minn.
"This was a group effort, and our success has been years in the works for many of us," he stated.
He added that "the competition itself was very rewarding. Being able to face off against talented industry experts on the red team (the attackers) was a very unique experience that is difficult to find in any other competition."
While the competition is somewhat "gamified," he said that "a great amount of attention to detail is placed by the event organizers on making the competition and its environment as real-world as possible, making the lessons learned and skills developed applicable to a cyber security career."
Faculty advisor Dr. Cody Welu described the challenge.
"The team was tasked with defending the corporate network of the fictional online video game hosting company, 'CAPISSEN,' and had to thwart active attacks from a red team comprised of industry professionals while carrying out various business tasks, or injects, such as adding new user accounts and researching the practicality of using cryptocurrency as a form of payment for the company," he said.
Teams earn points by successfully completing "injects," which are similar to business tasks, as well as keeping critical services online and responding to customer support requests.
"For a unique twist this year, the teams all started with one service that was down, the company's e-commerce website had been affected by ransomware," Welu said. "Teams had to perform a quick incident response and get the service back online to serve customers."
Outside of competition hours, Hince said, it was great to be able to connect with other students and the sponsor organizations at the event.
Welu said the team played hard through both days, and was very successful, taking home the second-place trophy. A DSU team also placed second in 2013, and third in 2018. The top three 2022 finishers were: the University of Central Florida, first; Dakota State University, second; and Stanford University, third. Other teams competing were the University of Texas at Austin, University of Virginia, DePaul University, Oregon State University, Northeastern University, Brigham Young University, and Liberty University.
"Success at competitions like this reflects very well on the university's program and validates DSU as one of the top cyber-security institutions in the country," Hince said.
Moving forward, "we want to build on our success and inspire the next generation of DSU students to compete so DSU can take home the first-place trophy someday," he stated.
The 2022 team members include:
Shane Donahue, Cyber Operations major, San Diego, Calif.
Jackson Heiberger, Cyber Operations/Network Security & Administration double major, Beresford, S.D.
Jake Hince, Computer Science M.S., Buffalo, Minn.
Austen King, Cyber Operations, Volga, S.D.
Annabelle Klosterman, Cyber Operations, Brandon, S.D.
Cody Mayer, Cyber Operations, Sheldon, Iowa
Gaelin Shupe, Computer Science M.S., Boulder, Colo.
Tyler Thomas, Cyber Operations, Forest Lake, Minn.