May 25, 2022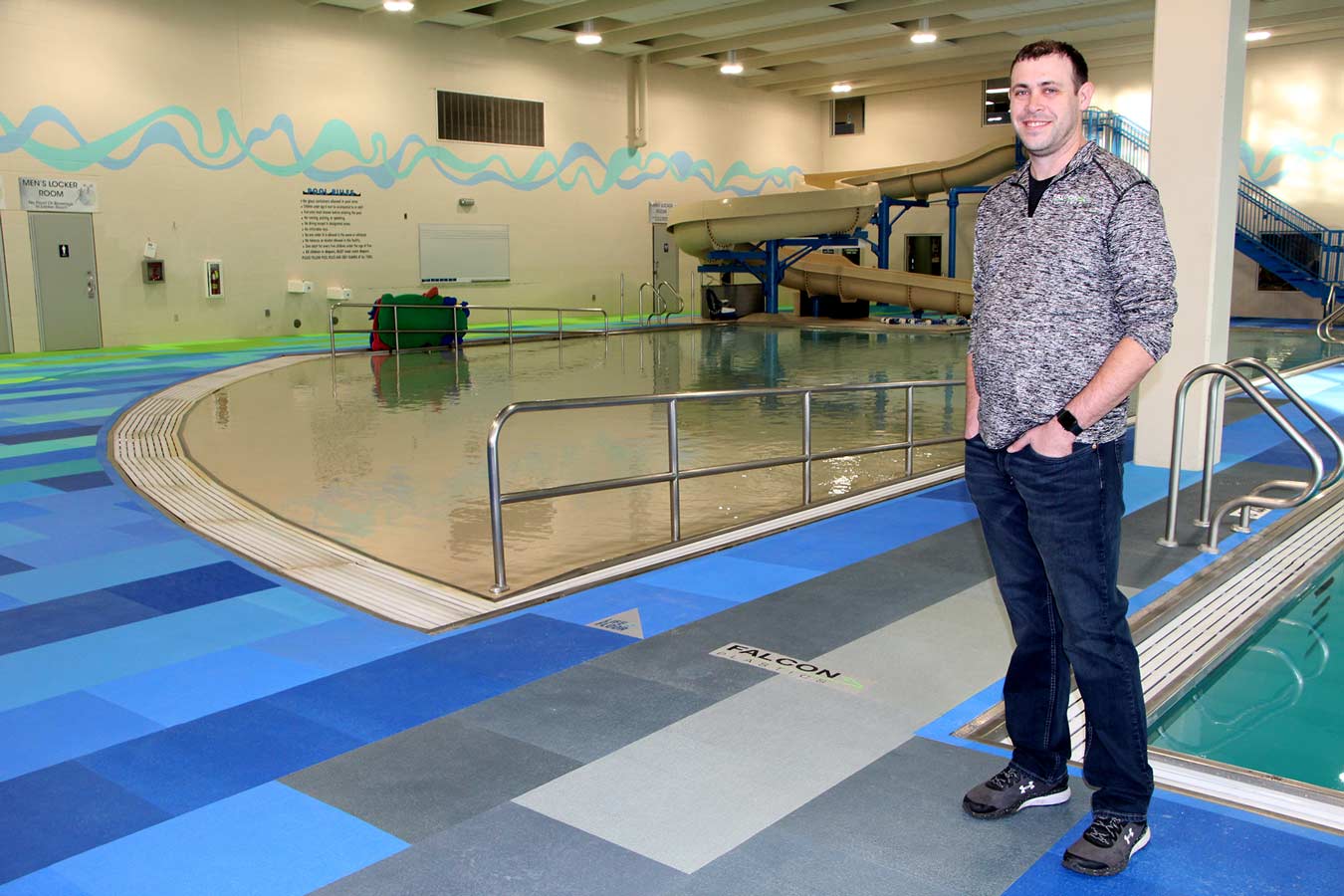 "It's good to bring my skills back to Dakota State," said alumnus Randy Morehouse.
Morehouse, a 2005 graduate with Bachelor of Business Administration degrees, is now the Director of Operations at Falcon Plastics, overseeing four of the company's four manufacturing facilities. He was instrumental in a recent project to install LifeFloor tiles in the aquatics area of the Madison Community Center.
Morehouse has spent the majority of his career at the Madison, SD factory. He started in the warehouse, then moved up to customer service, purchasing and scheduling, production development, plant manager, and is now director of operations.
"The varied experience has been very helpful," he said. Some of that variety included LifeFloor when they came to the plant in 2015. The company had been manufacturing their slip-resistant, cushioned, EVA (ethylene-vinyl acetate) foam tiles in Vietnam, but were looking for an in-country manufacturing option. 
Falcon has since seen a significate growth with LifeFloor. Initially, they could produce two tiles at a time; now they produce 96 at once. A 2018 building expansion accommodated that growth.
Also about 2018, the Community Center (CC) was looking for a safe alternative to the ceramic flooring tiles in the indoor pool deck area. The CC is a joint venture between the City of Madison and Dakota State University, offering students, student-athletes, and community members options for health, wellness, and recreation.
"This is the facility our employees and their families use year-round," said Morehouse said. He knew that LifeFloor tiles could provide a safe, cost-effective option for the facility because these tiles are used in parks and recreation facilities, hotels and resorts, and on cruise ships, and the "number of injuries this has reduced is amazing," he said.
So Morehouse worked with the Community Center staff and board on an affordable plan for LifeFloor and Falcon Plastics to provide the durable, chemical resistant tiles for the CC pool, using tiles that had been overproduced, along with some new tiles. Falcon employees were also able to come to the building to watch the installation process.
"This way they could get a first-hand view of an actual installation," Morehouse said, "so now they can understand why they do certain things in the process."
The process went very smoothly, and CC Director Gene Wockenfuss said the tiles have received high praise from many of our members. 
"First and foremost, the safety feature of the new tile truly provides pool users a sense of confidence when walking on the surface, plus many enjoy the bright colors that bring life to the aquatics area," he said.
"We are so fortunate to have such service (from Falcon Plastics) in our backyard," he added.
Morehouse was happy to be able to help out the community. He said his Dakota State education gave him the instincts on how to run a business, from its culture to the finances, and it "gave me the confidence to know I'm doing the right thing."