July 6, 2022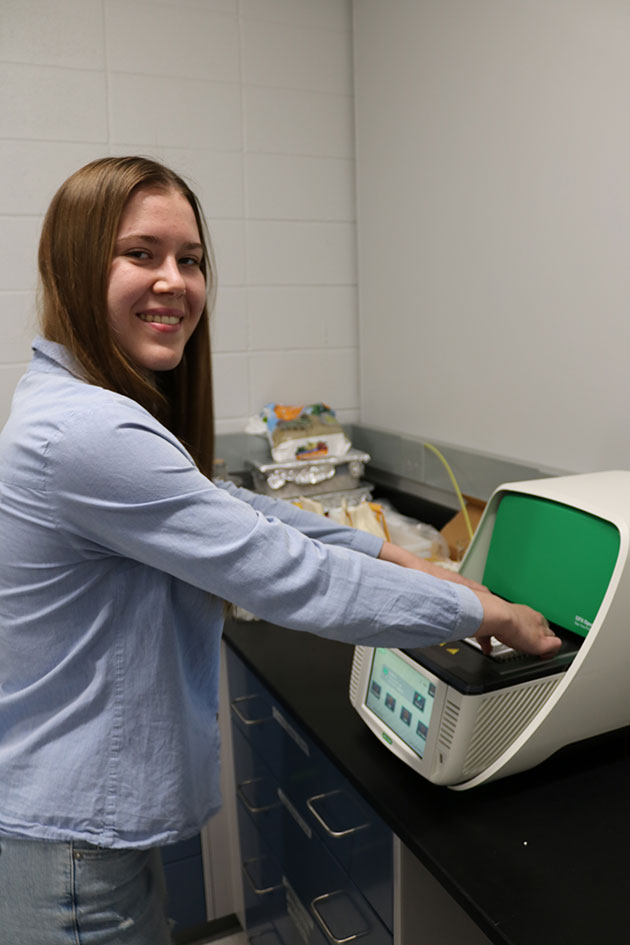 The third summer of alfalfa research is underway at Dakota State University.
This research is done in participation with the National Science Foundation's Established Program to Stimulate Competitive Research (EPSCoR).
DSU students Brandon Daniels, Alex Rachynska, Travis Rebstock, and recent graduate Conner Tordsen, are researching biological controls to defend alfalfa from disease. They are working under the guidance of Dr. Andrew Sathoff, Assistant Professor of Biology.
Biological controls (biocontrols) involve using another microbe to see how it can defend the plant against Aphanomyces or Pythium (root rot), according to Tordsen. The research, which Tordsen began in the fall of 2021, showed that biocontrols worked really well, providing another option for treating plants other than fungicides. Biocontrols are also more environmentally friendly and can be used by organic farmers.
To test this in the lab, they grew alfalfa plots and treated them with biocontrols. "We infected them with Pythium and Aphanomyces," he said.
They followed this with a disease severity index test and calculated percent germination, finding good results with some of the biocontrols, seeing the germination rates increase from a range of 21 to 72%.
"We're really just expanding on Conner's work," Sathoff said. "We're testing more biocontrol treatments."
They are getting new biocontrols from companies like Bayer. So far, they've tested bacteria to combat this fungus, and this summer they will also try using fungi to fight fungus.
The group has also sampled soybeans and is working on identifying different pathogens in the soil and hope to do similar things with soybeans.
Rebstock appreciates that their research is useful to farmers. "I think that's the coolest part, actually making it meaningful and useful for other people and what they do in their daily lives."
While Rebstock and Tordsen worked on alfalfa research last summer, this year they are joined by Daniels and Rachynska in the lab.
Daniels is excited to be utilizing skills learned in the classroom and practicing lab work, which will be helpful when applying for graduate schools. He is a biology major who hopes to become an orthopedic surgeon.
Rachynska has been working in the lab throughout the school year. Working in the lab gives her the opportunity to practice lab work in a low-stakes environment, but also allows her to expand her skills and work to help others. She is a biology major interested in becoming a neurosurgeon and working in gene therapy.
The students will be presenting their findings at the South Dakota EPSCoR 2022 Undergraduate Research Symposium at the end of July. Additionally, Rachynska will present Pythium work at the Plant Health Conference in Pittsburgh in August and Rebstock will present biocontrol work at the World Alfalfa Congress in November.