July 28, 2022
In June, four Dakota State University students competed at the Phi-Beta Lambda (PBL) National Leadership Conference (NLC) in Chicago.
PBL is affiliated with the Future Business Leaders of America-Phi Beta Lambda career and business student organization.
The students and advisors returned from the trip with five awards. Lucy Fods earned eighth place in marketing concepts, and Jacia Christiansen earned sixth place in management concepts and first place in accounting for professionals. Christiansen also received the Who's Who award. Additionally, Dr. Yenling Chang received the Outstanding Local Chapter Advisor award.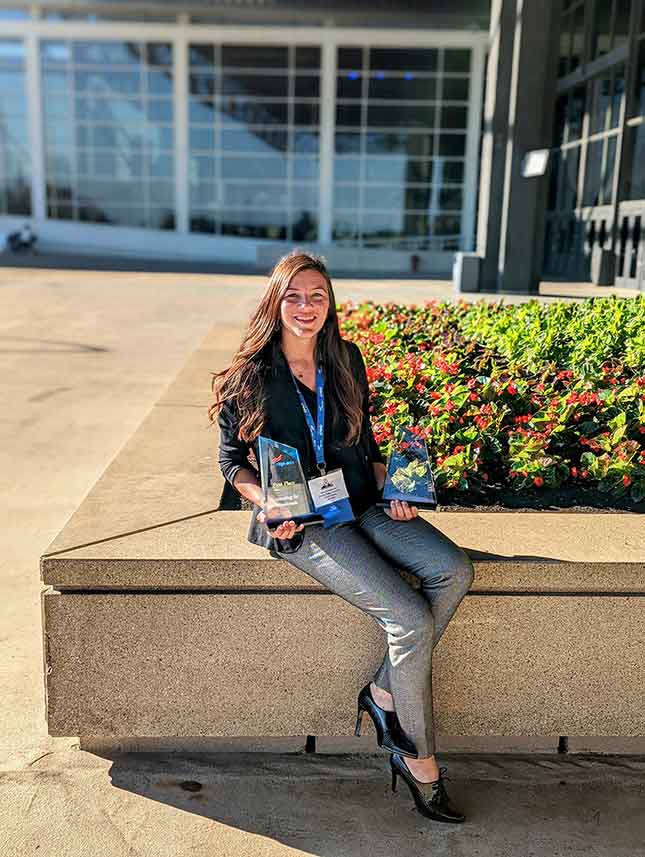 Christiansen was ecstatic to learn that she placed first in accounting for professionals.
"It was a similar feeling to my second NLC in San Antonio when another member in our club, David Weidler, placed first in marketing concepts," Christiansen said. "Everyone was so hyped and energized for him and that's the same feeling I got from my fellow members attending this year."
This was the fifth NLC that Christiansen competed in. She completed objective tests with 100 multiple choice questions for the two categories management concepts and accounting for professionals. Additionally, in the accounting for professionals' category, Christiansen was required to complete a production test as well.
"The production test is four in-depth problem-solving cases," she explained. "You're given an hour and the facts for each problem, as well as what needs to be done."
The accounting classes Christiansen took as a professional accountancy major prepared her for the competition. "The event tested on all the major topics covered in the CPA exam, which DSU's Professional Accountancy degree includes, from auditing to tax and financial accounting and reporting to business environment concepts," she said.
In addition to Christiansen's awards in the competitions, she also received the Who's Who Award for the state of South Dakota. It is awarded to one member who has made outstanding contributions to the club at the local, state, and national levels.
"This award means so much to me, especially receiving it in my fifth and final year of being a member," Christiansen said.
A spring 2022 graduate, Christiansen is currently focused on becoming a Certified Public Accountant, which requires her to take four exams, one of which she has passed already. She is starting as an audit associate with Eide Bailly LLP this summer.
Success for DSU's PBL Club didn't end with the student awards; Chang was presented with the Outstanding Local Chapter Advisor award. This honors local advisors who have made outstanding contributions to the association at the local, state, and national levels.
"As a younger and newer advisor to the club, I am humble before the experienced veteran advisors who have serviced the club for more than a decade," Chang said. With only five years in this position, "I was thrilled to be recognized as Outstanding Local Chapter Advisor."
As club advisor, Chang works with the officer team to plan future activities, provides guidance on DSU policies, and more. "Overall, my role as a PBL local chapter advisor is to provide resources at the university level as well as college and faculty level," she explained. "This is to ensure that our students thoroughly enjoy the PBL experience on and outside the campus."
Chang is excited to continue working with the PBL Club and recruiting new members. She wants DSU students to know that they don't have to be a College of Business and Information Systems student to participate in the club.
"Every DSU student interested in PBL, regardless of their major, will find that getting involved with PBL is a terrific way to develop leadership skills," Chang said.