July 14, 2022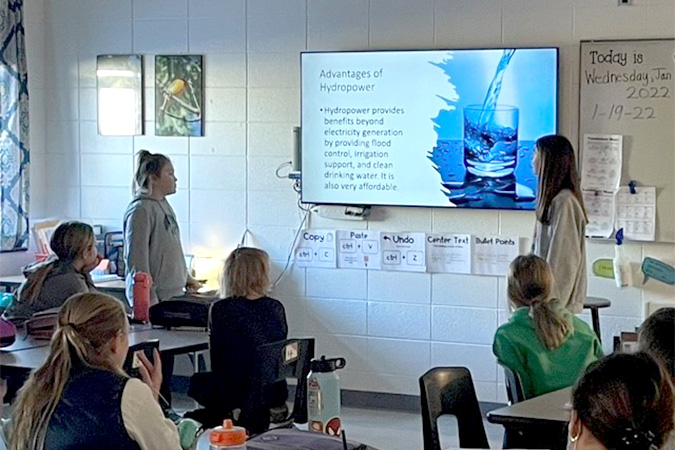 Kayla Janssen Havrevold knows quite a bit about using technology in her 6th grade science and health classroom at Lennox (SD) School District.
She graduated in 2018 with a degree in K-8 Elementary Education, along with minors in technology, reading, and a kindergarten endorsement, but she learned the exception value of that technology experience in her second year of teaching, when the COVID-19 pandemic hit. Because of what she had learned at Dakota State, she knew what technology would work and what wouldn't.
"I actually kind of became the technology coordinator for the grade level," she said. The experience "was stressful, but we made it work." She easily helped her colleagues set up Google Docs and a Google classroom, made sure things were accessible for the students and that they had access to easy-to-find resources. They began to use Zoom, and to utilize Teams, and have tried to keep using that district-wide with teachers and students. "Consistency is key for everybody," she said.
Even with her technology experience and successes, she decided that "I wanted to learn more about cybersecurity and programming," so she registered for the 2022 GenCyber Teacher camp, one of 10 alumni who returned. "It was a little overwhelming," she admitted, but she learned a lot. In case they have questions or need more resources, "the instructors provided excellent resources and we have all their contact information listed in course materials." It was also great reconnecting with former professors, and advantageous to network with other campers.
New technologies she learned at the free camp will certainly apply to her classroom, she said. Instructors even had them make lesson plans to see exactly how to incorporate the concepts into classes. An example is a unit she teaches on waves. Dr. Kyle Cronin taught a class demonstrating how to use the Internet of 'Strings" to demonstrate the way information transfers, showing students what's happening even if you can't see it. "That's good for 6th graders to visualize," she said.
Havrevold may also purchase some technology used at the camp. She said she was honored to be named the Teacher of the Year at Lennox this year, and a cash prize was provided by an anonymous community donor. "There are a few things from camp that I will probably go out and purchase so that I can incorporate all the good things I learned here," she said.
Havrevold would absolutely recommend this course to any teachers in any subject. "The camp materials can be applied to almost anything," she said.
This year's roster of 44 included English teachers, Social Studies teachers, as well as science and elementary teachers from South Dakota, Iowa, Nebraska, and Wyoming. DSU was notified in May that the NSA and NSF will fund the summer camp for 2023.
Her husband, Kaig, is also a DSU graduate.