DSU on the cutting-edge of edge learning
August 15, 2022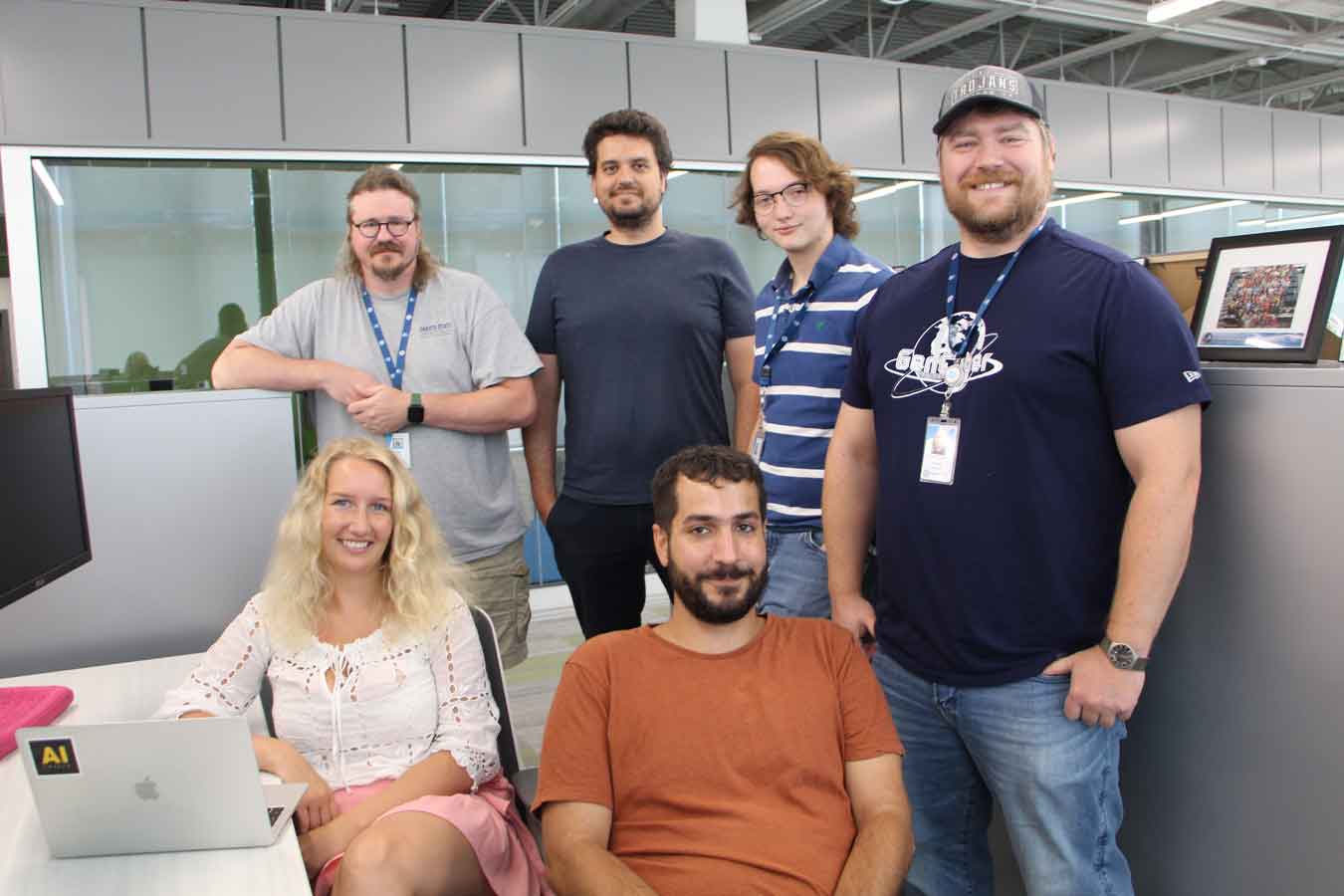 "Cutting-edge" is a term often used to describe Dakota State.
Through a new consortium with AI Sweden, Dakota State is now on the cutting edge with a new area of Artificial intelligence (AI) called edge learning.
Edge devices include smart watches, self-driving cars, or home appliances that connect to the internet. They create huge datasets which can pose collection, storage, and processing challenges. Edge learning will address some of these issues by keeping data at or near the source device, "on the edge," instead of sending it back to a central processor.
As part of a pilot program, five graduate students worked on these issues this summer, three students from Sweden and two from Dakota State.
"This program came together fast this spring, but we've now established a new relationship that's really exciting on both sides," said Dr. Austin O'Brien, one of the faculty mentors from DSU.
The group decided on project specifics in June when they met at AI Sweden in Gothenburg. They decided to look at the edge learning concept called Federated Learning, which eliminates the need to transfer data by training individual components called edge nodes.
"Federated learning is a method to use information from separate devices to build an AI model," explained Dr. Austin O'Brien, one of the DSU faculty mentors. "With that, the project tries to see how to approach it from a security angle, how can we detect when people may be trying to disrupt the model." The students looked at the concept from a small-scale angle, and a larger angle.
Faculty mentor Dr. Mark Spanier explained that while these projects are theoretical in nature, "they have the potential to have applications in various other sectors," with health (through patient data), space (through earth observation), security, or self-driving cars. Volvo, based in Sweden, is one of the industry partners, along with Zenseact, Unibap, and Hewlitt Packard Enterprise. Students have met with representatives of these companies, and have had meetings with faculty at the Massachusetts Institute of Technology (MIT).
Spanier explained that because cars communicate with other vehicles, they can identify problems or issues that may come up along the way. Some of these issues could be unintentional, such as with a dirty camera, or intentional tampering. There could also be options for cars to adapt in real-time; an example is with problematic road conditions, such as driving in snow. This AI data could inform other cars nearby and then activate certain safety factors if there is a certainty that the data provided is correct.
Another example comes from the Swedish forestry industry. Like the U.S., the Scandinavian country has issues with pine beetles, so they are trying to collect data on forests and tree health, but it is possible that someone could send incorrect data, called "poison data." Many of the students' experiments involve injecting poison data into a simulated system and then looking to see if they can detect it. 
Along with the technology, there is also cultural learning taking place. DSU doctoral student Jason Mixon and master's student Charles Novak spent June in Gothenburg, Sweden.
"We had a blast, and met a lot of great people," Mixon said. "They have a great facility at AI Sweden, and there is a ton of history and things to do in Gothenburg."
The three Swedish students spent July in Madison and appreciated seeing life in small-town America.
"I don't think that's common for Swedish people to experience," said Viktor Valadi. He is from Gothenburg, which has a population of about 1.1 million. Madeleine Englund is from a Swedish town with a population of about 150,000, and Nikolas Kakouros is originally from Athens, Greece, with a population of 4-5 million.
The professional collaboration has also been very good for all involved. Kakouros said research often includes speaking at conferences, "so it's good to be part of an international group where you can learn to communicate and express yourself." Groups like this all start with a concept, but you shouldn't feel like you are being ignored or dismissed. Instead, they should define the goals clearly and work as a team, said Kakouros.
The team's efforts will also have value for their graduate projects. Novak values the new, real-world industry tools he has learned, such as the automation tool (Ansible) that Kakourous taught him. Mixon said he will definitely take things from this experience and apply it to other research. "It's been a great learning experience."
O'Brien said the group plans to publish an article on this summer's work, and work will continue with AI Sweden in the future.
"This is the first step," O'Brien said. "We want to cement this and make this exchange ongoing and get more students involved."