September 30, 2022
"It is always an amazing experience to run for my country," said Dakota State student-athlete Fane Sauvakacolo.
She had the opportunity to do that this past June, running for Fiji in the 100 M hurdles at the Northern Marianas 2022 Pacific Mini Games held in Saipan. Fiji did well, ending seventh in the medal count, and "it was a wonderful experience," she said. In addition to the athletic events, "it's great to learn about other countries' rich cultures, dances, and music in the opening and closing performances."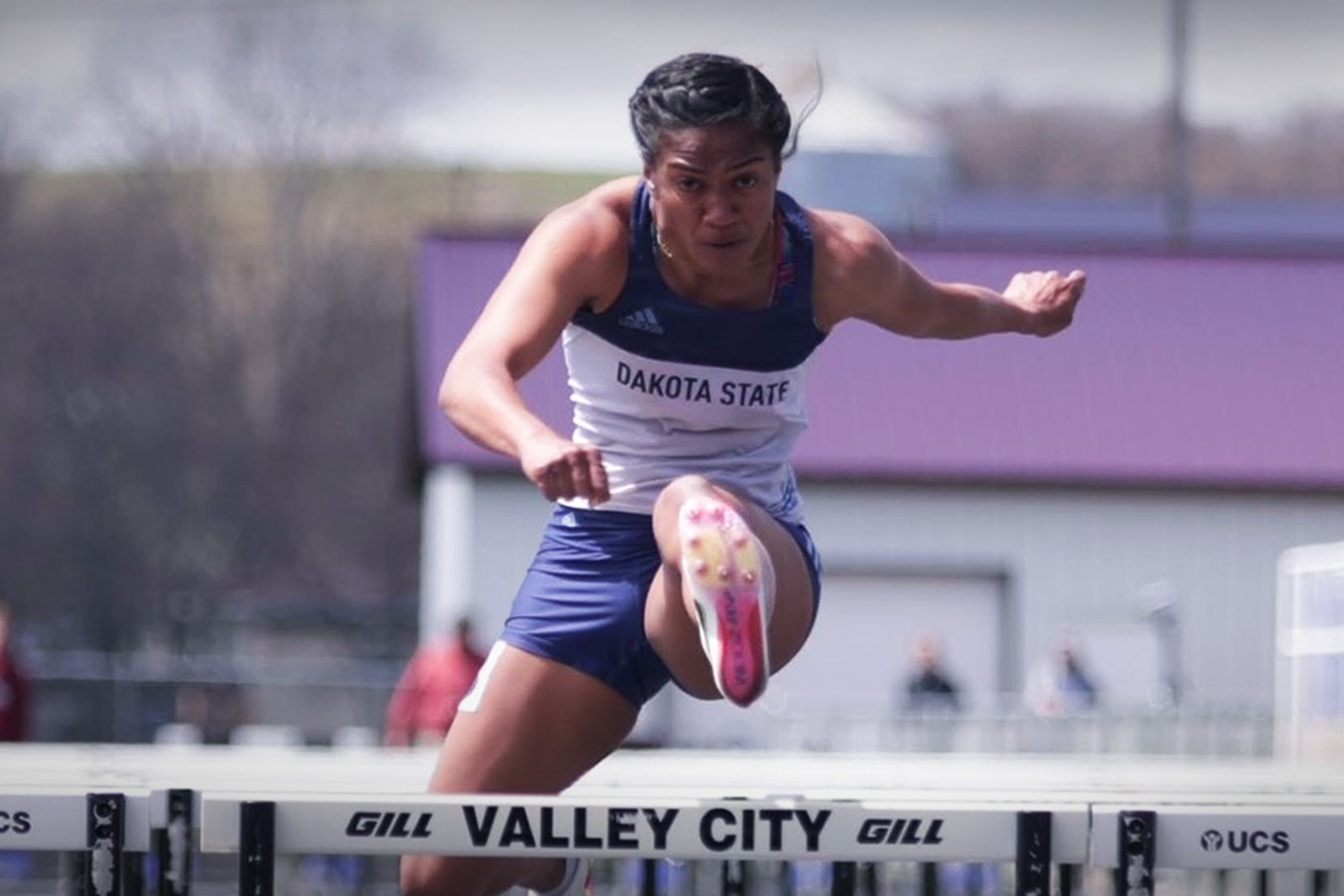 Sauvakacolo has been participating in track and field sprints and jumping events since high school in Suva, Fiji. She came to the United States through the Oceania Australia Foundation, a program that allowed her to continue her education and showcase her talents.
While running track at Southwestern Community College in Creston, Iowa, she caught the attention of several four-year colleges, including Dakota State, which was able to offer her an attractive scholarship.
She is now in her second year at DSU, majoring in Artificial Intelligence. She had initially planned on computer science, but "AI caught my eye, and I thought, 'Why not do something that technology is moving towards, but not everyone is doing?'"
Dakota State was a good choice academically. The professors are very helpful teaching concepts, and the size is ideal. "At bigger schools, you can't really ask questions if you're shy. DSU's small class sizes encourage me to learn to communicate with the professors, and be more confident moving out into that world."
DSU was also a good choice athletically. She loves the training program here, particularly how the DSU coaches and team encourage her to be a better athlete. Head Track & Field Coach Anthony Drealan said, "Fane has had a tremendous impact on our team already in her one year at DSU."
"Fane has a terrific impact on our conference championship success since she is an elite sprinter as well as a jumper, which really gives her the ability to score significant points in that type of competition," he stated. She is already on the record books, holding the school record in the triple jump for indoor and outdoor track, and is the fourth fastest 100-meter hurdler in DSU history.
"Most importantly, she is an individual who brings a lot of positivity to our practices. Fane is an extremely hard worker and optimistic individual who sets a great example as an athlete here," Drealan said.
This hard work and optimism will help her get to the next level, running for Fiji in the full Pacific Games in December 2023, an ambition that sets the bar for other DSU athletes.
"It's very inspiring to see her have those opportunities and have the potential future championship meets," Drealan said. "That is obviously something we are excited about for her, but ultimately her work ethic, optimism, and happy outlook are the qualities that are even more inspiring for the team."
Sauvakacolo plans to continue her studies and maintain a strong GPA so that she can graduate with a good job, all while being a competitive athlete.