May 3, 2023
Jazlynn Pederson has had an interesting journey in higher education.
The Brookings, S.D., native is a first-generation college student. Her family was 100% supportive of her choice to attend a university, yet learning about the college process was a challenge. When Pederson arrived on the Madison campus in 2019, she had been in school less than a month when there was a major flood in town. During her second semester, the pandemic caused all classes to be moved to remote delivery, and had an impact for several semesters after that.
All these experiences could have discouraged her from continuing her elementary education studies, but she didn't let the challenges stop her. Instead, Pederson embraced the power of the word "yet."
"We may not always know the answer to a new situation in the moment," she said. "Instead, we need to realize it's something we don't know YET," she said.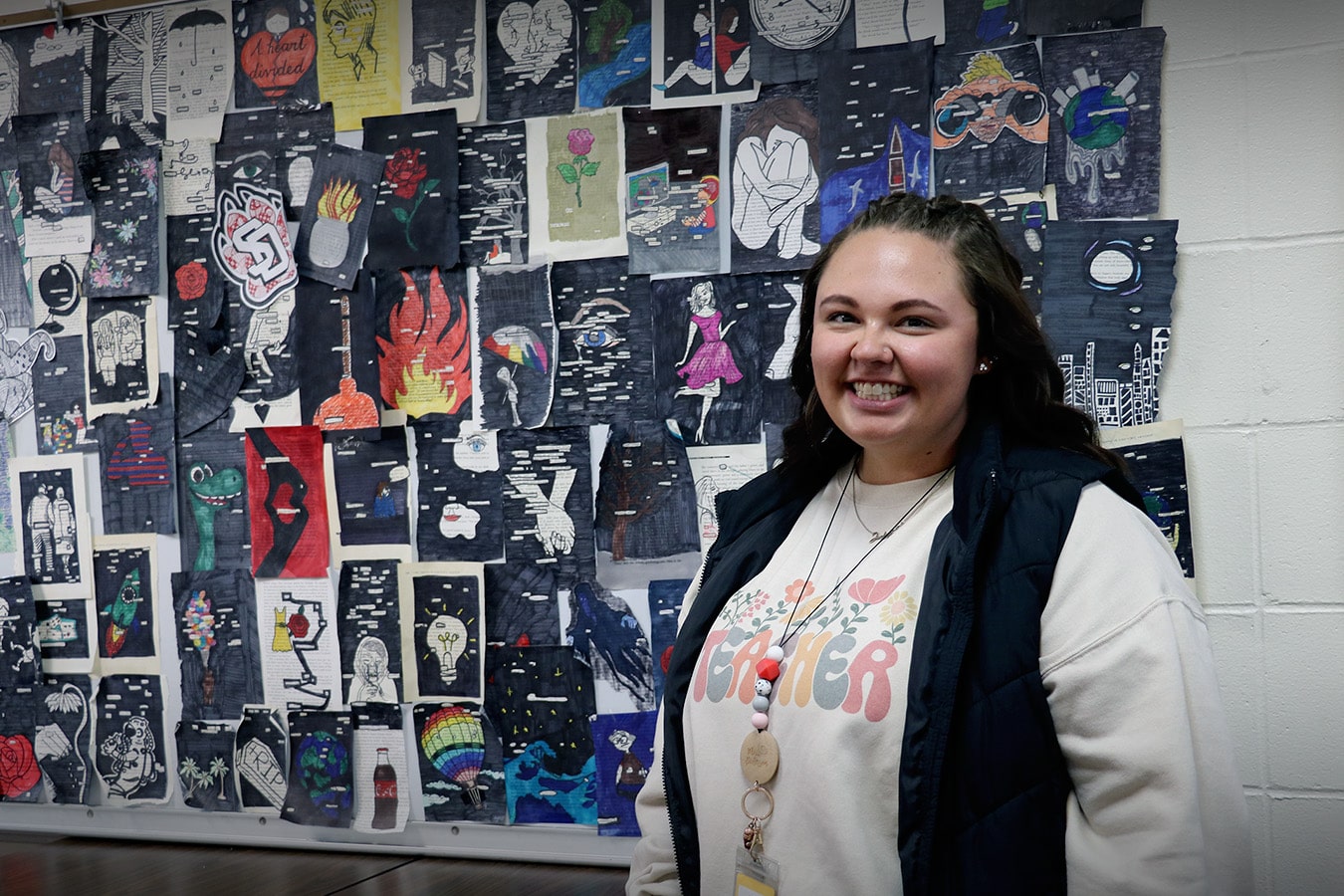 "Someday you will get the answer. Someday you will figure it out," Pederson said. "It might not lead you on the path you expected, but it results in experience, and it will pay off."
Her efforts to stay at Dakota State have certainly paid off. She is graduating on May 6 with an Elementary Education degree, a K-12 reading endorsement, a technology endorsement, and English as a New Language minor. She has also served as President of the Teachers of Tomorrow club, was a Resident Assistant for Residence Life, and has been a Student Ambassador for Admissions. She worked three jobs throughout college, and financial aid and scholarships were a blessing. It has been hard work, "but it got me where I am today," she said.
Pederson will remind her fellow graduates of this power of "yet" as the student speaker at commencement. She will continue her education as a graduate student, working towards a Master of Science in Educational Technology at DSU.
When she starts her teaching career, Pederson would be happy to stay in Madison because this is a community where she feels loved and supported. Still, she would also consider teaching at a low-income school, helping students and teachers be cyber-savvy.
Either way, "I know the classroom is where I want to spend my life," she said, "in a job where I wake up every day and love what I do."
Pedersen recommends college to her siblings, and suggests DSU to everyone. "I give it a 12 out of 10" because of the quality faculty and DSU's small class sizes that make it personable.
"You're not just a number in a classroom," she stated. At DSU, "the faculty make us feel valued and supported. They push us past our limits to prepare us for the real world. I found my home here."