August 29, 2023
Swedish and American students will apply lessons in cyber, medicine, business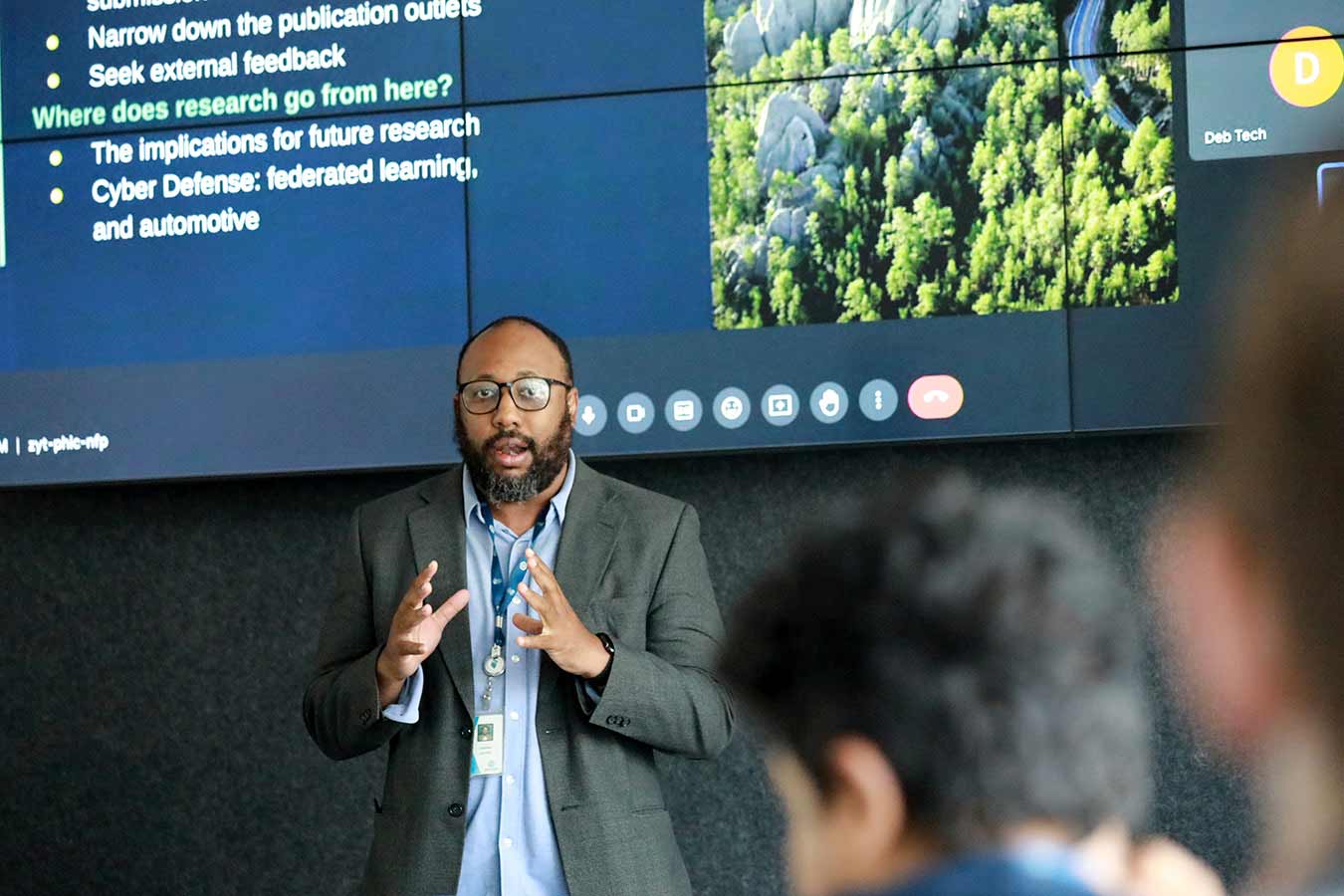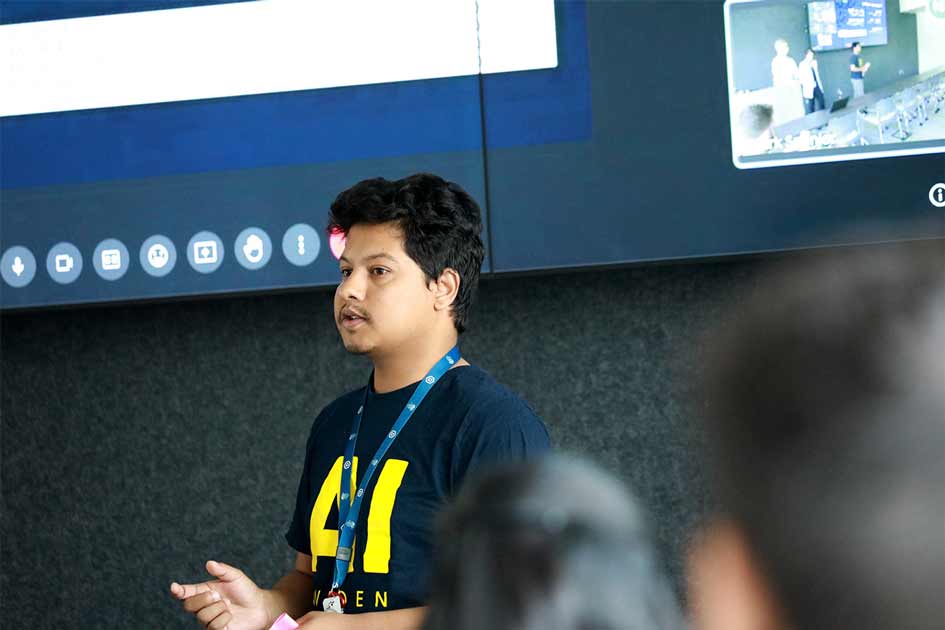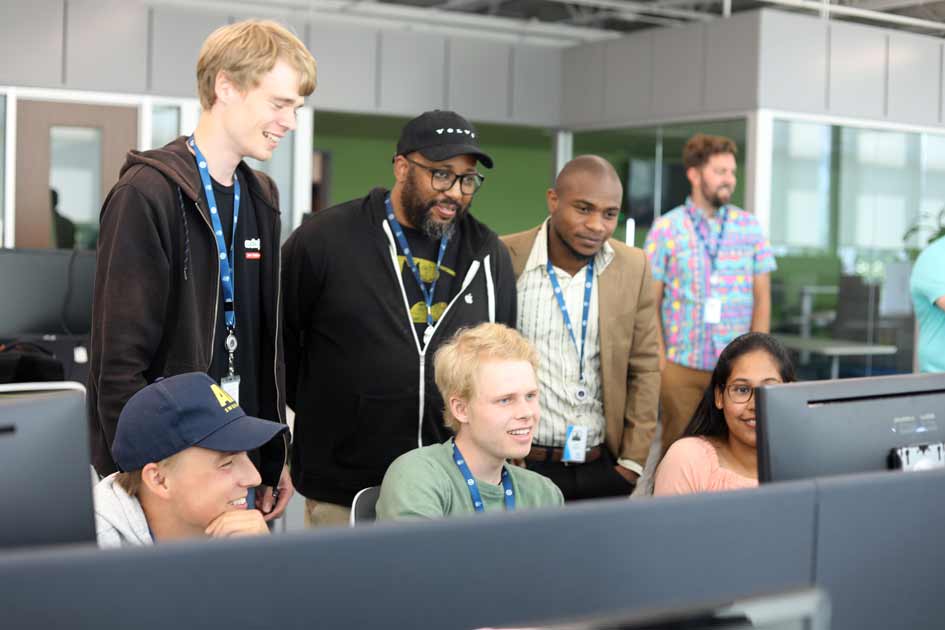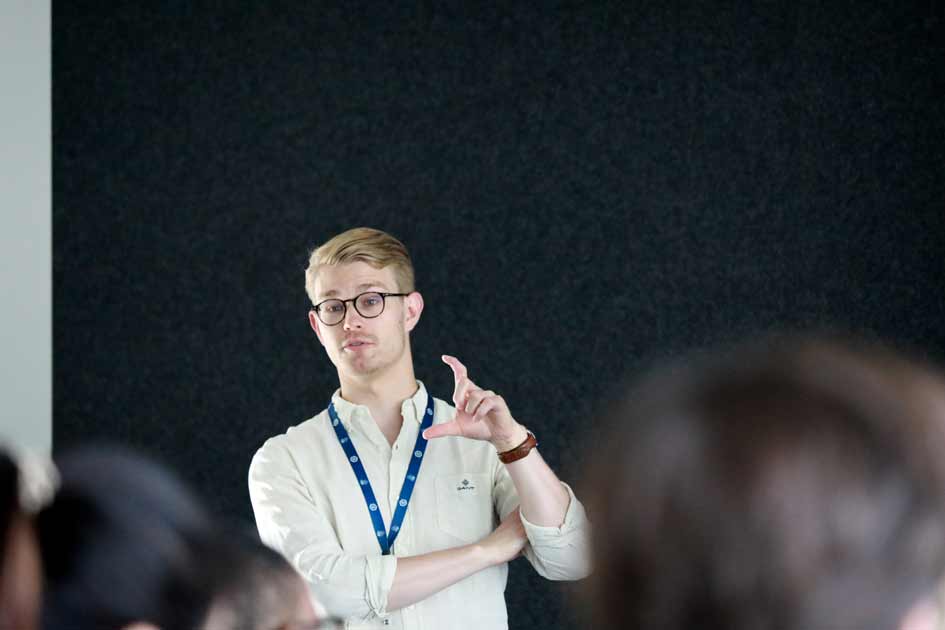 Artificial intelligence (AI) is like electricity. It will be incorporated into everything in the future, so familiarity with AI will be important in all careers, from technology to medicine to business.
Twelve student researchers from two South Dakota universities and four Swedish institutions will have an added advantage in this arena, due to their participation in the 2023 Dakota State University and AI Sweden Industrial Immersion Exchange Program.
Jasper Bergquist, a master's degree student from Sweden's Chalmers University of Technology, said with AI, "there's so much knowledge to gain, so it's exciting to get started with projects in this area."
"Everything is new in AI, especially on the security edge of this research," said Jonathan Lancelot, a DSU cyber defense doctoral student, who worked on a project for Volvo and Zenseact.
This new knowledge is something the students can apply in any career field they enter, or with their own projects. For example, Lancelot is in the process of developing a technology startup company.
Stephanie DeAmelia, a DSU master's student in Computer Science with an AI Specialization, plans to apply her AI knowledge in the medical field. "AI is capable of so much in medicine and I want to be a part of that," she said.
Subash Mahat, a DSU master's student in Analytics, plans to work in economics, because that is an area in which AI can be applied more broadly. "At the end of the day, money counts," he said.
Collaboration on this cutting-edge technology also counts. This exchange program is part of the AI Sweden Edge Learning Consortium, a partnership between DSU and AI Sweden instituted in 2022. Five students participated in the program last summer; this summer there were 12 students in total, from Dakota State, South Dakota State University, and four Swedish institutions. They worked in Gothenburg, Sweden in June and spent July in Madison.
"Increasing from five to 12 participants could have been a big lift, but the students' prior knowledge and experience allowed them to jump into the projects quickly and easily," said program co-director Dr. Mark Spanier. He also serves as Interim Dean of the College of Arts & Sciences.
"As our AI course and program offerings expand, our current and future participants will be exposed to more topics. This, in turn, will lead to more prepared participants who will attack more interesting challenges," Spanier said.
The students took on real-world challenges identified through partnerships with international companies such as Volvo and Case New Holland. They also spoke with experts at international technology firms such as Intel, Dell, and Hewlett Packard.
"These collaborations gave them valuable experience working with industrial stakeholders to establish expectations and desired deliverables," Spanier said. This year's cohort was divided into three groups, where they learned technology skills as well as the importance of communication and teamwork.
"At the beginning, I was overwhelmed a bit with all the new terms and knowledge," said Bhhaanu Pirange, a DSU Computer Science master's degree student, "but we were able to learn from the experts and the people on our teams."
One of the technologies they were exposed to was a machine learning technique called federated learning, which can be used to train algorithms (the process or rules used for computer calculations).
David Hovstadius, a master's student in physics, computational science, and AI from Uppsala University in Sweden, was introduced to a type of network system widely used in vehicles that allows devices to exchange data in a reliable and efficient way.  
Students also worked with large language models that were much bigger than they were familiar with. "Given the prevalence of Chat GPT, this is really relevant," said Bergquist.
Six students worked on a project for Volvo and Zenseact, a Swedish company that uses AI-based technology to create the ultimate driver support to end car accidents and make roads safe for everyone.
Three students worked with Case New Holland (CNH) on AI technology in agriculture. CNH recently signed a five-year deal with Dakota State for $75,000 a year for the AI Sweden consortium group.
Regardless of the industry knowledge gained or personal future goals, the relationships developed will have a lasting impact.
"What we have learned here will help in our futures and the future of the business partners," said Gustav Kalander, a master's degree student in Data Science and AI from Chalmers University, "but the biggest thing is getting to know all these people."
Berquist said, "We're all from different places, with different backgrounds, and that has made it interesting."
Mahat shared about this interesting summer experience on his LinkedIn page, writing that immersing himself in the world of AI and Cybersecurity created a steppingstone for his career, and toward honing his skills and expanding his horizons.
"The experience was nothing short of inspiring, as we learned from each other's perspectives and shared our unique insights to shape the future of these dynamic fields."