September 6, 2023
Throughout her career in education, Becky Fjerstad (B.S. '95) has served in various positions, such as paraprofessional, middle school teacher, and elementary school teacher. She is now beginning her second year as an administrator for the elementary school of her hometown of Wessington Springs.
Fjerstad started her college education at South Dakota State University (SDSU) but transferred to Dakota State after two years, finding the smaller campus a better fit for her at that time in her life. She eventually returned to SDSU to earn her master's in Educational Administration.
"I feel grateful for DSU and getting the opportunity to get my degree there," she said.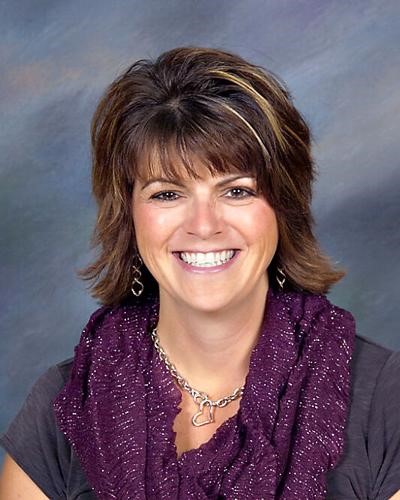 Professors like Dr. Vicki Sterling impacted Fjerstad's career as an educator, but she also found support in Dr. Jerald Tunheim, DSU's president during her time on campus.
Tunheim met with her as a transfer student and expressed his belief in her and her future as an educator. 
This inspired her to give back. She worked as an adjunct instructor at DSU while a professor was on sabbatical. She also served as a mentor to DSU education majors and student teachers throughout their teaching residencies.
"I've really enjoyed them and welcomed them into my classroom," she said.
Working with student teachers also provides opportunities for the teachers to learn from the students. She describes it as a trade-off, with the students learning from experienced teachers and the teachers learning new technologies and more from the students.
Fjerstad recalled a student teacher with a very artistic mind that changed how she thought about something as simple as a bulletin board.
"Sharing ideas and learning from one another makes it a fun experience," she added.
Her experiences as a paraprofessional and working in the In School Suspension (ISS) room have helped her appreciate staff's other roles in education.
"I've always had more respect and appreciation for paraprofessionals because of the fact that I experienced it myself once," Fjerstad said.
As principal of Wessington Springs Elementary School, she was excited to learn about the new Teacher Apprenticeship Pathway program. One of her paraprofessionals will be participating this fall.
Programs like these are a way to invest in staff who have already formed relationships with faculty and students in South Dakota school districts. Fjerstad sees it as another way to build relationships, something she sees as foundational in education.
"I think one of the most important parts of education, whether at the university or elementary level, is building relationships with people," she said.
Building relationships has remained at the core of Fjerstad's time as an educator and administrator. Throughout her first year as administrator, she focused on showing her appreciation to staff and acknowledging how important their jobs are to not just the students in the classroom, but the world – noting that to develop doctors, programmers, engineers, and more, everyone needs teachers.
"I've always believed that if you take care of your people, the other things will fall into place," she said.