DSU athlete is role model for local cancer survivor
October 10, 2023
The role of Dakota State University is to educate students, providing classroom learning and extra-curricular opportunities that give them the skills they need for a successful life and career.  
But in one case, the student has become the teacher, serving as a role model for a young cancer survivor.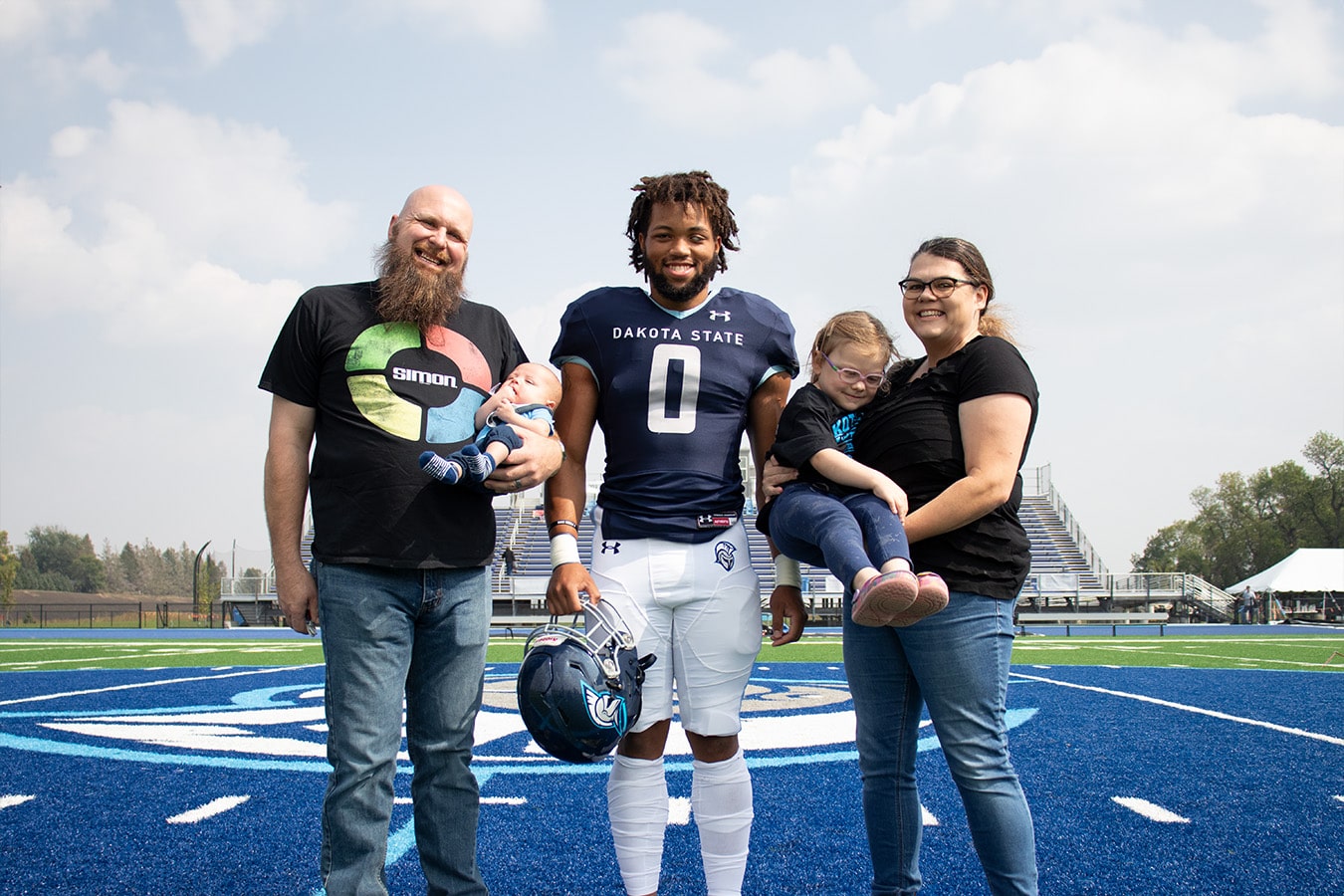 Houston native Emmanuel Drain lost his left eye to retinoblastoma when he was four years old, but he didn't let that stop him from living life and participating in things he loved, like football. He is now a DSU sophomore, playing defensive end on the Trojans football team and majoring in exercise science.
Drain's inspiring story has been highlighted by several media outlets, and St. Jude Children's Research Hospital, where he was treated.
It was that story that Kenny Farke saw. His daughter, Hazel, lost her left eye to the same cancer, and he thought it would be nice for the two to meet.
Hazel's mom, Melissa, wrote on Facebook, "We really want her to see that she can do anything and everything she sets her mind to; that losing her eye to cancer doesn't define her."
So Melisa reached out to Coach Anderson to see if they could attend a game. Within a half hour of making the request, the family was invited to the 2023 Homecoming game to meet Emmanuel.
"He is an absolute gem of a young man," Melisa wrote. "He and Hazel raced on Trojan Field. He shared a bit of his story with us. We shared a bit of our story with him. He talked about hard work and how it got him where he is today."
Melisa knows this is an important message for Hazel to hear and see someone like her, someone who is not being held back in life and not feeling sorry for themselves.
"These are the stories we want Hazel hearing. These are the sorts of people we want her to see," Melisa wrote.