April 18, 2017
Dakota State University held its annual Honors Banquet Tuesday, April 11, at Dakota Prairie Playhouse in Madison, S.D. See below for the honors recognized during the event.
---
LOWRY SCHOLAR: The designation "Lowry Scholar" honors students who exhibit outstanding scholarly involvement and leadership within their chosen programs of study.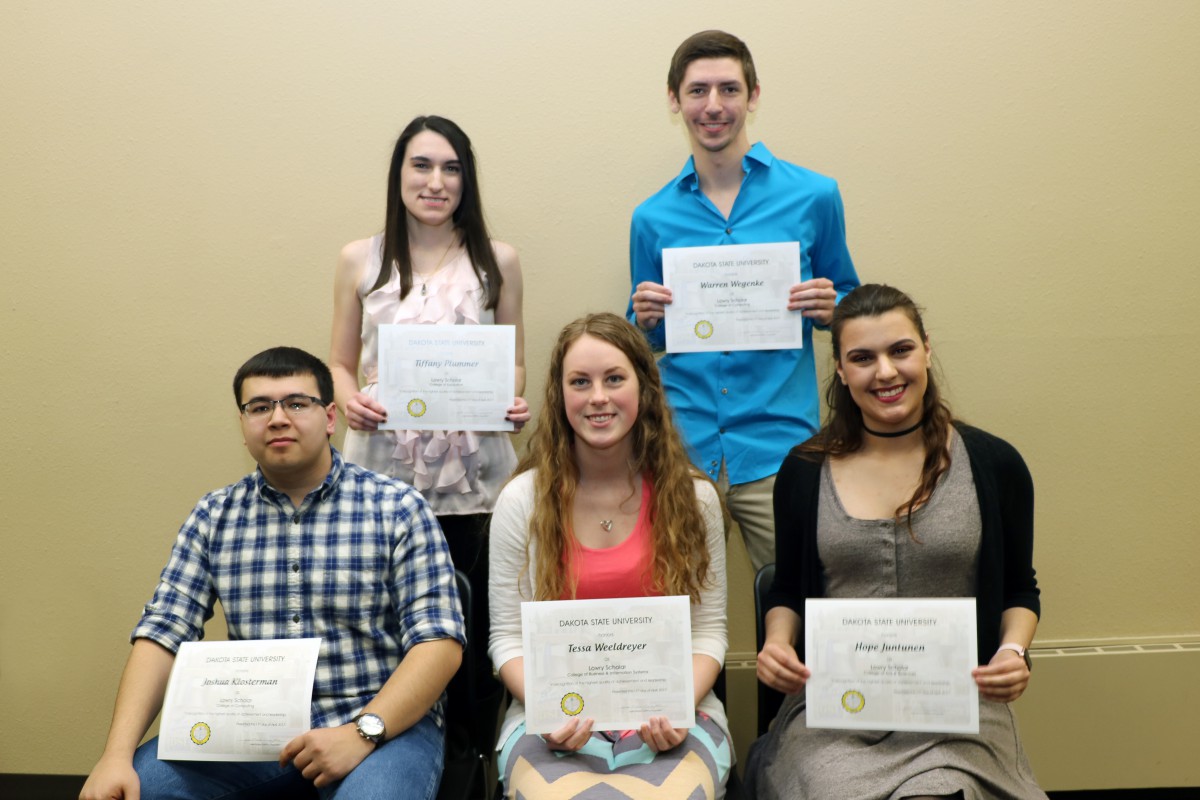 Back (L to R): Tiffany Plummer; Warren Wegenke
Front (L to R): Joshua Klosterman; Tessa Weeldreyer; Hope Juntunen
---
HONORS GRADUATES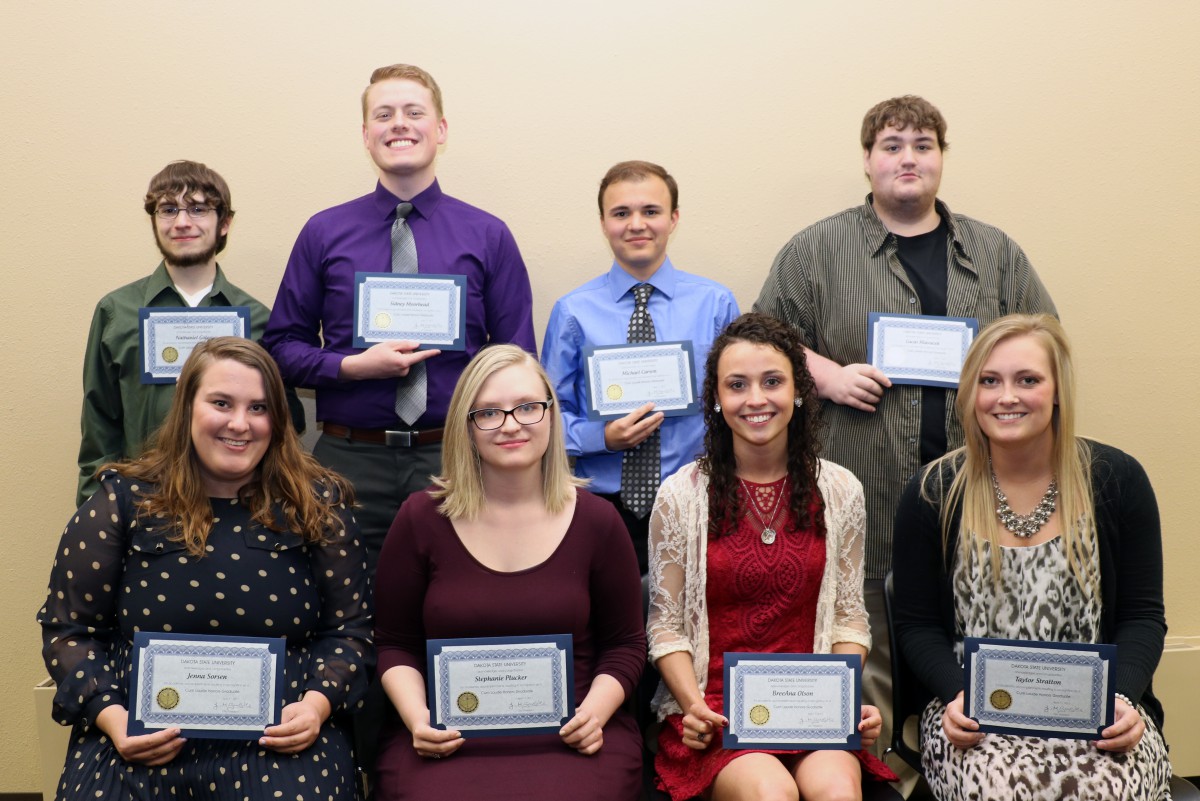 CUM LAUDE: (3.50 to less than 3.70 GPA)
Back (L to R): Nathaniel Golen; Sidney Moorhead; Michael Carson; Lucas Hlavacek
Front (L to R): Jenna Sorsen; Stephanie Plucker; BreeAna Olson; Taylor Stratton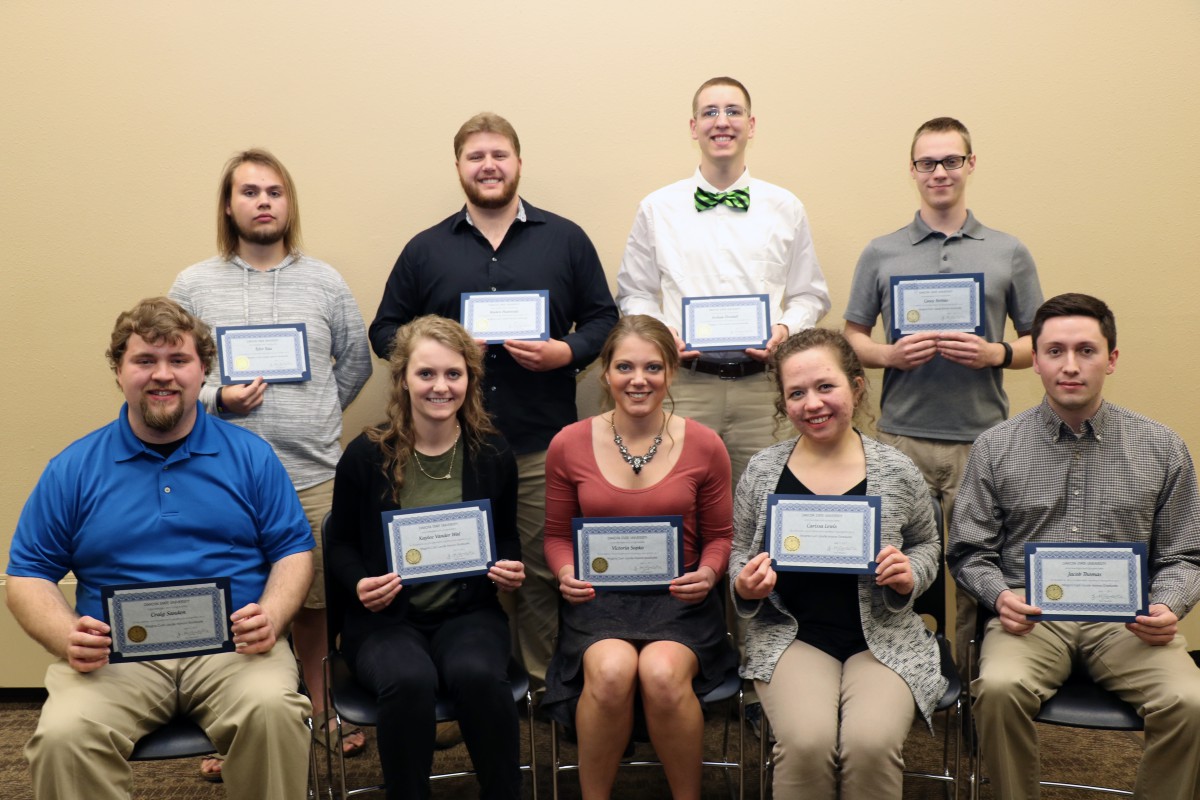 MAGNA CUM LAUDE: (3.70 to less than 3.90 GPA)
Back (L to R): Tyler Rau; Kaden Huntrods; Joshua Dosdall; Casey Bethke
Front (L to R): Craig Sanden; Kaylee Vander Wal; Victoria Sopko; Carissa Lewis; Jacob Thomas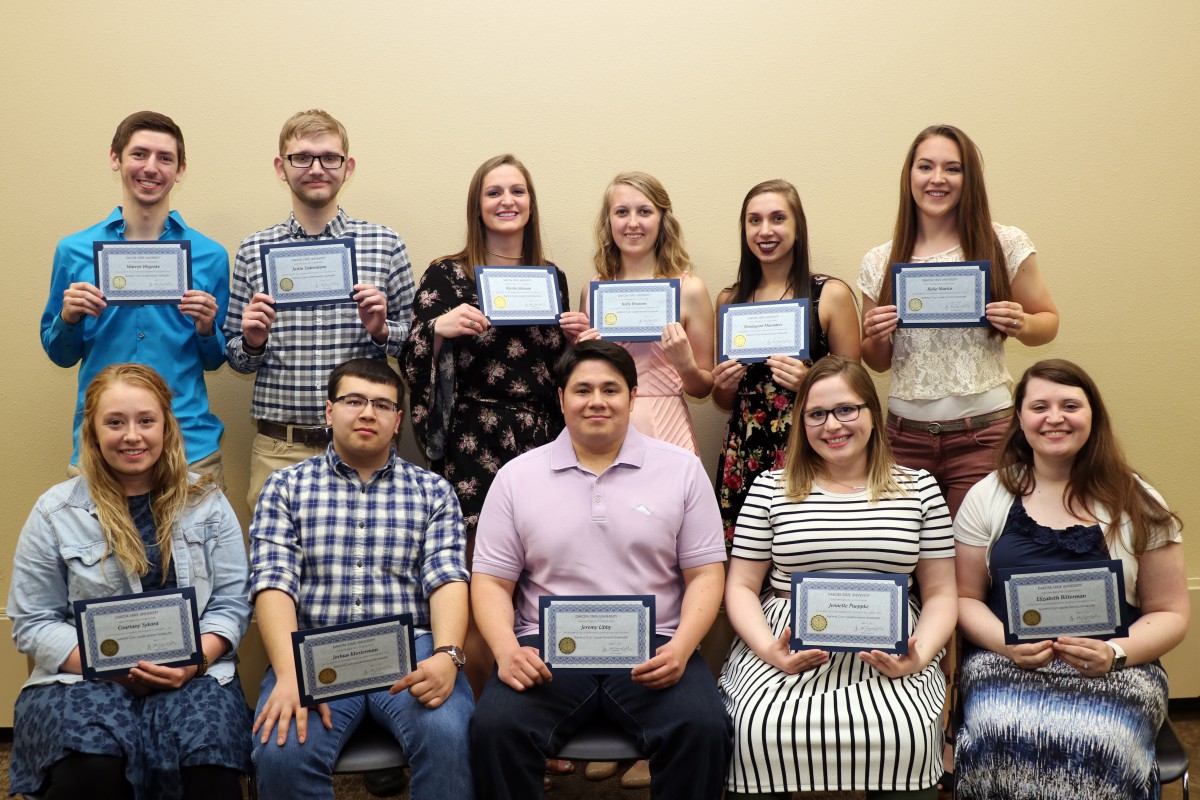 SUMMA CUM LAUDE: (3.90 and above GPA)
Back (L to R): Warren Wegenke; Justin Soderstrom; Kirstin Johnson; Kelly Brusven; Remington Maunders; Kylie Martin
Front (L to R): Courtany Sykora; Joshua Klosterman; Jeremy Libby; Jennelle Pueppke; Elizabeth Bitterman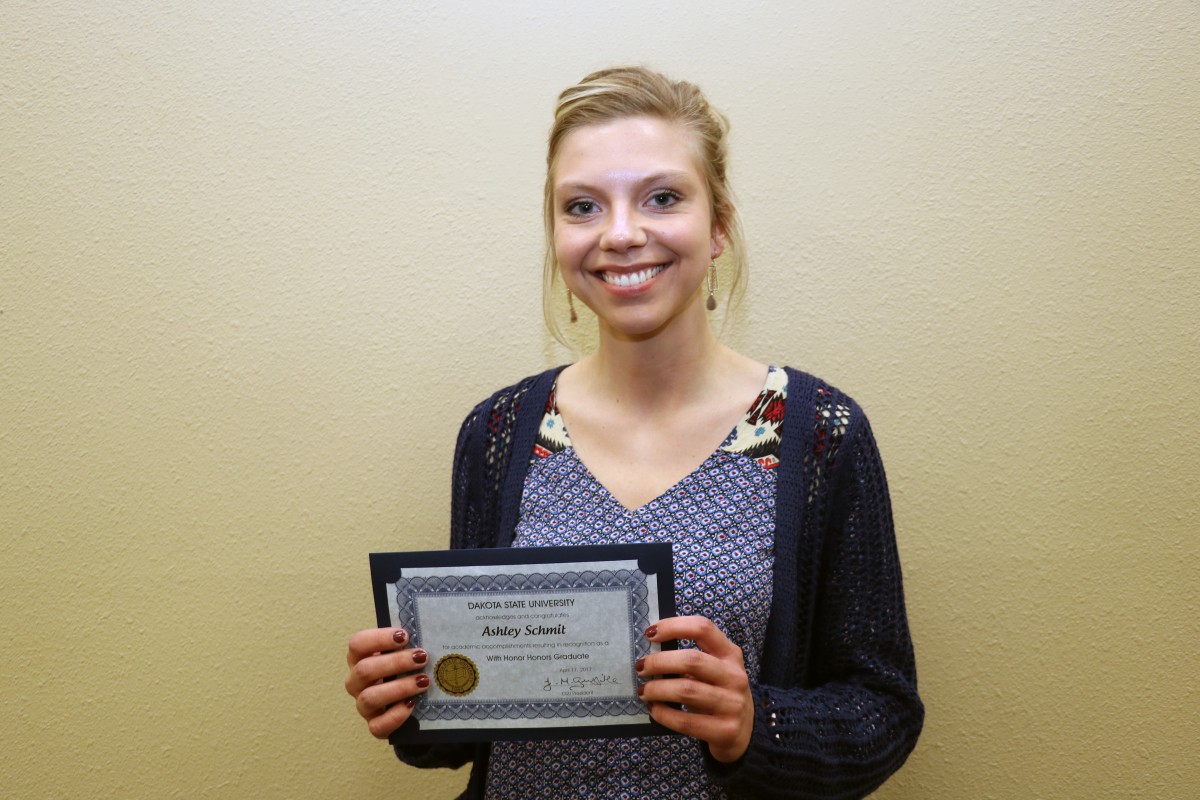 WITH HONOR: (3.5 to less than 3.7 GPA)
Ashley Schmit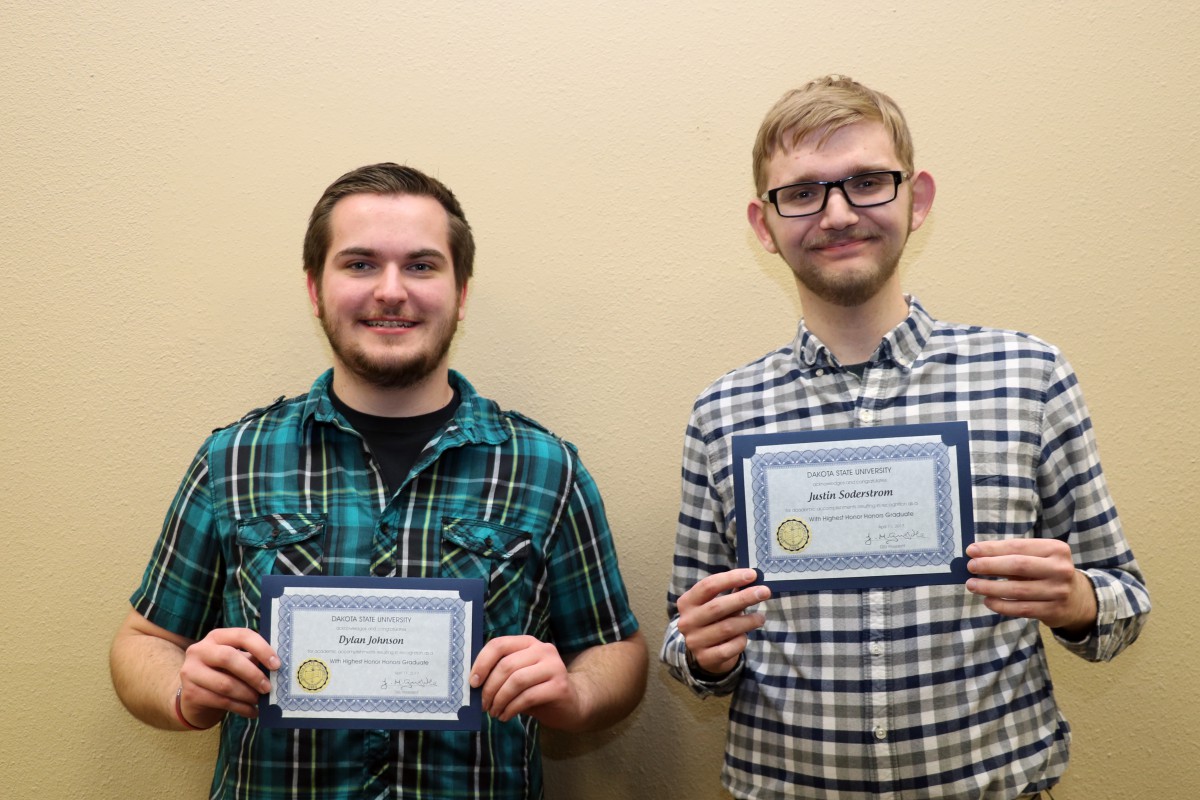 WITH HIGH HONOR: (3.7 to less than 3.9 GPA)
(L to R): Dylan Johnson; Justin Soderstrom
---
STUDENT EMPLOYEES OF THE YEAR: These awards are held in conjunction with the Midwest Association of Student Employment Administrators. Nominations are solicited by the Career Services Office from both on-campus and off-campus employers of DSU students, and a five-member committee selects one student in each category.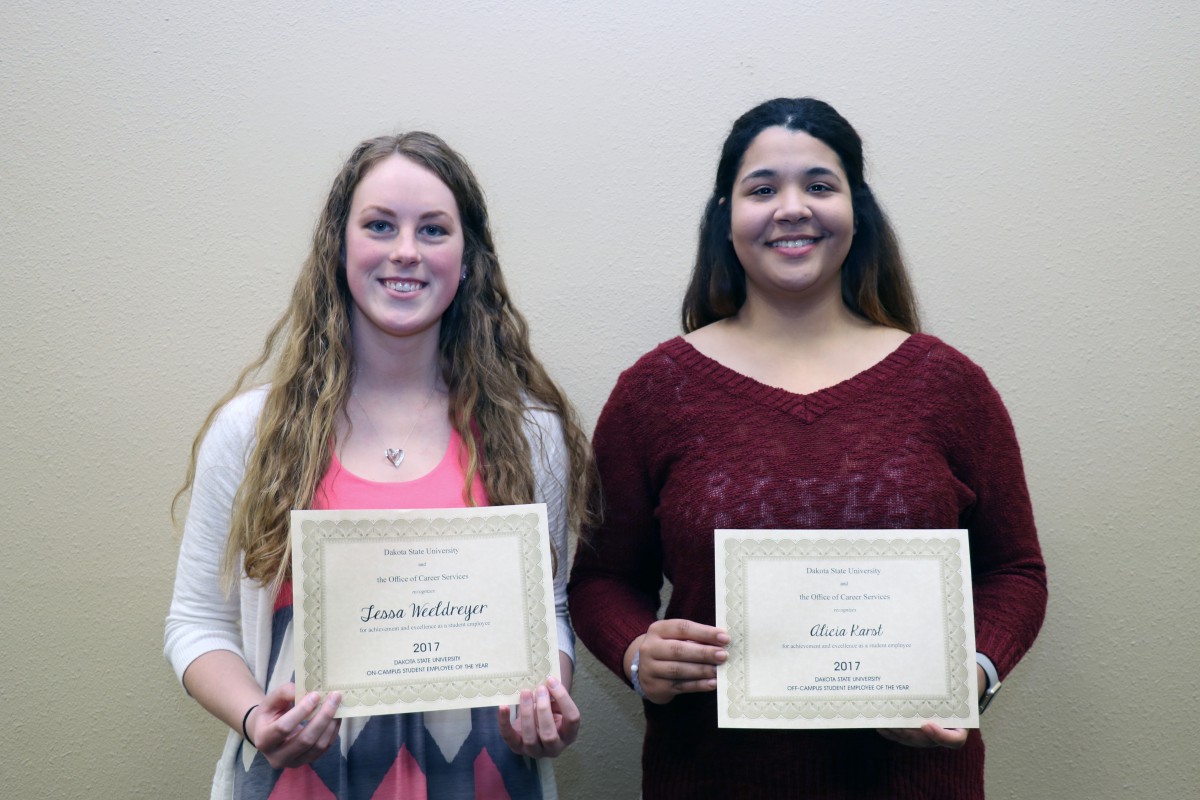 (L to R): On-Campus: Tessa Weeldreyer, Office of Career Services; Off-Campus: Alicia Karst, Bethel Lutheran Home
---
WHO'S WHO AMONG STUDENTS IN AMERICAN UNIVERSITIES AND COLLEGES: Students chosen for membership in Who's Who Among Students in American Universities and Colleges are recognized for exceptional academic accomplishment, leadership and extra-curricular activities, citizenship, service to the University, and potential for future achievement.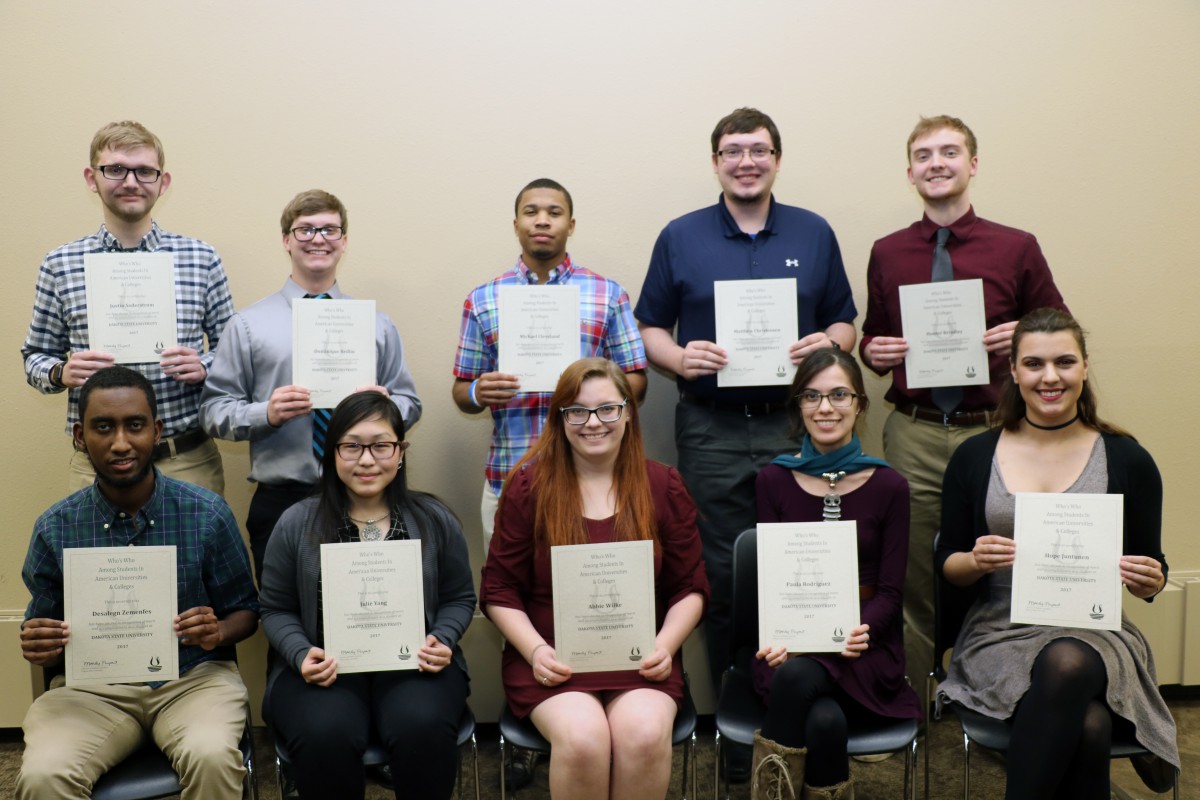 Back (L to R): Justin Soderstrom; Dominique Redlin; Michael Cleveland; Matthew Christensen; Hunter Brindley
Front (L to R): Desalegn Zemenfes; Julie Yang; Abbie Wilke; Paula Rodriguez; Hope Juntunen
---
STUDENT SENATOR OF THE YEAR is selected annually by the membership of the Senate.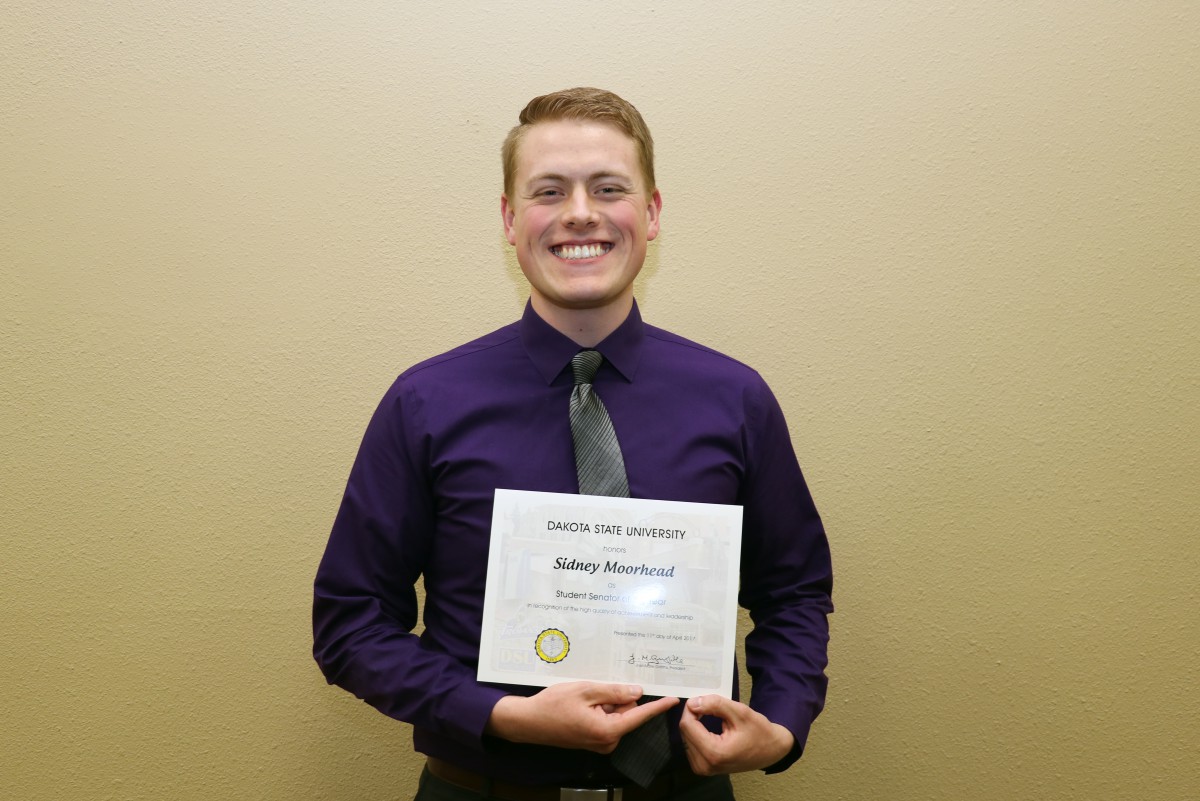 Sidney Moorhead
---
CAMPUS STUDENT LEADERS are students who have been very active on campus and who exemplify the highest degree of skills in management, communications, personal relationships, vital involvement and university accomplishments and who also have a cumulative GPA of at least 2.8.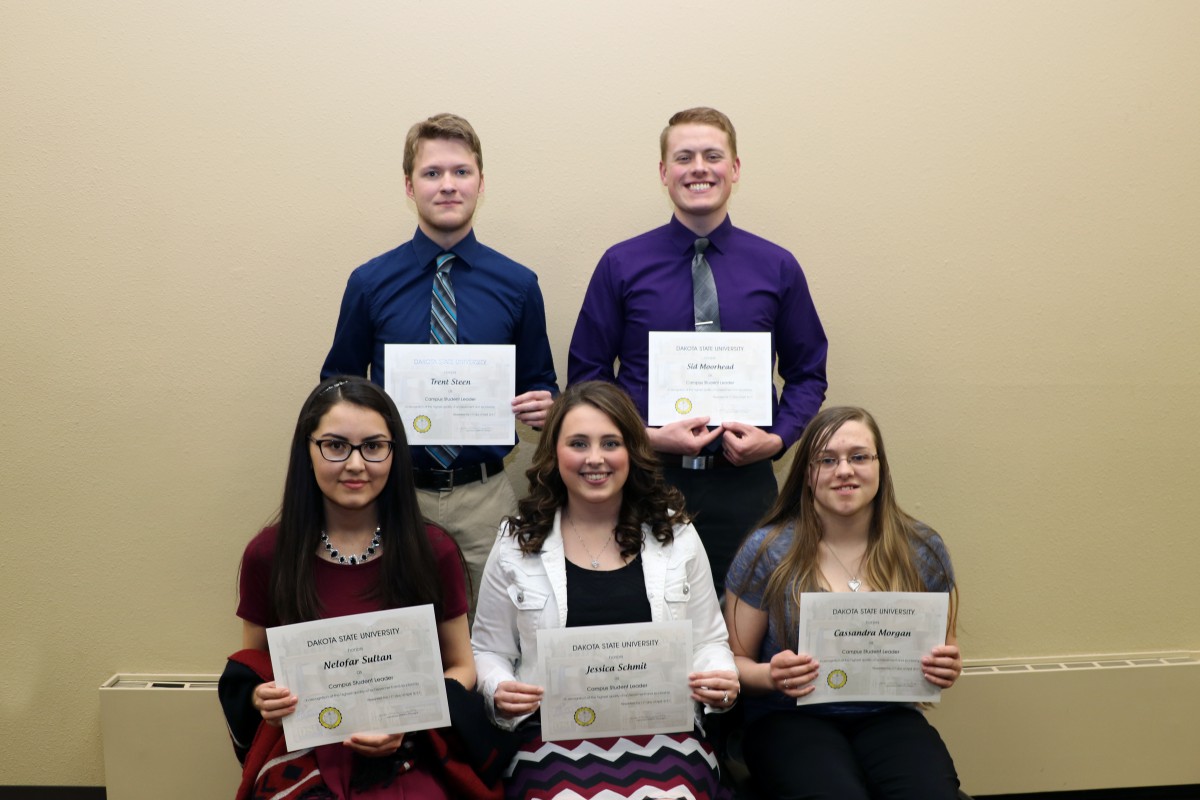 Back (L to R): Trent Steen; Sid Moorhead
Front (L to R): Nelofar Sultan; Jessica Schmit; Cassandra Morgan
---
REGENTAL AWARDS: Each year the South Dakota Board of Regents recognizes student organizations on each of the six regental campuses for meritorious achievements in Academic Excellence, Community Service, and Organizational Leadership.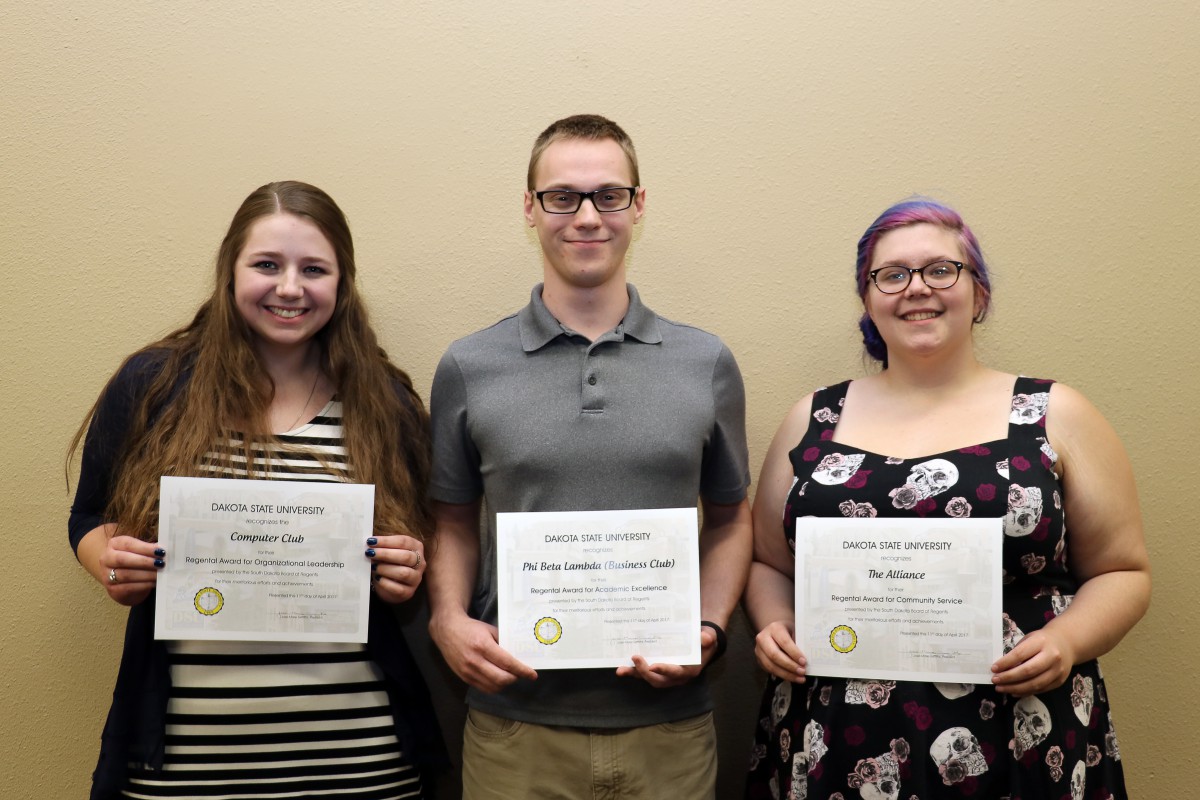 (L to R): Organizational Leadership: Computer Club, Ivy Oeltjenbruns (President); Academic Excellence: Phi Beta Lambda (Business Club), Casey Bethke (President); Community Service: The Alliance, Rachel Groth (President)
---
COLLEGE STUDENT LEADER award is intended to honor students in good academic standing who also demonstrate outstanding leadership.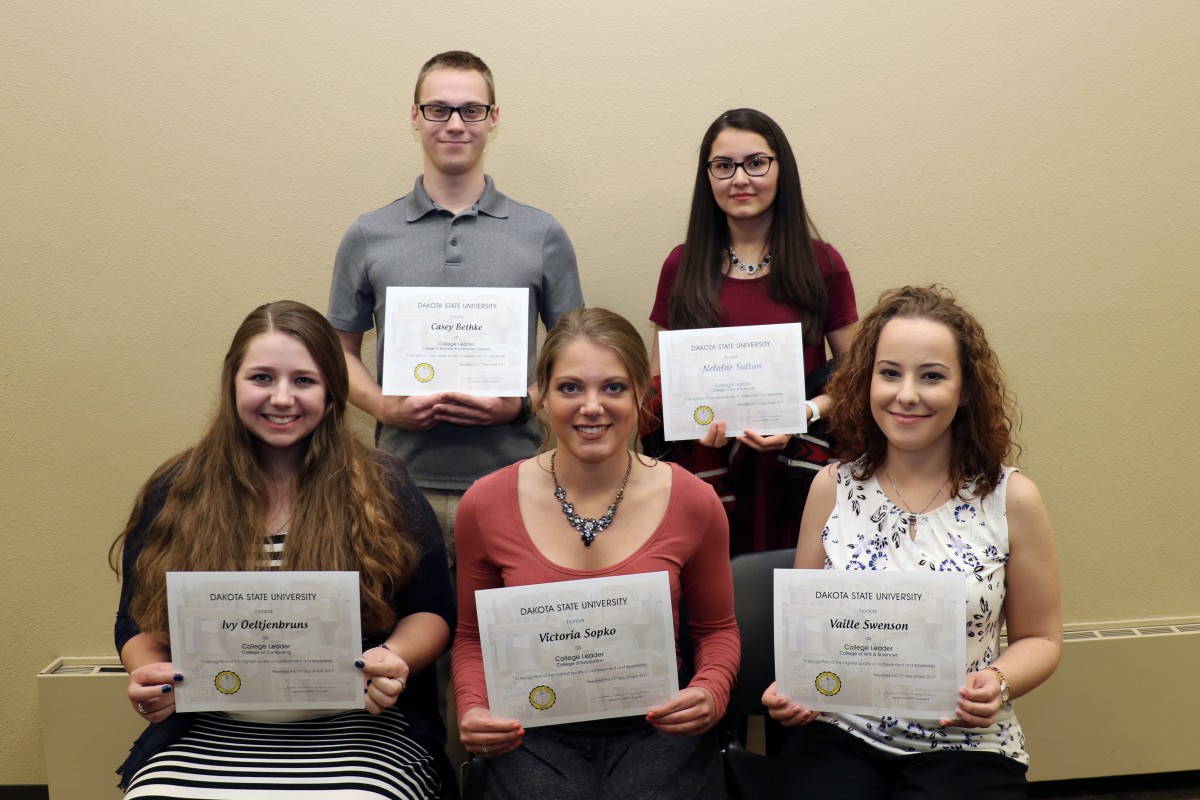 Back (L to R): Casey Bethke, nominated by the College of Business & Information Systems; Nelofar Sultan, nominated by the College of Arts & Sciences
Front (L to R): Ivy Oeltjenbruns, nominated by the College of Computing; Victoria Sopko, nominated by the College of Education; Vaille Swenson, nominated by the College of Arts & Sciences
---
View all athletic award winners here.