April 17, 2019
Dakota State University held its annual Honors Banquet Monday, April 15, 2019, at Dakota Prairie Playhouse in Madison, S.D. The honorees recognized during the event include:
---
Baccalaureate students graduating with Summa Cum Laude academic honors (3.9 or higher GPA):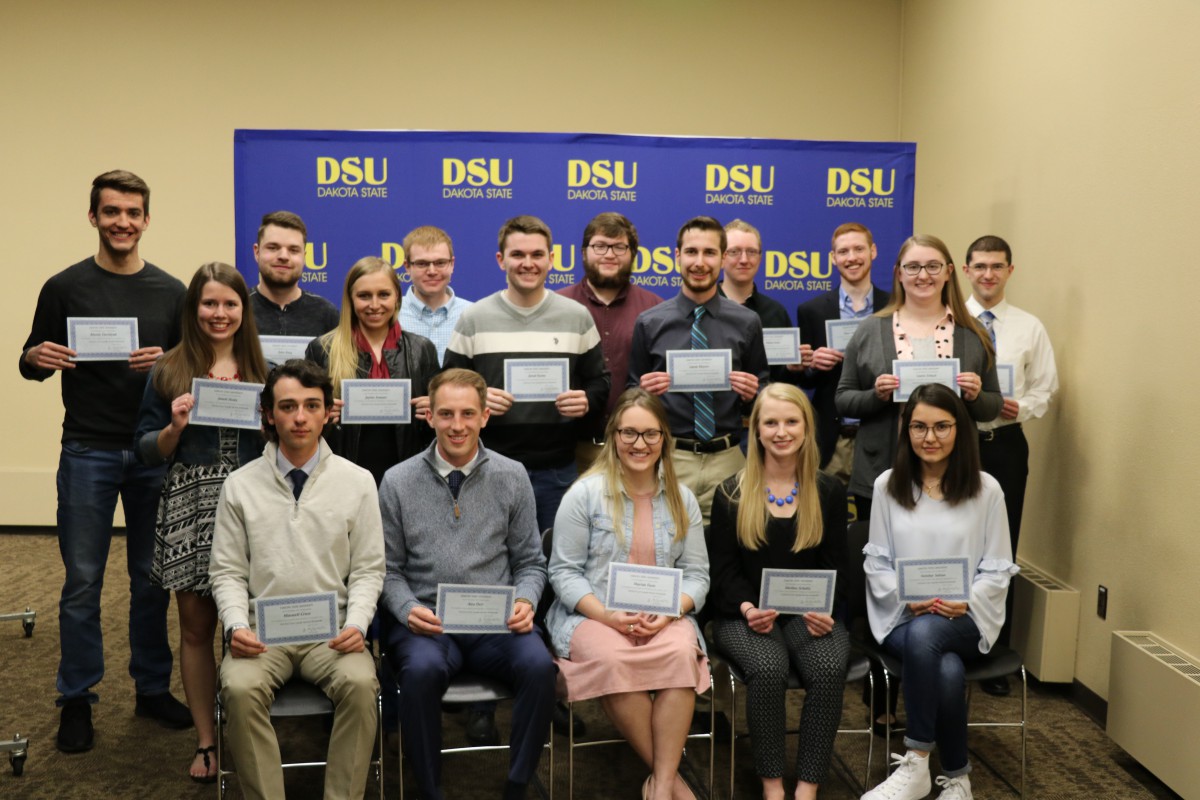 Alexsiy Davidyuk (back left), Tyler Ensz, Logan Frey, John Townsend, Adam Good, Hans Verhoeven, John Streff; Janell Healy (middle left), Jayme Knauer, Jarod Keene, Layne Meyers, Laura Schuck; Maxwell Cruse (front left), Alex Derr, Mariah Fixen, Shelbee Schultz, Nelofar Sultan.
---
Baccalaureate students graduating with Magna Cum Laude academic honors (3.7 to 3.9 GPA):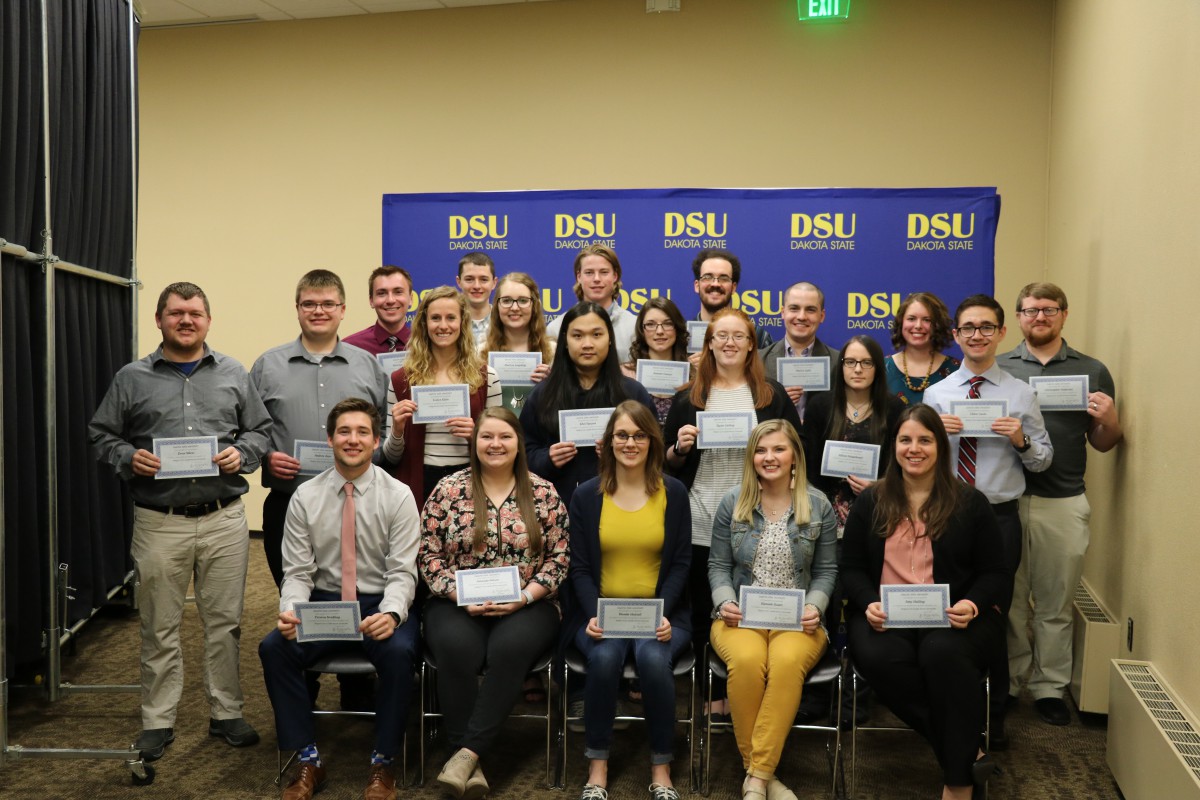 Nicholas O'Donnell (back left), Mark Streff, Jared Richardson,Daniel Schmagel; Drew Wiese (middle left), Andrew Reps, Evelyn Klein, Marissa Jongeling, Khoi Nguyen, Hannah Glanzer, Taylor Liebing, Patrick Gallo, Allison Neugebauer, Shelby Borgers, Chase Lucas, Christopher Anderson; Preston Nordling (front left), Amanda Nelson, Blenda Hadsall, Hannah Stuart, Amy Halling.
---
Baccalaureate students graduating with Cum Laude academic honors (3.5 to 3.7 GPA):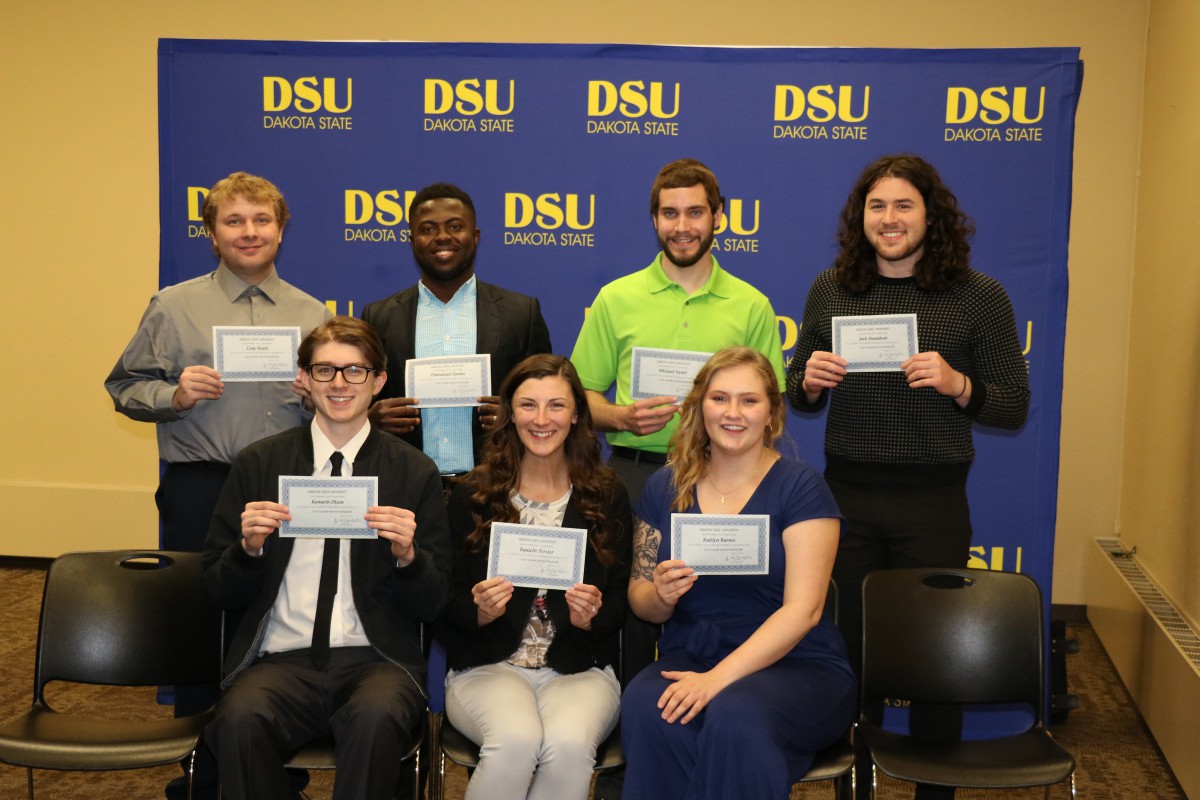 Cody Kluth (back left), Emmanuel Opoku, Michael Stydel, Jack Anundson; Kenneth Olson (front left), Danielle Forster, Kaitlyn Barnes.
---
Associate degree graduates with academic honors: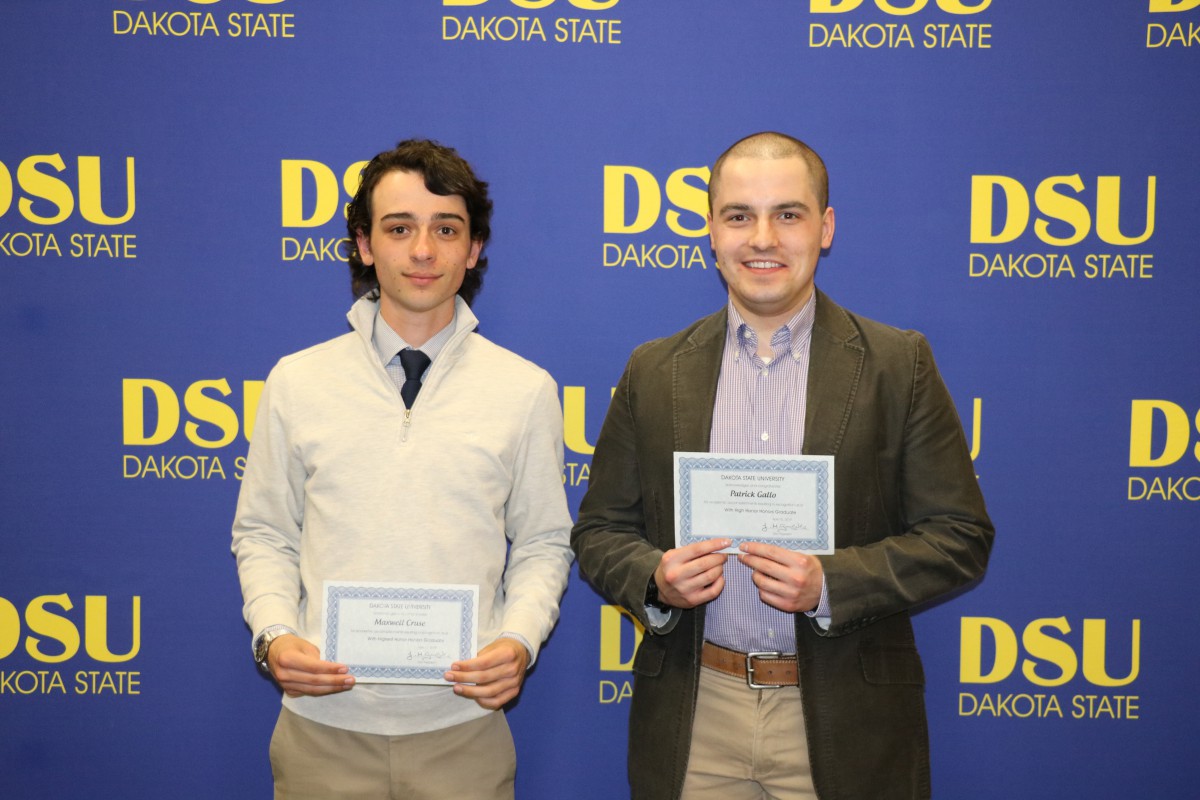 Maxwell Cruse and Patrick Gallo.
---
Lowry Scholars
This award is based on the student's scholarly involvement and achievement in the major beyond the standards for a 3.5 GPA. Students are chosen in each of the four academic colleges.
College of Arts and Sciences: John Townsend.
The Beacom College of Computer and Cyber Sciences: Jarod Keene and Nicholas O'Donnell.
College of Education: Dani Forster.
College of Business and Information Systems: Mark Streff.
The award is named for V.A. Lowry, who was president of DSU from 1933-1962. He devoted much of his life to creating an environment of academic excellence at this university.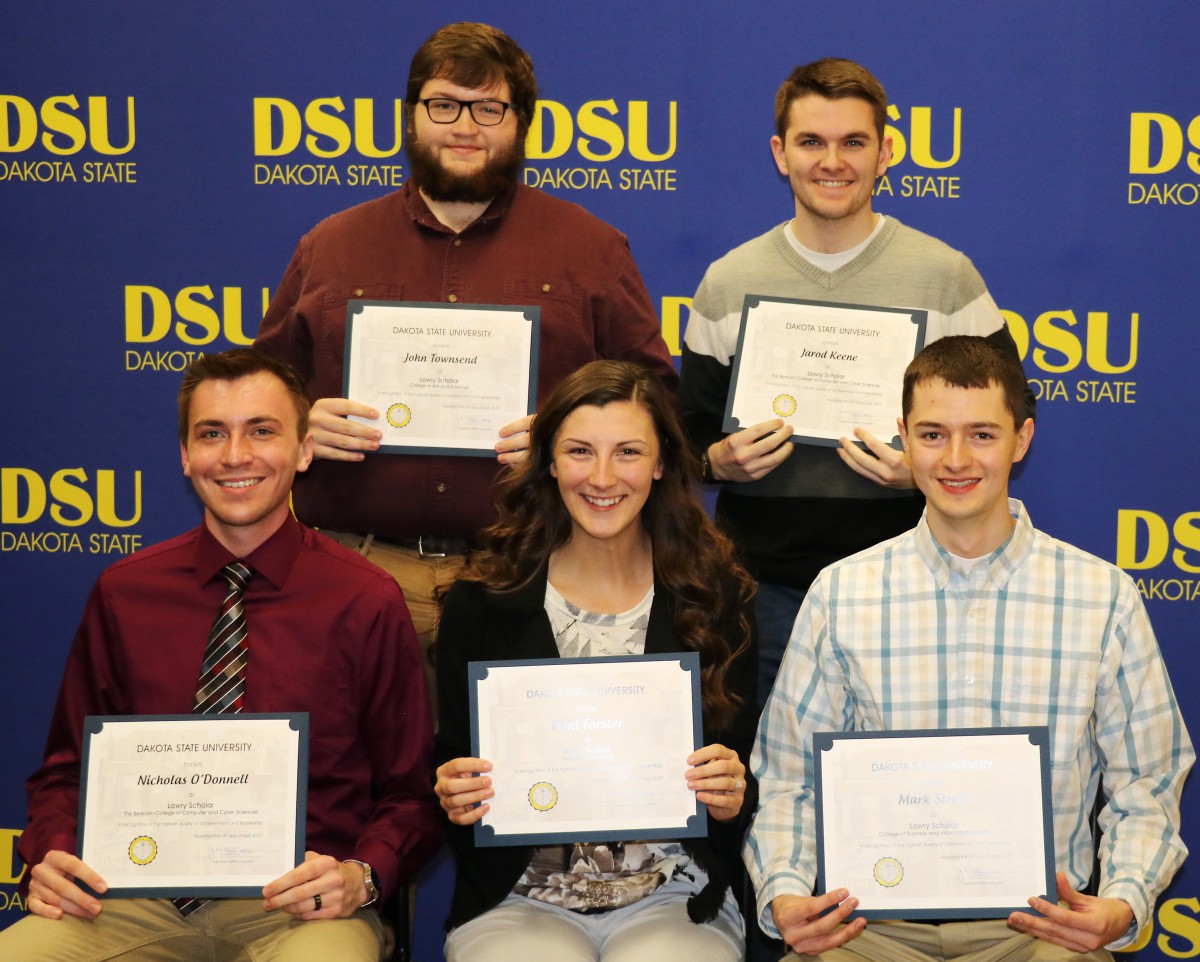 LOWRY SCHOLARS – The V.A. Lowry Scholars named for 2019 at DSU are: John Townsend (back left), Jarod Keene; Nicholas O'Donnell (front left), Dani Forster, and Mark Streff. 
---
College Student Leaders
This award honors students in good academic standing who demonstrate outstanding leadership. Students are selected in each of the four academic colleges.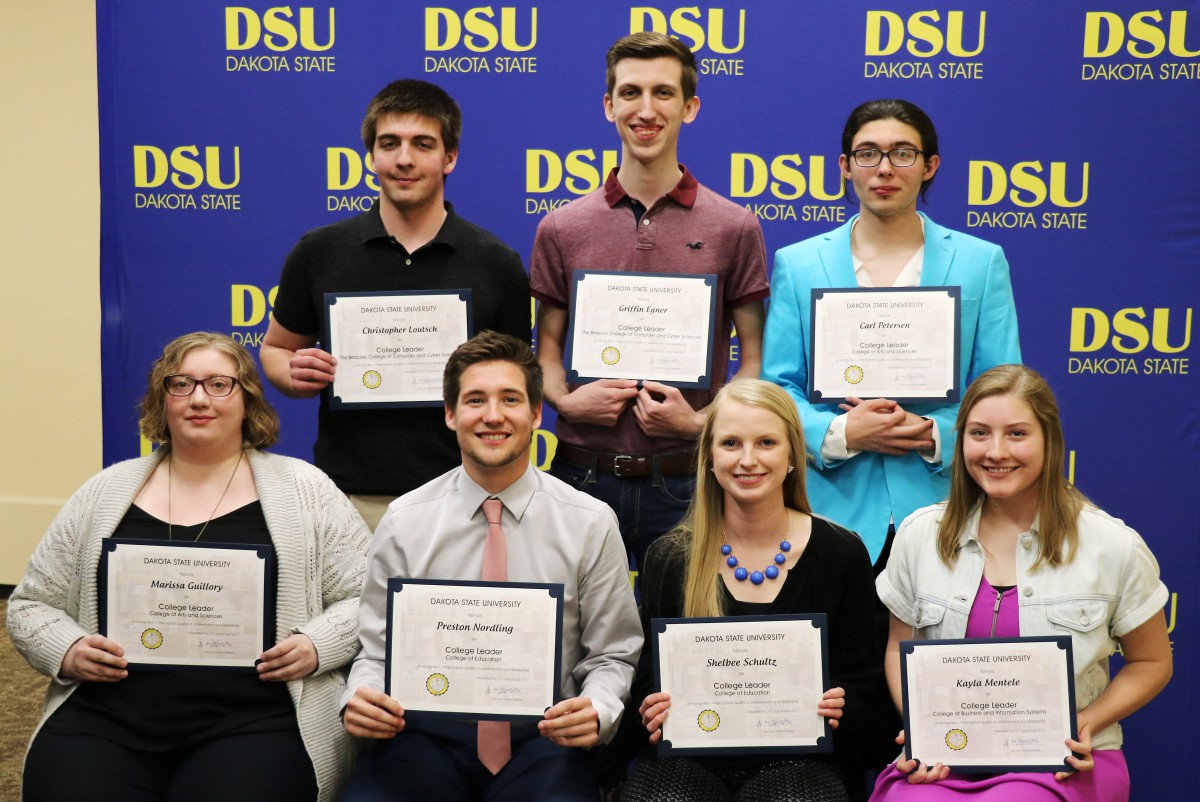 Named were: Christopher Loutsch (back left) Griffin Egner, Carl Peterson; Marissa Guillory (front left), Preston Nordling, Shelbee Schultz, and Kayla Mentele. Not pictured is Briana Grage.
---
OUTSTANDING ARTISTS
Kenneth Olson and Kristen Sieck were named Outstanding DSU Artists. The honor is awarded to a student whose achievements in the performing and/or studio arts are superior.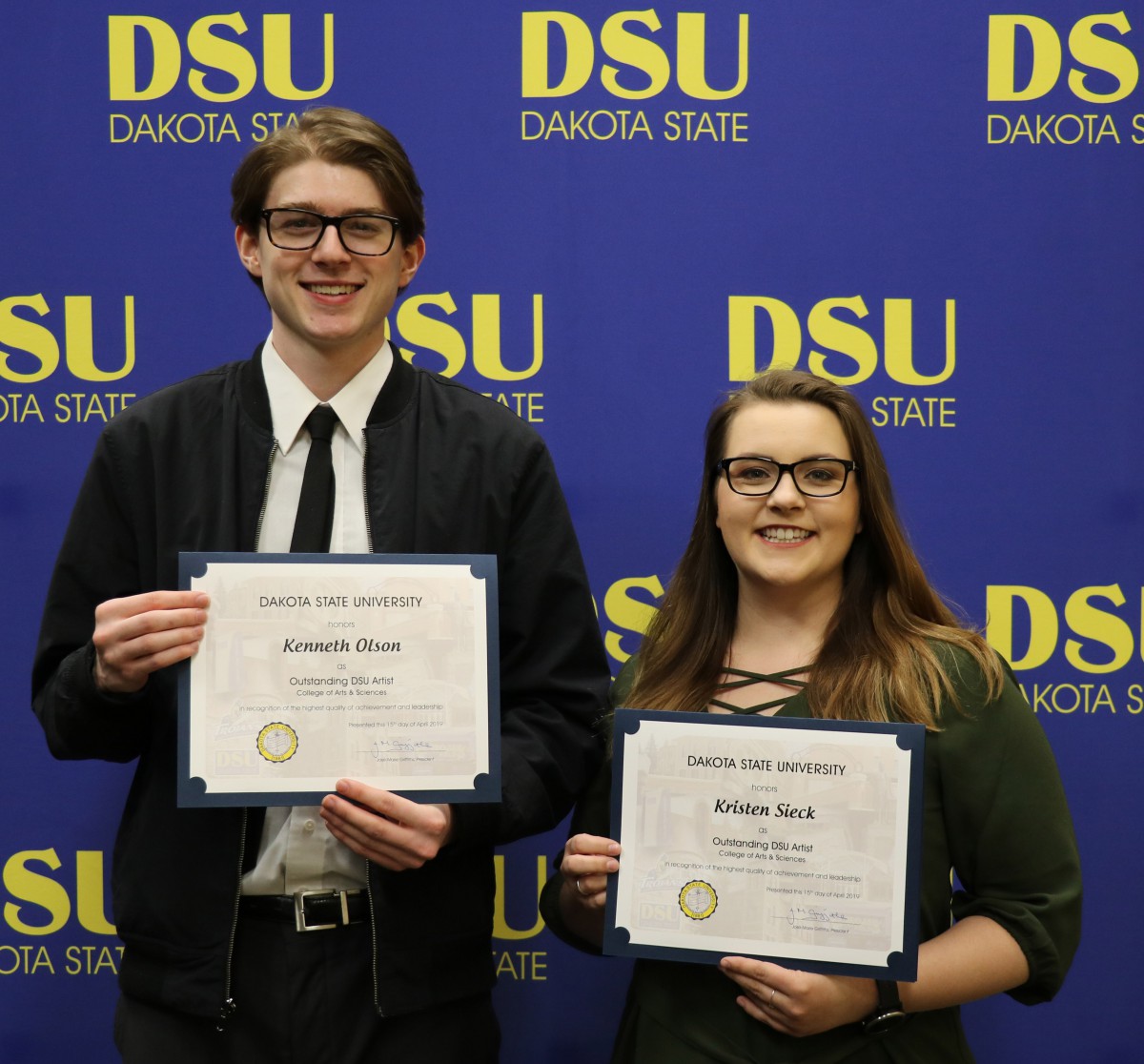 ---
Campus Student Leaders
This honor is awarded to students who have been very active on campus. Through their involvement, students must exemplify the highest degree of skill in management, communications, personal relationships, vital involvement and university accomplishments. They are also required to have a cumulative GPA of at least 2.8.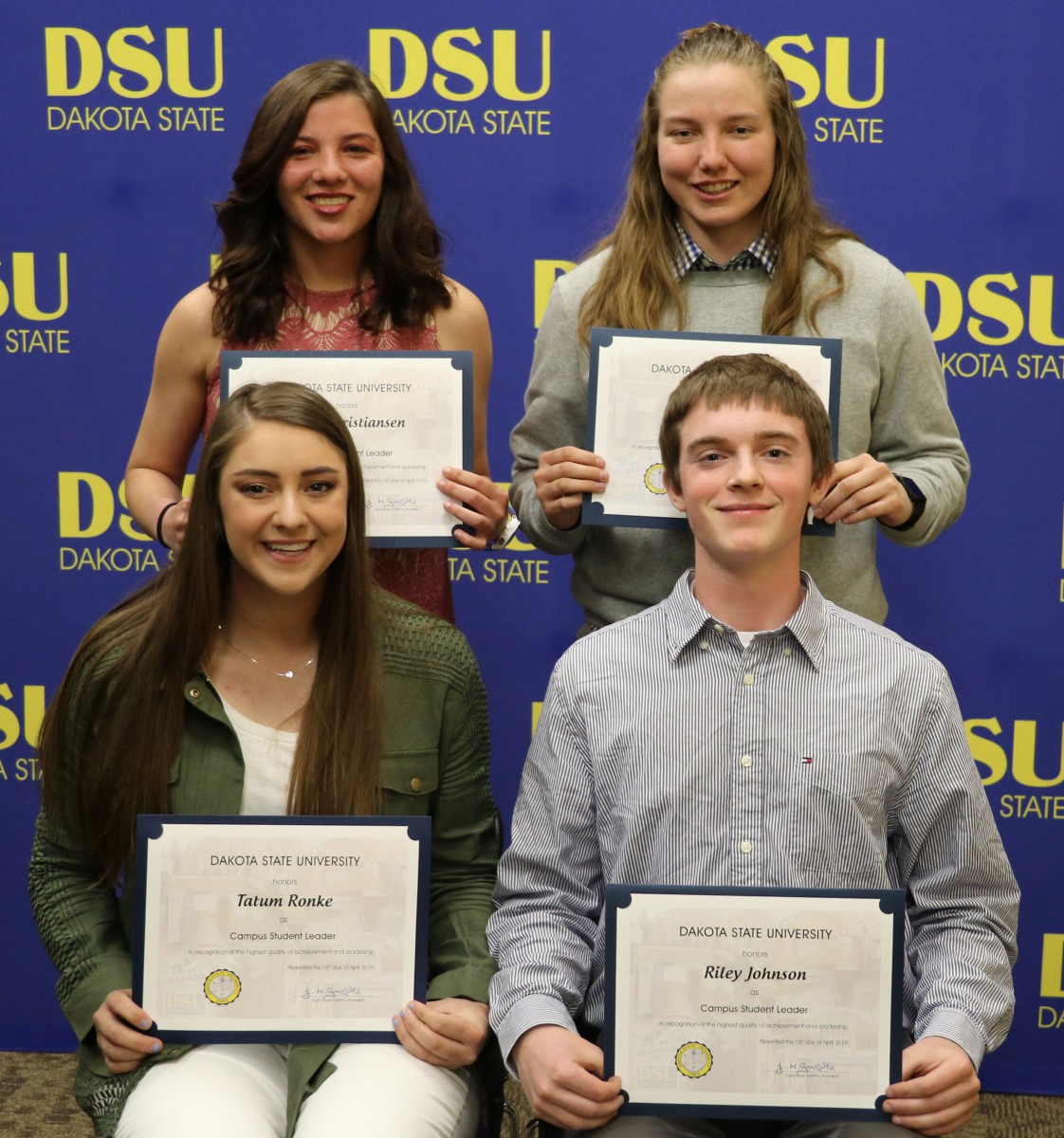 The 2019 leaders include: Jacia Christiansen (back left), Shelby Bartlett; Tatum Ronke (front left); and Riley Johnson.
---
Regental Award Winners
Each year the South Dakota Board of Regents recognizes student organizations on each of the six regental campuses for meritorious achievements in three areas. DSU's Phi Beta Lambda (professional business leaders) received the Academic Excellence award; The Alliance received the Community Service Award; CybHER was awarded the Organizational Leadership Award.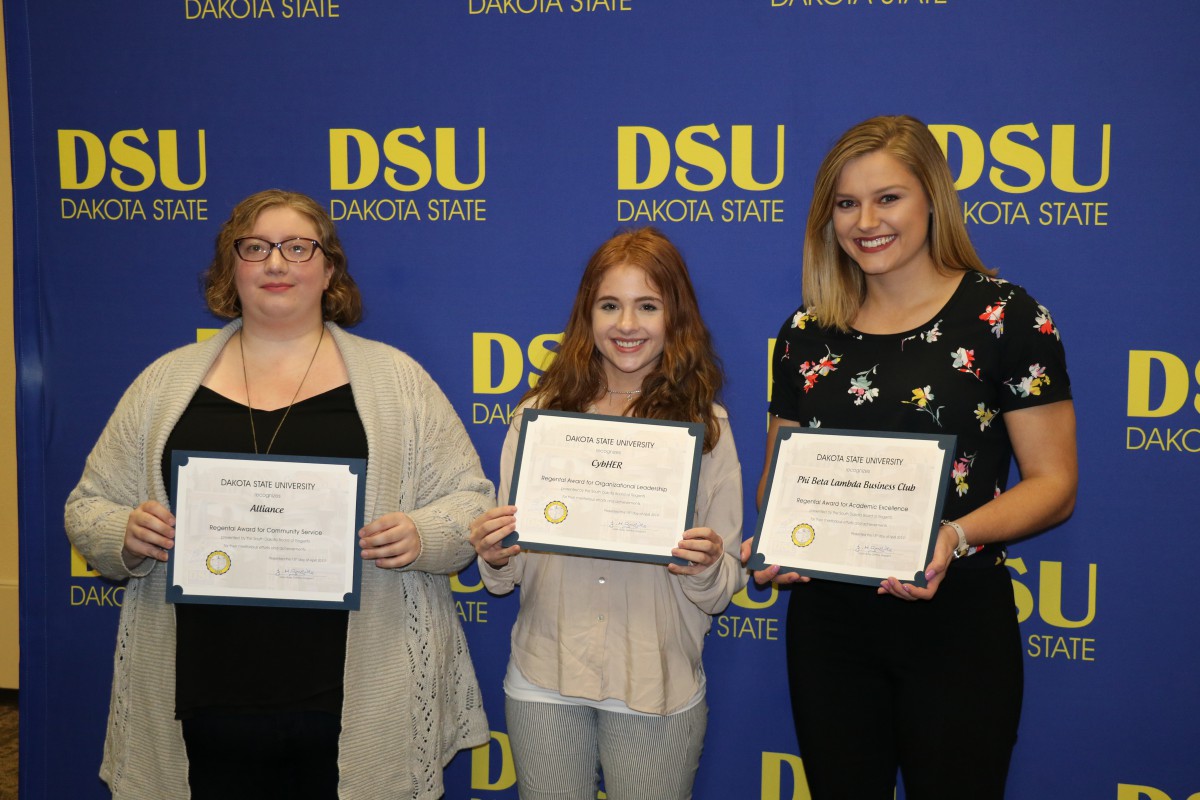 Representatives for each group included: Marissa Guillory (The Alliance), Sophie Pokorney (CybHER), and Lindsey Vogl (Phi Beta Lambda).
---
Student Employees of the Year
Dakota State University student Michael Stydel was named the on-campus Student Employee of the Year. He works with the Facilities Management Department on campus.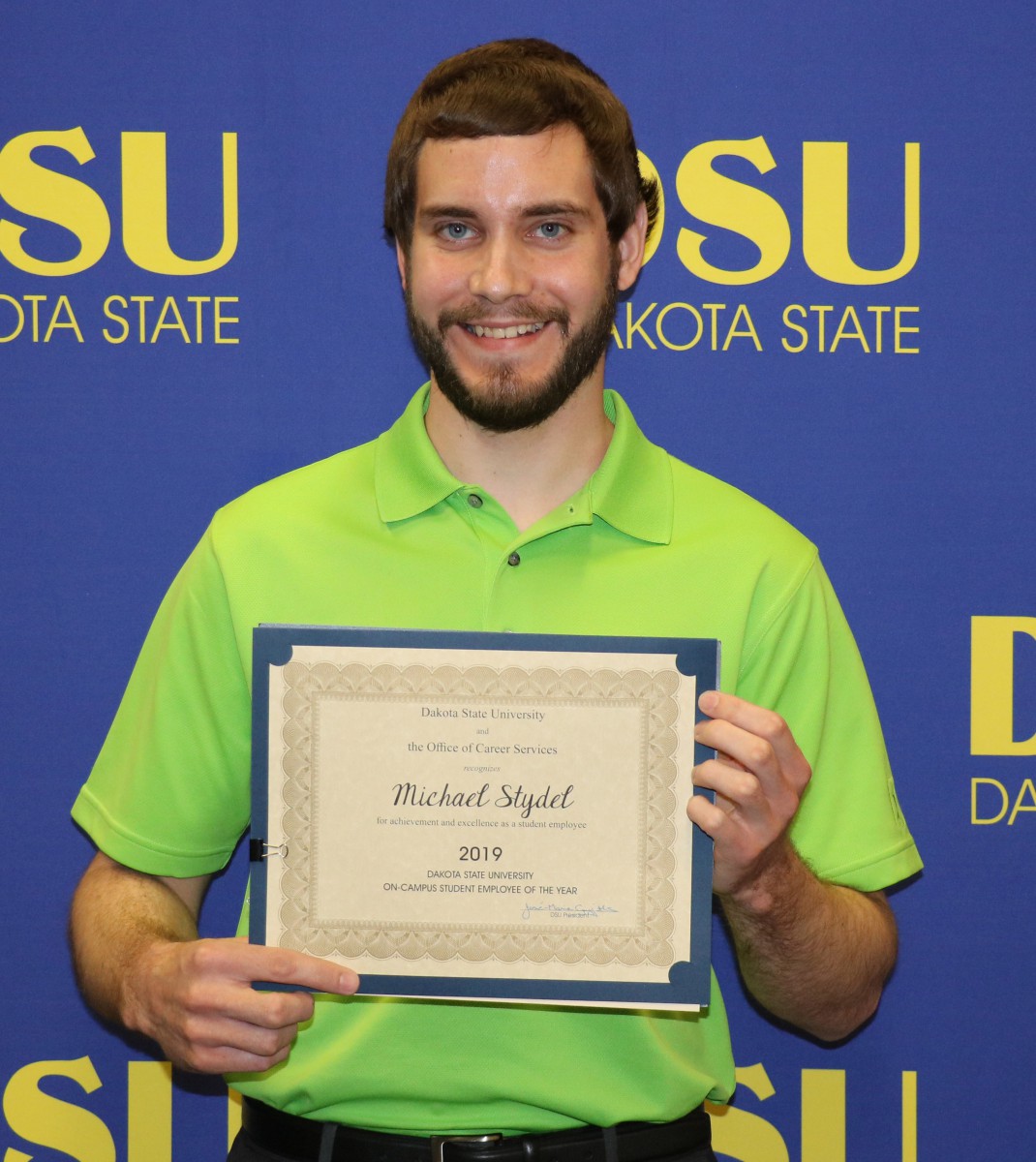 Stydel was nominated by Andrew Schaefers and Brent Peterson for many reasons, including his knowledge with mechanical skills and technical issues. "We have complete confidence in him and his abilities," Schaefers and Peterson wrote in the nomination letter.
At the banquet, it was also announced that Stydel was named the State of South Dakota 2019 Student Employee of the Year for excellence in reliability, quality, initiative, and professionalism.
The off-campus award winner was Bernard Dawaare (not pictured), an employee at Pizza Ranch.  
These awards are presented in conjunction with the Midwest Association of Student Employee Administrators. Nominations are solicited through the Career Services Office.
---
Center of Excellence Honorees
Graduates of the Center of Excellence must maintain a minimum 3.2 GPA, have a minimum ACT of 24, and complete the Center of Excellence minor, including a major field capstone experience. Center of Excellence graduates include: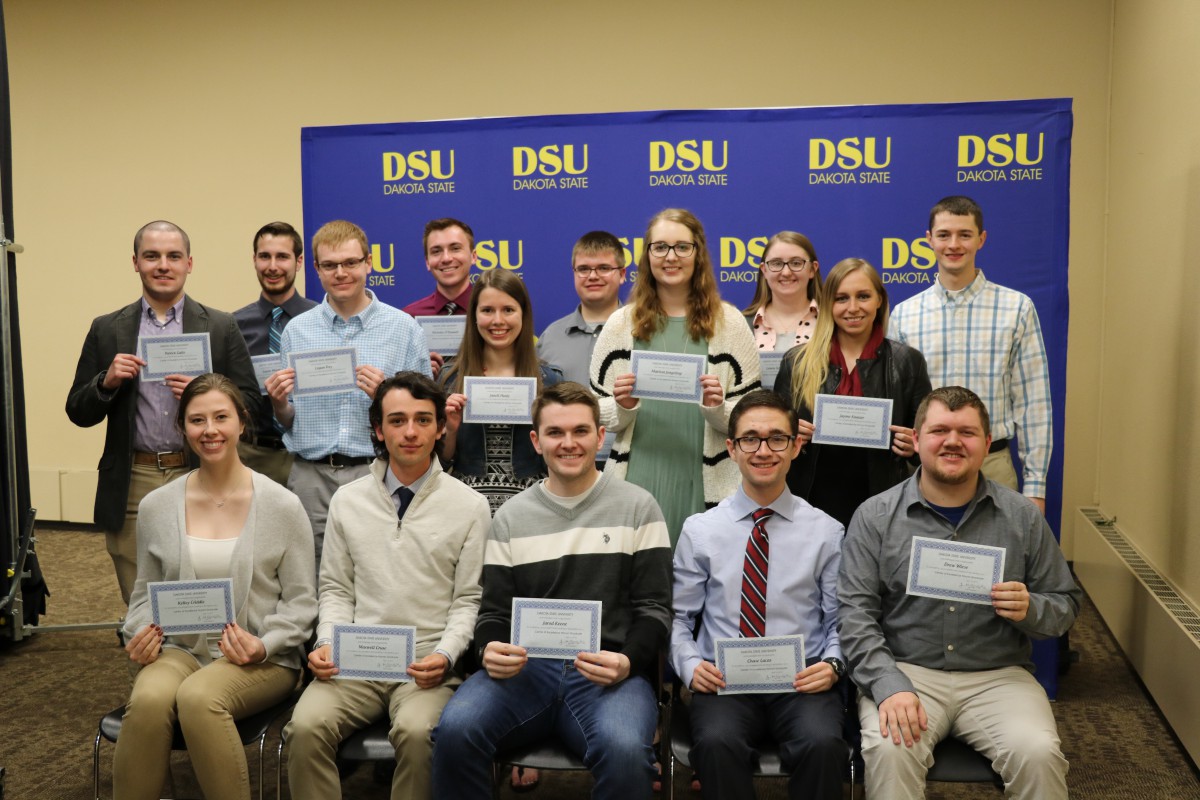 Layne Meyers (back left), Nicholas O'Donnell, Andrew Reps, Laura Schuck, Mark Streff; Patrick Gallo (middle left), Logan Frey, Janell Healy, Marissa Jongeling, Jayme Knauer; Kelley Criddle (front left), Maxwell Cruse, Jarod Keene, Chase Lucas, Drew Wiese.
---
DELTA MU DELTA
Paulina Zach was honored as a member of Delta Mu Delta, a national honor society for students majoring in business administration. The society was established to recognize and reward superior scholastic achievement of business majors.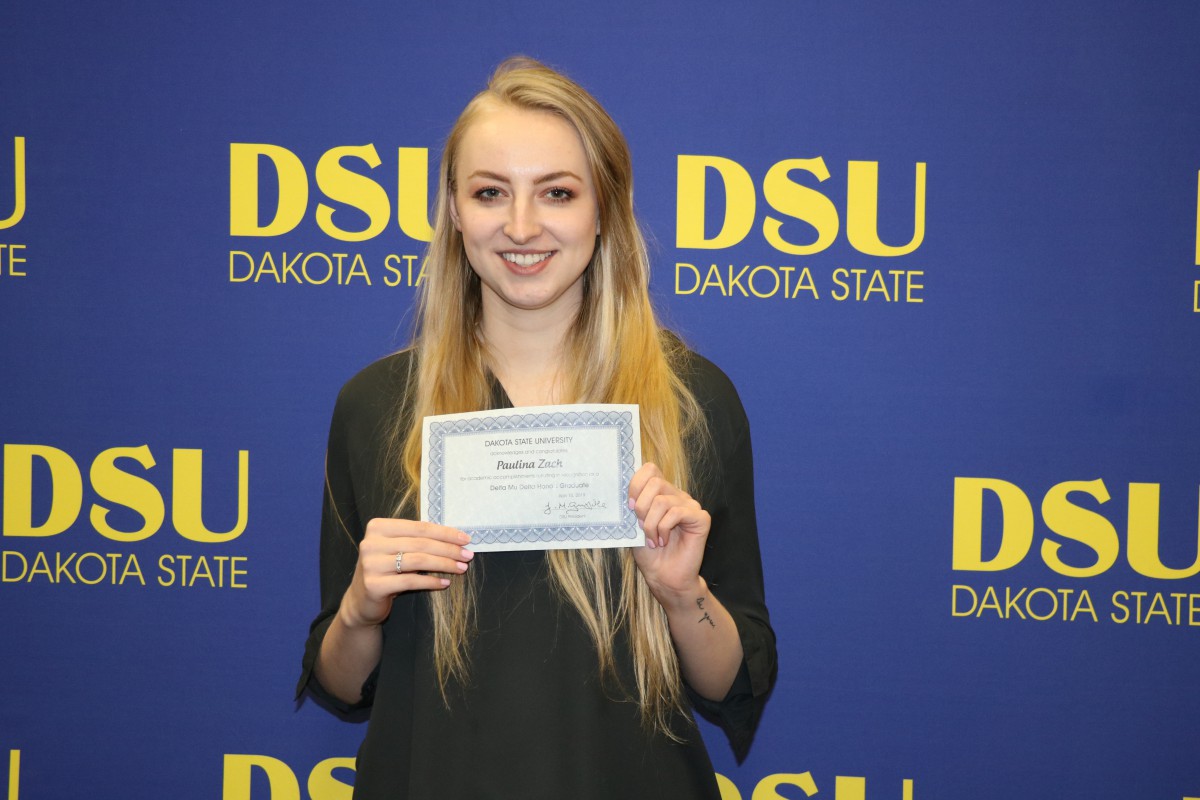 ---
GENERAL BEADLE HONORS
The General Beadle Honors program originated at DSU in 2013 to challenge outstanding students and stress broad intellectual development. The program is open to students from all colleges and majors. Laura Schuck was honored at the banquet.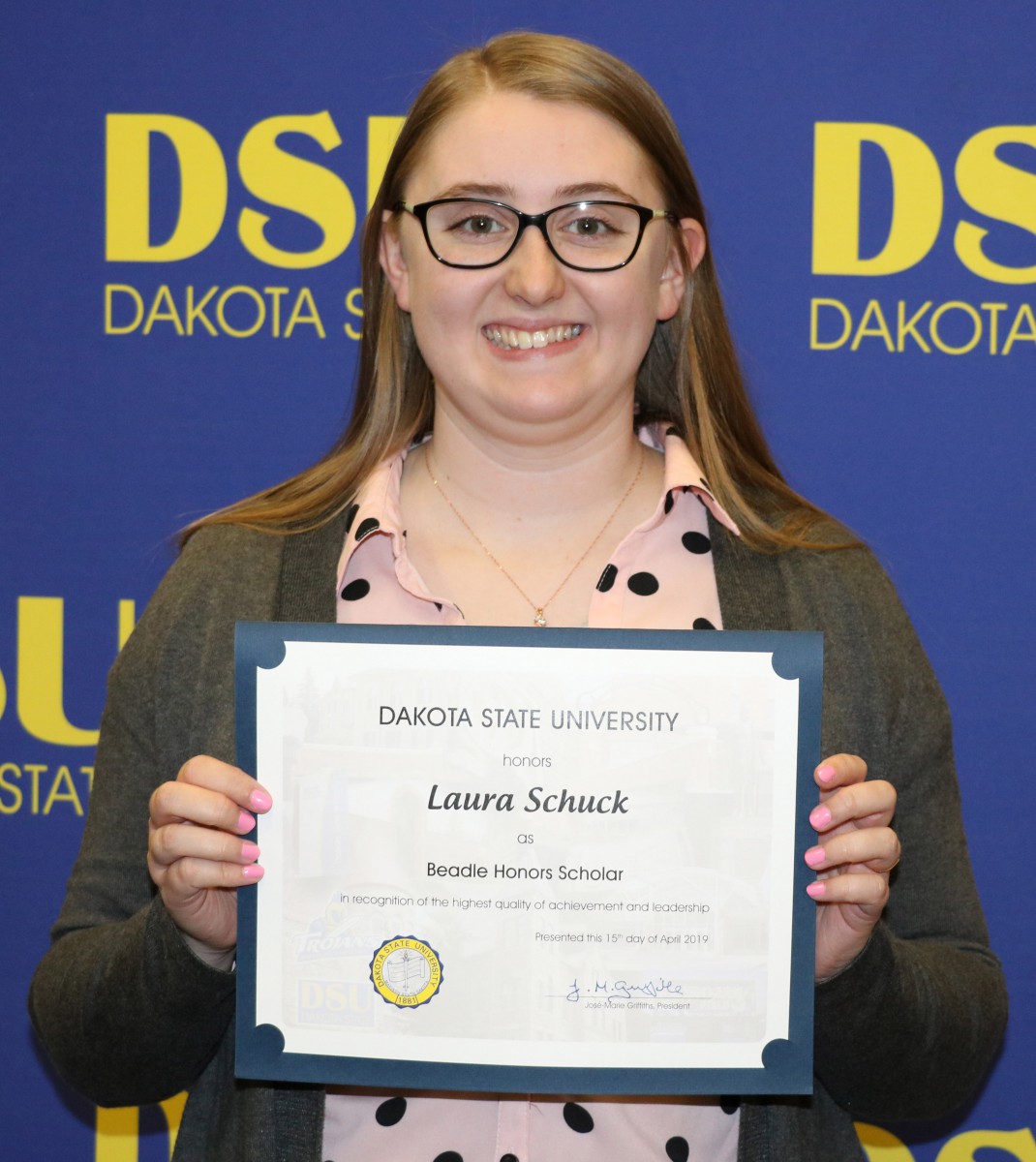 ---
KAPPA SIGMA IOTA
KAPPA SIGMA IOTA is an honorary society unique to Dakota State University, established by President E. C. Higbie to "promote, secure and maintain a high level of professional fellowship."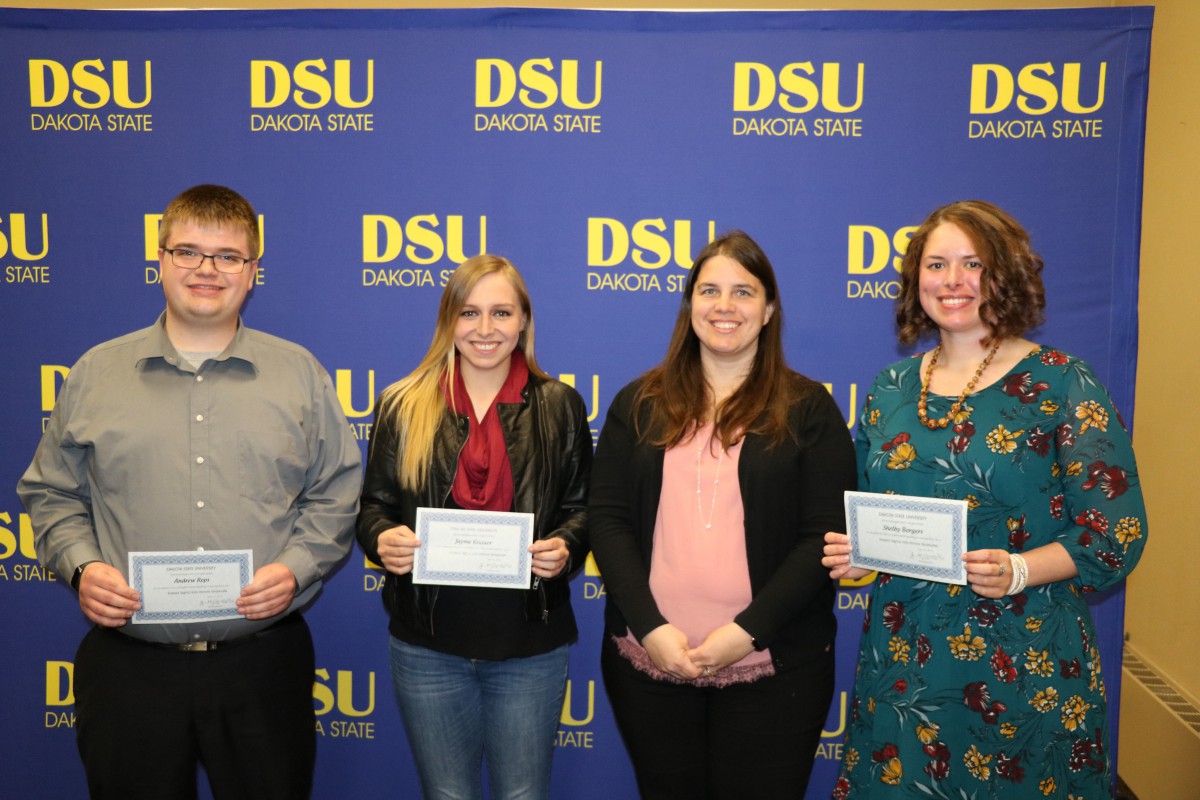 Honored were Andrew Reps, Jayme Knauer, Amy Halling, and Shelby Borgers.
---
SIGMA TAU DELTA
SIGMA TAU DELTA is an international English honor society whose purpose is to recognize scholarly and professional accomplishments in English. The DSU chapter is open to students who major in English for New Media, English Education, or who minor in English. Honored were Jayme Knauer and Nelofar Sultan.